A chocolate olive cake recipe that's perfect for even beginners. An eggless chocolate cake recipe which gives soft and delicious cake!
I've come to realise over many years of baking that using oil in chocolate cake recipes, instead of butter, is the way to go. It makes the cake way lighter, less dense, and overall just amazing.
Also check out: eggless chocolate sponge cake | chocolate pressure cooker cake
This chocolate olive oil cake has been my go-to recipe for many years and it's crazy that it hasn't shown up in the blog yet. I think it's mainly because I bake it for TH's birthday almost every year and often when I have guests and these times are usually not leisurely enough to take pictures.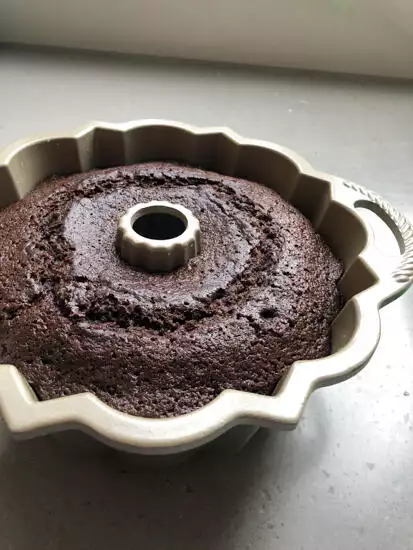 Anyway, the last time I made this chocolate olive oil cake, I did take some pictures so here we go – a truly no-fail chocolate cake recipe with olive oil and it's eggless too!
I usually bake this chocolate cake in a regular square 8″ pan but after getting this Nordicware bundt pan, I am unable to bake in anything else so please bear with me. Also, this chocolate cake turns out incredibly soft and if you cut into it as soon as it comes out of the oven, like I did, clean pieces are not guaranteed.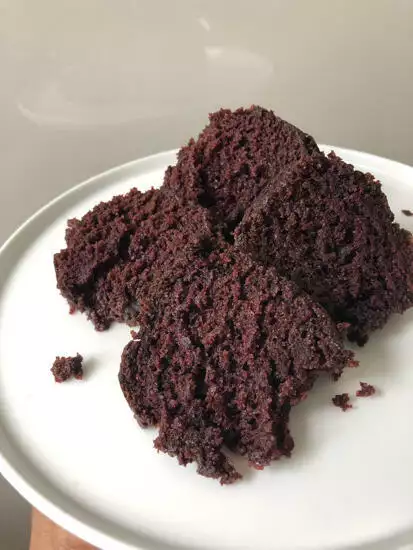 The key to making a great chocolate olive oil cake is :
Good quality cocoa powder
Not to over-mix the batter
Not to worry when the batter is "too runny" – this is normal!
Make sure to pre-heat the oven before baking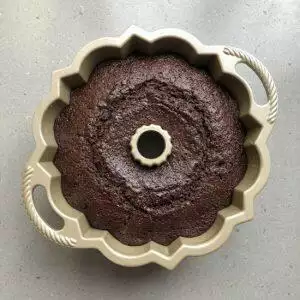 Chocolate Olive Oil Cake Recipe
A soft and delicious chocolate using olive oil instead of butter. This chocolate cake is also eggless. Adapted from here.
Ingredients
1 1/2

cups

all-purpose flour

or atta, wheat flour

1

cup

white sugar

I have used a bit lesser than this

1/4

cup

unsweetened cocoa powder

I use Hershey's

1/2

teaspoon

salt

1

teaspoon

baking soda

1

teaspoon

vanilla extract

1

teaspoon

apple cider vinegar

1/3

cup

olive oil

1

cup

water
Instructions
Preheat oven to 180C / 350F. Grease a 9" baking pan or bundt pan with butter and set aside

Mix the dry ingredients together with a whisk - flour, cocoa powder, salt, baking powder, baking soda and sugar - ensuring there are no lumps

In a separate bowl, whisk together the vinegar, oil, vanilla, and water

Pour the wet ingredients into the dry mixture and mix gently until just combined and there are no lumps. Do not over-mix the batter

Pour into the greased pan and bake in the pre-heated oven for 35 minutes or a skewer inserted into the cake comes out clean

Cool completely before slicing. You can also frost this cake for a special occasion
Notes
The batter will be a bit runny, this is normal
Use good quality cocoa powder
You can use regular white vinegar instead of apple cider vinegar
You can use plain all-purpose flour, whole wheat flour, or spelt flour in chocolate cake recipe. The texture may change a little based on the flour used
Chocolate olive oil cake recipe – stepwise
Gather all your ingredients together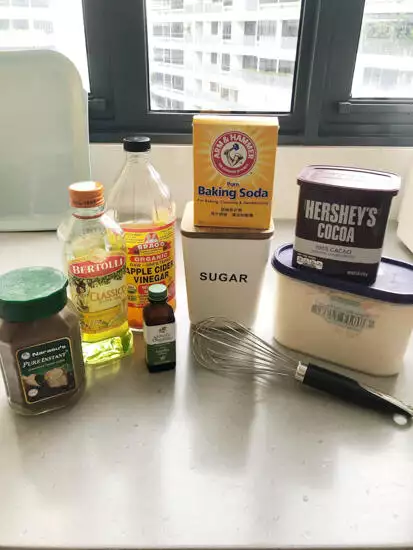 Add the flour, cocoa, sugar, baking powder, baking sugar, coffee powder, and salt to a mixing bowl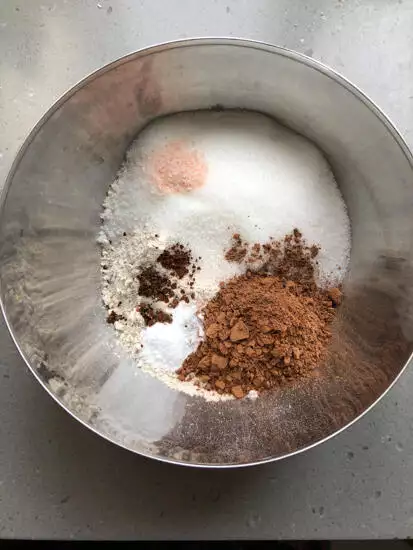 Whisk until well incorporated without any lumps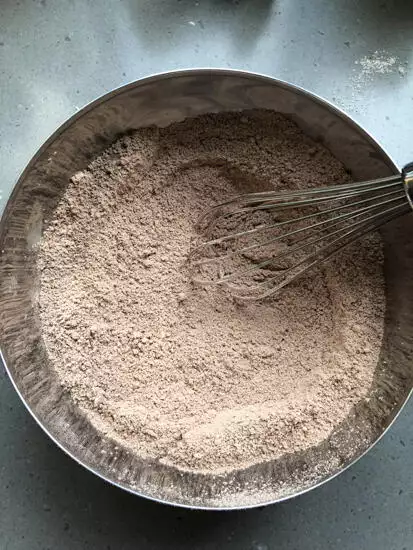 In a separate bowl, mix together the oil, vinegar, vanilla, and water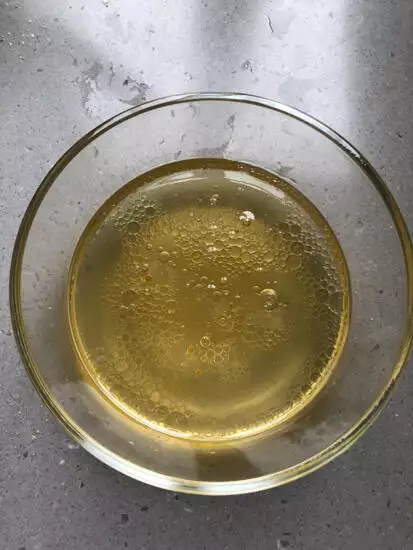 Gently pour the wet mixture into the dry ingredients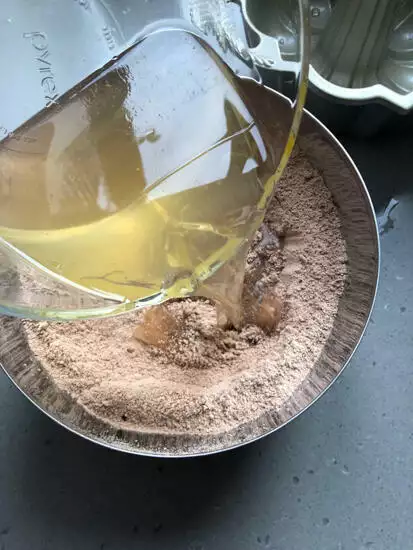 Mix gently to combine without any lumps. Do not over-mix the batter, it will result in a hard cake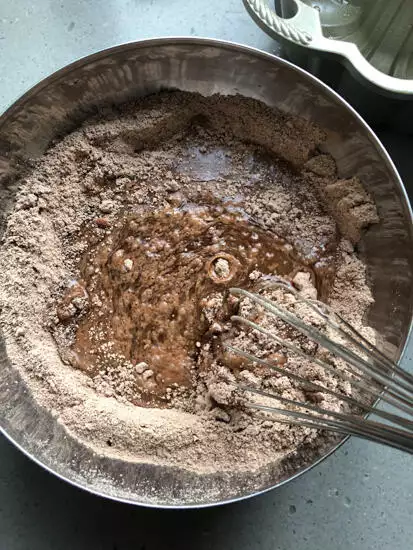 The matter will be quite runny, this is perfect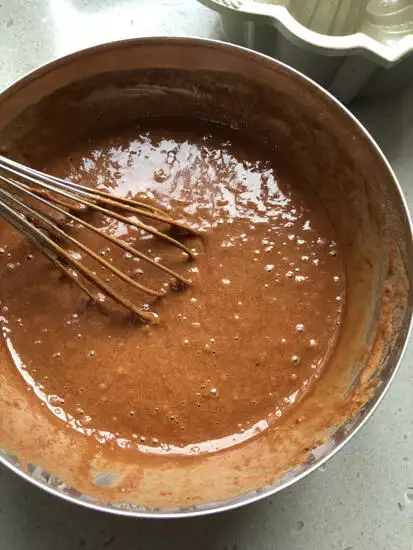 Pour the batter into the prepared pan and give the pan 1-2 gentle yet firm taps on the kitchen counter to get rid of air bubbles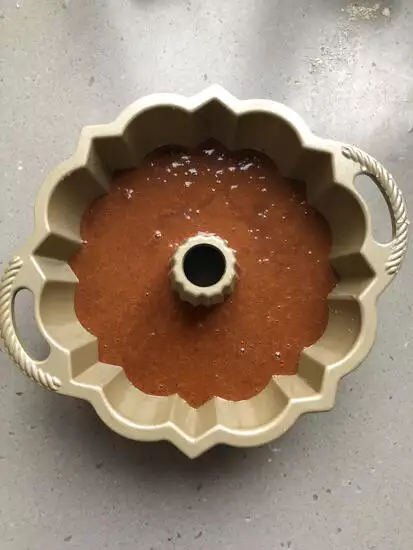 Bake in the pre-heated oven for 30-35 minutes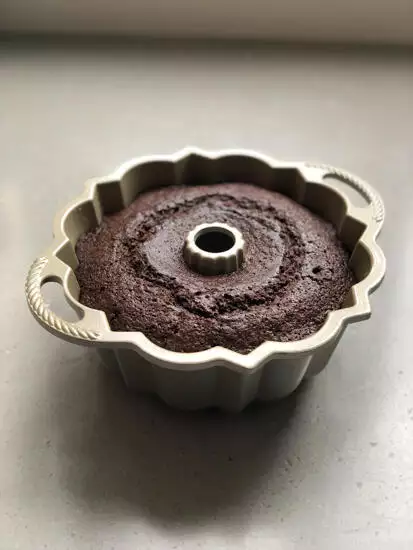 Cool completely before cutting and serving. You can also frost the cake as you desire