Pressure Cooker Chocolate Cake: baking a chocolate cake is probably on every novice baker's to-do list. While baking can be a bit daunting to get started on due to all the required ingredients and equipment, you can make cakes that need no oven. There are a few different methods to be used here and my favourites are baking cake in a pressure cooker and steaming cakes until fluffy and soft. Both methods have yielded wonderful results for me so if you are looking for how to make a cooker cake, read on.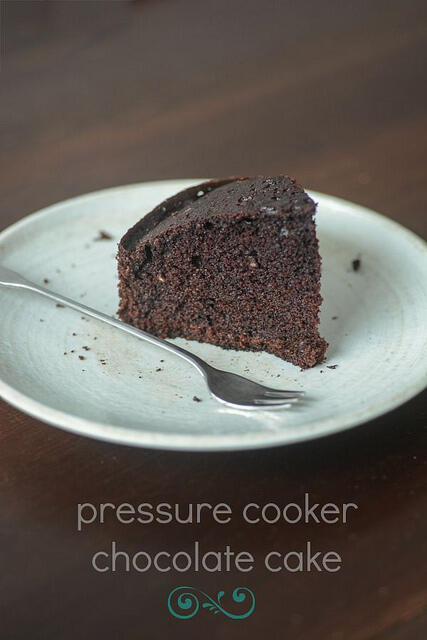 I have detailed information on how to use a pressure cooker to make cake so do check that post first before proceeding with this chocolate cake recipe. I had previously tried an eggless sponge cake in a cooker and decided to try a different recipe, a chocolate cake, with eggs this time. This recipe will work in an oven too but it worked wonderfully well in my cooker so I hope you try this out too.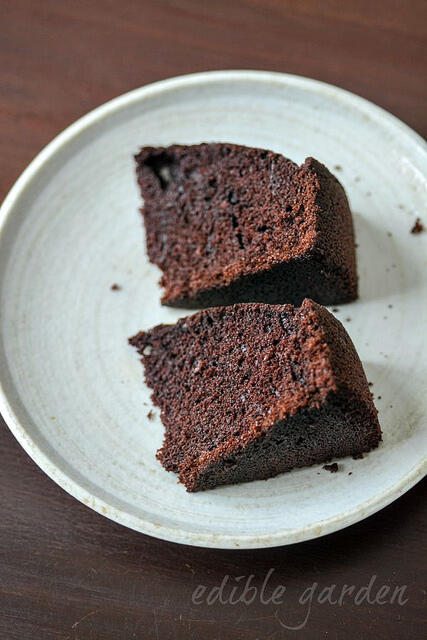 The cooking time can vary depending on the size of the pan and amount of batter you are using. I make a fairly small cake that got me about 10 large sizes and it took me roughly 50 minutes to bake it right. I used a 5 litre aluminium Premier pressure cooker.
A few things to remember:
Do not use water in the pressure cooker
Do not use the gasket (the rubber ring around the rim of the lid of your pressure cooker)
Always place a plate or stand at the bottom of the pressure cooker to make sure heat is spread evenly while cooking
Keep flame to a simmer so that the cooker doesn't heat up too much
Always be super careful when using your pressure cooker to make a cake.
This is obviously not the intended purpose of a cooker and it can result in injury or worse if you don't follow the instructions carefully.
Please check my detailed post on using a pressure cooker for baking to make sure you are following the right method, I can't stress on this enough.
Click here for eggless cake recipe made in pressure cooker.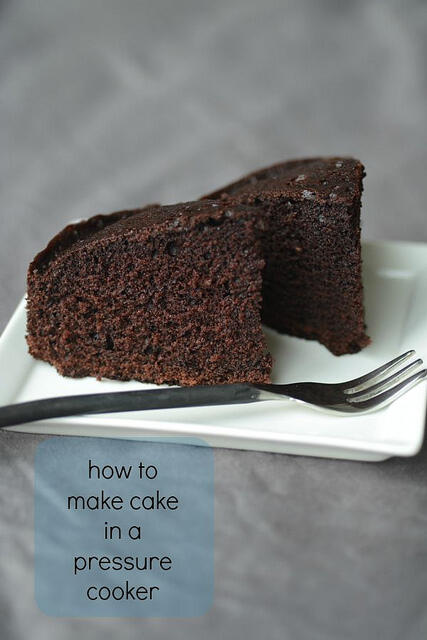 Love chocolate desserts? Check out:
Chocolate cake made in microwave
Steamed chocolate cake with no eggs
Double chocolate biscotti
One bowl easy chocolate cake
Print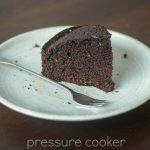 Pressure Cooker Chocolate Cake Recipe
Author:

Prep Time:

15 mins

Cook Time:

45 mins

Total Time:

1 hour

Yield:

6

" Cake

1

x

Category:

Cake

Cuisine:

International
---
Description
Make a delicious and spongy chocolate cake in a pressure cooker. This cake recipe needs to oven or microwave to prepare.
---
3/4 cup

of plain flour

3/4 tsp

of baking soda (soda bi carb)

1/4 tsp

of salt

3 tbsp

of cocoa powder

3 tbsp

of butter, softened at room temperature

1/2 cup

of sugar

1

egg

1/4 cup

of water

1/4 cup

of milk

1/2 tsp

of vinegar or lemon juice

1/2 tsp

of vanilla extract
---
Instructions
In a bowl, whisk the flour, salt and baking soda together until well combined
Set aside until needed
In another bowl, cream the butter and sugar with a whisk until it comes together. You don't need an electric beater, just do this step by hand until the butter and sugar are well incorporated
Add the egg to this and beat again well until the mixture is a bit fluffy
Now add water and cocoa to this and mix well until the cocoa powder has fully blended in
Add the vinegar or lemon juice and the vanilla, mix again
Add milk and mix gently again
Now add the flour mixture in two additions, folding gently after each addition. Do not overmix at this stage, just mix until you don't see any traces of flour remaining and the batter is lump free (small lumps should be okay, they will disappear on baking)
Grease a small 6″ cake pan with butter and pour the batter in
Tap the cake pan firmly on the kitchen counter a couple of times to remove any air bubbles in the batter
Preheat the pressure cooker by placing the plate or tray at the bottom of the pressure pan and closing the lid (no water needed, no gasket needed on the lid)
Heat on medium flame for about 2 minutes until the cooker is hot
Gently lower the cake pan with a pot holder into the pressure pan
Close the lid and keep the flame very low (simmer)
Cook for about 45-50 minutes until the a toothpick inserted into the cake comes out clean. The cake will also leave the sides of the pan, which is a good indication that it's cooked
Remove from inside the cooker and cool for 10 minutes in the cake pan
Then, gently invert onto a cooling rack or plate and cool the cake completely before cutting and serving
You can also use this cake as a base and frost it, make multiple layers, etc
---
Step by Step Pictures for Making a Cooker Cake (No-Oven Cake)
In a bowl, whisk the flour, salt and baking soda together until well combined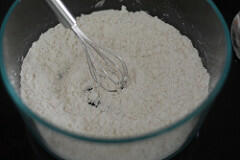 Place the butter and sugars in another dry bowl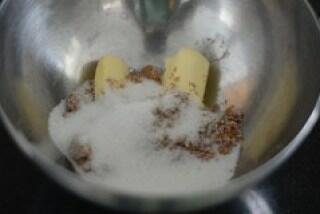 Beat well with a whisk until it comes together. You can use an electric beater but it's not necessary to use one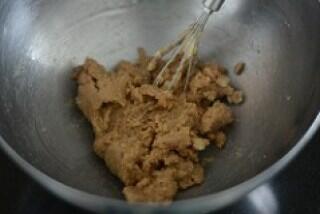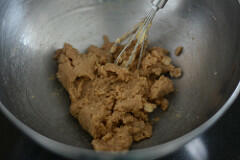 Add the egg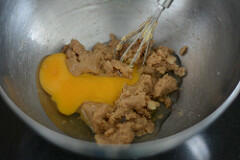 Beat well again until the mixture turns a bit fluffy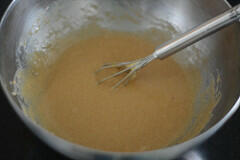 Now add water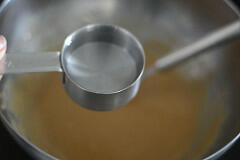 and cocoa powder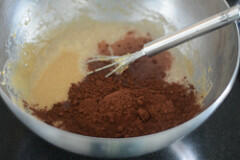 Beat well making sure there are no lumps. You can sift the chocolate if needed, this makes the mixing a lot easier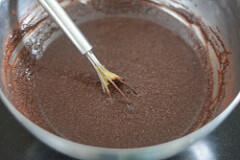 Next, add the milk and beat again until well combined. Follow with the vinegar (or lemon juice) and vanilla. Beat again.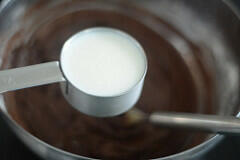 Now add half the flour mixture, fold until you don't see any more streaks of flour, add the remaining flour, and fold again. Do not over mix at this stage.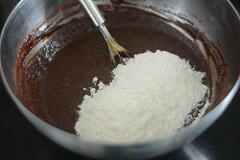 The batter is now ready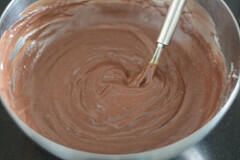 Pour into a buttered 6″ cake pan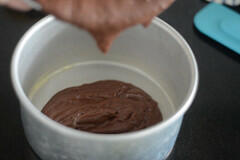 Tap the pan firmly on the kitchen counter to remove any air bubbles in the batter.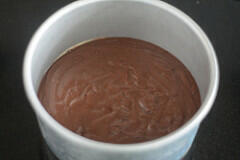 Prepare the pressure cooker by placing a plate or pot stand at the bottom of the pressure pan. Close the lid and heat on medium flame for 2 minutes until the pressure cooker is nicely heated up.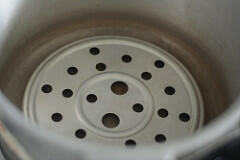 Gently insert the cake pan and close the lid again.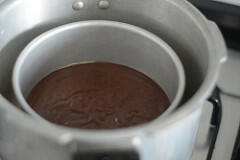 Cook on very low flame for about 45-50 minutes or until a toothpick inserted into the cake comes out with no wet crumbs
Invert onto a plate or rack and cool completely before cutting and serving. You can also frost the cake before cutting.
Making a cake without an oven in a pressure cooker is really a simple procedure and if you follow the steps closely, I guarantee a soft and spongy chocolate cake. If you try this recipe, please leave a comment to let me know. You can easily double the recipe for a larger cake, just use an 8″ or 9″ cake pan if that's the case and make sure your pressure cooker is large enough to hold it. You can also bake this cake in an oven, check if it's done in about 30-40 minutes since baking times will vary.
For pressure cooker chocolate cake recipe in Tamil, Hindi, Marathi, Urdu, Malay, Kannada, etc please use the Google translate button in the sidebar.