Andhra chilli chicken is a spicy chicken recipe made Andhra-style with lots of green chillies. A perfect accompaniment to rice and curry.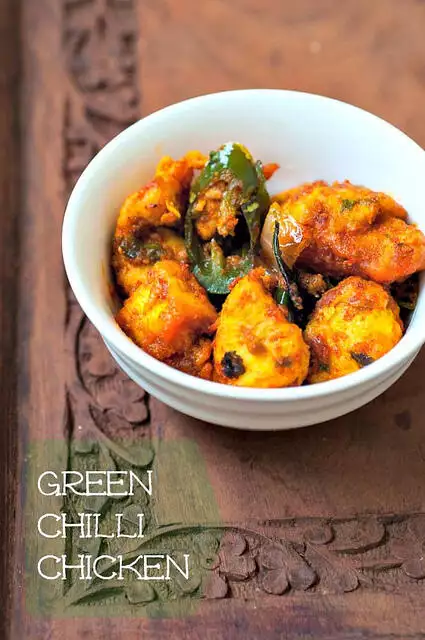 I love Chilli Chicken and Chilli Fish. Or wait, I should say I loved Chilli Chicken. I have been vegetarian for the past 2 months and going strong so far. It's easier than I thought and although I didn't want to talk about this too soon, 2 months is a good milestone. I know it's ironic I am "celebrating" by posting a Chilli Chicken Recipe but this one is from a couple months back and this Green Chilli Chicken came out so good that I couldn't keep it away from some of chicken lovers out there.
I had bookmarked Sig's Green Chilli Chicken Recipe ages ago and made it for a few friends finally. I didn't have enough green chillies to maker her super fiery version so compromised by adding some red chilli powder as well. The colour was beautiful and it was probably one of the easiest Indian chicken recipe I have made. A friend commented that this is how Andhra Chilli Chicken tastes so in case anyone is looking for a recipe for Andhra Chilli Chicken, well, here you go! Here's another great recipe if you are looking for an easy chicken curry recipe. Also check out this poplar chicken jalfrezi recipe.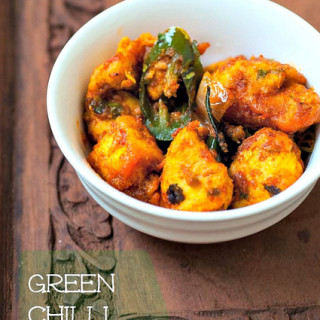 Andhra chilli chicken recipe
Andhra chilli chicken is unlike any other chilli chicken recipes you may know. The generous use of green chillies makes this dish fiery and delicious.
Ingredients
400

gm of boneless chicken pieces

cubed

1/2

cup

of sliced shallots or onions

4

green chillies

sliced

1/2

tsp

of red chilli powder

or omit and add 2 more green chillies

1

tsp

of ginger garlic paste

ideally freshly made

A few of curry leaves

1

tsp

of coriander powder

1/4

tsp

of fennel powder

3

tbsp

of oil

2

tsp

of lemon juice

1/4

tsp

of turmeric powder
Instructions
Heat oil in a large pan and sauté the shallots till soft and slightly browned

Add the chicken pieces and some salt and sauté on medium-high heat stirring frequently till the chicken pieces turn white on all sides. The chicken will give out water at this point

Cook covered on low heat for about 12 mins until the chicken pieces are tender

Uncover and stir in the green chilies, chilli powder, turmeric, ginger-garlic paste, coriander, fennel, and curry leaves

Sautè on medium high heat for a few minutes, stirring frequently till the chicken pieces are cooked through and the pieces start to brown

Remove from heat and stir in lemon juice and garnish with chopped coriander leaves if desired
For Andhra chilli chicken recipe in Telugu, Tamil, Hindi, Malayalam etc please use the Google translate button in the sidebar.