I love chakka kuru aka jackfruit seeds. In Kottayam, where I grew up, most houses have a backyard with various trees, most popular being jackfruit, banana, mangoes and of course the staple curry leaves plant. We've always had generous neighbours who share the fruits during season time and during summer, there's always a sack of some fruit or the other from friends and family around.
My mom makes the maximum use of any vegetable or fruit. She makes kumbil / varatti with the ripe jackfruit and reserves the seeds for aviyal or mezhukkupuratti, the two most popular chakkakkuru recipes in our house.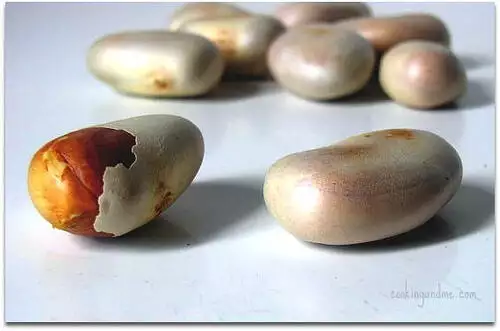 During a recent trip to KL, I bought a box of jackfruits. It had precisely 10 pieces inside which TH and I polished off in 2 mins. I washed and kept the seeds outside and once they dried, wrapped them in a shower cap and brought them back to Singapore. I had 10 seeds which meant there wasn't enough to make aviyal or mezhukkupuratti. I browsed around and finally zeroed in on a recipe from Sunita's blog.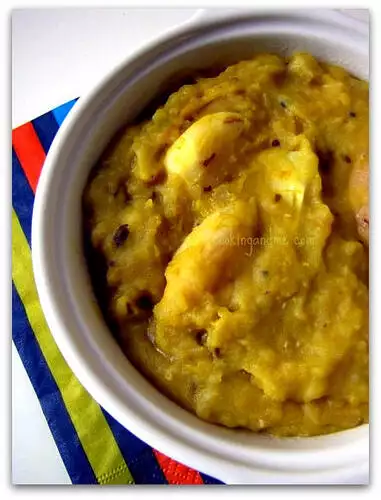 Jackfruit Seeds in Lentils

Serves: 2

Recipe adapted from Sunita's recipe.

Ingredients:

1/2 cup split red lentils / masoor dal, washed and drained

1/2 cup toor dal, washed and drained

10 jackfruit seeds / chakkakkuru, soaked, peeled and halved

1 tomato, chopped

3 pods of garlic, chopped

1 tsp finely chopped ginger

1 tsp chilli powder

1/3 tsp turmeric powder

A pinch of hing

Oil and mustard seeds, for tempering

Salt to taste

Instructions:
1. Place the dals and the jackfruit seeds in a pressure cooker with 5 cups water. Cook for 3 whistles and let it cool.

2. Heat oil and add the mustard seeds. Once they pop, add the ginger, garlic, hing, chilli powder and turmeric. Fry for 1 min.

3. Add the tomatoes and fry for another 2-3 mins. To this, add the cooked dal and jackfruit seeds. Mix well.

4. Add salt. Remove.
I served the dish with some warm chapatis. Sunita's version has vegetables too but I wanted to keep it simpler and give more 'importance' to the jackfruit seeds.