I know I just shared
recipe for tawa pulao
and this is yet another
rice recipe
but I haven't been cooking anything new for a few weeks and these recipes are from the deep dungeons of my archives! I tend to try different recipes with rice over the weekend mainly because it's so easy to make a one pot dish over weekends and use the rest of the time to relax and laze around.
Spiced masala rice
types also store well and leftovers tend to taste better the next day so that really helps too.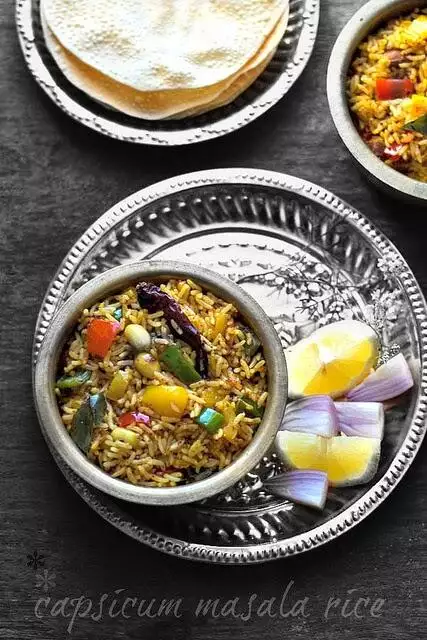 In all honesty, after putting in the requisite 45 mins into this dish, I didn't end up liking it that much but TH really liked it. He's usually not a big fan of South Indian rice dishes like tamarind rice and lemon rice but this, he liked. So that's surely a good sign and probably you'd like it too. It's a bit more work that I normally like to put into a rice recipe so I adapted the original recipe quite a bit to suit my cooking style (read: using the smallest amount of effort possible).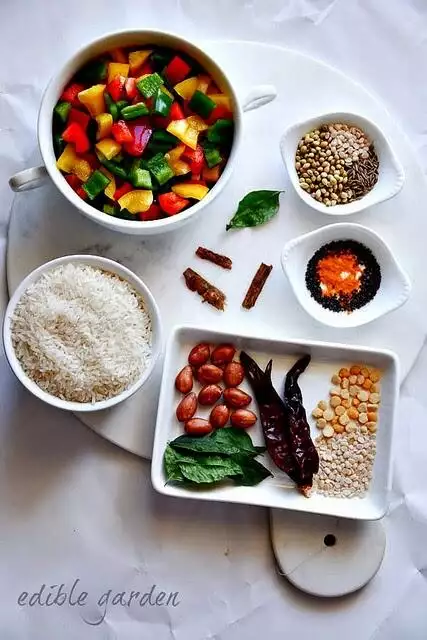 The list of ingredients for capsicum masala rice is fairly long but you would have most, if not all, of them in your pantry already. The only thing I had to buy is the capsicum and I decided to use a bit from red, green, and yellow capsicums. I always have raw peanuts in my pantry but if you don't, and you don't want to buy a bagful for the handful required in this recipe, just skip it or substitute with cashew nuts. Your rice would be a bit less interesting but it's not a deal breaker.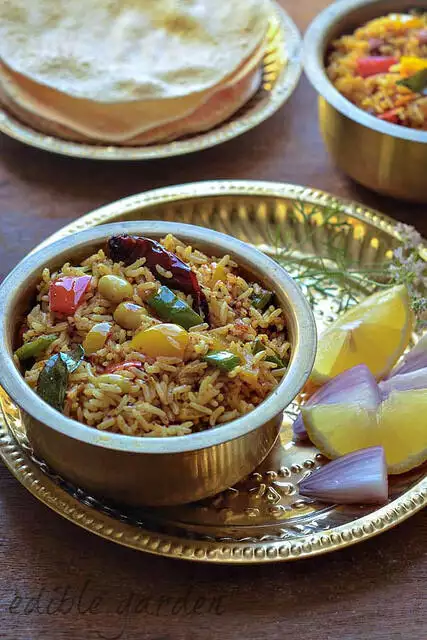 For some odd reason, I really enjoyed pairing this capsicum rice with raw onions. In general, I like to eat raw onions with my rice and curries (it's a habit formed from eating at my uncle's in Alappuzha where they always have fish and so it's always accompanied by thinly sliced raw onions) but this is the first time I was pairing it with something like this and I loved it. A raw onion raita would go fabulously with this masala rice too. Papads are obviously a given, the amount of spices in this calls for that anyway. So, off we go, let's make some capsicum masala rice, shall we?
Oh, and since I mentioned I didn't exactly love this dish, let me share some rice recipes in here that I do love – my MIL's special spinach pulao recipe, my go-to veg pulao recipe, and always, egg biryani. Also check out this capsicum besan dry curry recipe.
CAPSICUM MASALA RICE RECIPE
Preparation time: 15 minutes
Cooking time: 40 minutes
Serves 4-5
Adapted from: Mallika Badrinath's Rice Recipes
INGREDIENTS:
2 cups of cooked rice
2 cups of capsicum, cut into small cubes (any colour or mixed)
1 tbsp of lemon juice
1/4 tsp of turmeric powder
For tempering:
2-3 tbsp of oil
1/2 tsp of black mustard seeds
1 tsp of split urad dal
1 tsp of chana dal
2 dry red chillies
A few curry leaves
2 tbsp of roasted peanuts
For masala powder:
3 dry red chillies
A small piece of cinnamon
1 tsp of coriander seeds
1 tsp of cumin seeds
1/2 tsp of split urad dal
1 tsp of chana dal
INSTRUCTIONS:
1. Fry the ingredients for masala powder in 1 tsp oil until golden brown.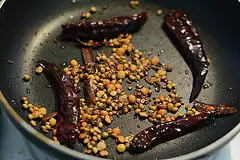 Cool,grind to a powder, and set aside.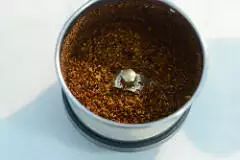 2. Heat the oil in a pan and add all the ingredients for seasoning. Fry until the dals turn golden brown.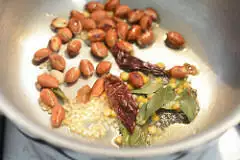 3. Add the capsicum, some salt, and turmeric powder. Reduce heat and cook until the capsicum turns softer but still remains its shape. Don't cook to a mush. This shouldn't take more than 7-10 mins.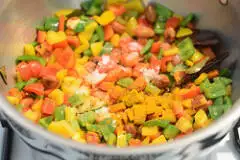 4. Add the cooked rice to this and mix well. Heat through.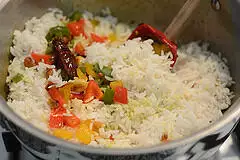 5. Finally add the masala powder and lemon juice. Check for salt and add more if required.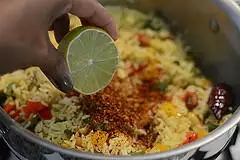 6. Mix well and let it sit for 30 mins for the flavours to mingle. Serve warm with raita or raw onion salad, and papad.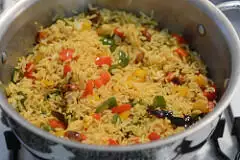 Note:
Make sure to adjust all spices to your taste. This makes a moderately spicy rice so add more or less red chillies to your preference. Take care not to burn the spices and dals in the masala powder or the rice will taste bitter.