Tawa pulao, or Tava Pulao
, is a brief streak in my memory from my first trip to Bombay in 2010. I was so excited to try
pav bhaji
,
batata pav
(recipe coming soon) and the like that although most stalls we went to also had this delicious-smelling tawa pulao, I ignored it and ate my way through the other more popular food. Fast forward a couple of years and I saw a lovely (not to mention easy)
tawa pulao recipe
online and bookmarked it. Fast forward another year and I finally made it.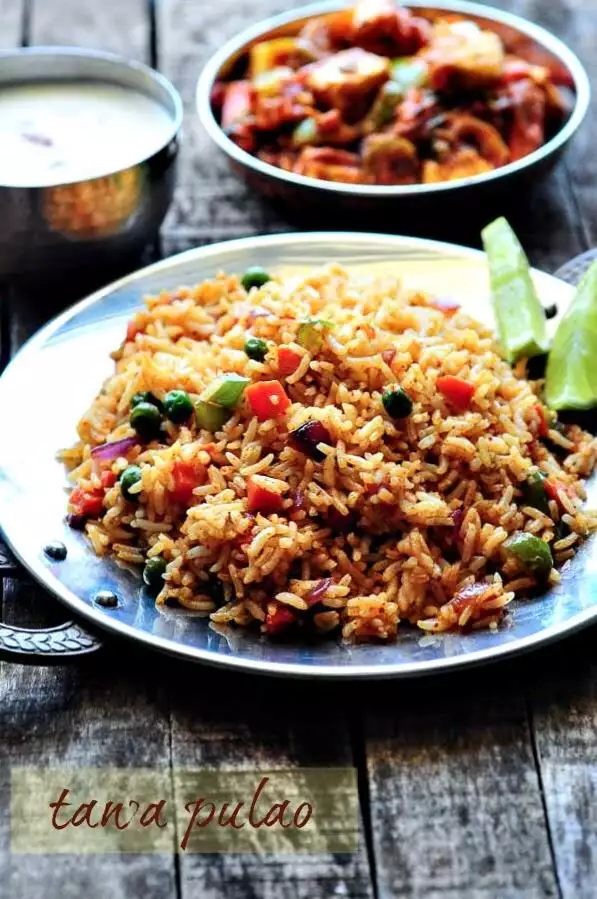 Tawa pulao, as the name suggests, is made on the same tawa or large iron griddle that pav bhaji is made in. The same masala is used for this and even the vegetables used are similar. It's quite a sight to watch the roadside cooks make huge quantities of this pulao by adding ladlefuls or masala and large panfuls of cut vegetables. This video shows a similar stall to the one we went to (it wasn't this crowded and looked a tad neater, but very similar), just so you get an idea of the scale of this dish being made 🙂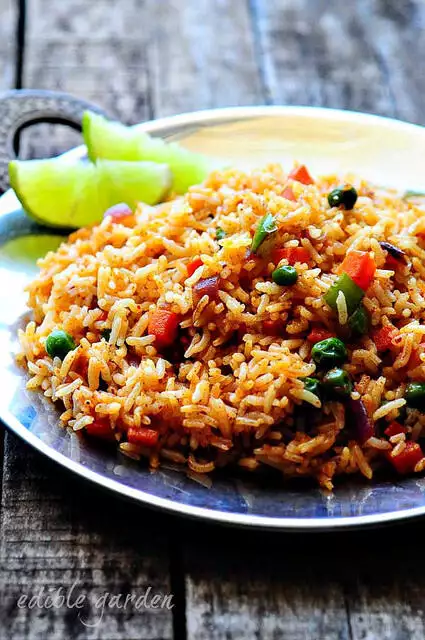 Anyway, I made a very humble portion, enough for about 4 serves. While tawa pulao is best eaten hot and fresh, TH loves to pack this in his lunch box since it requires no side dish and he can just carry it along with some raita or even plain curd. Easy!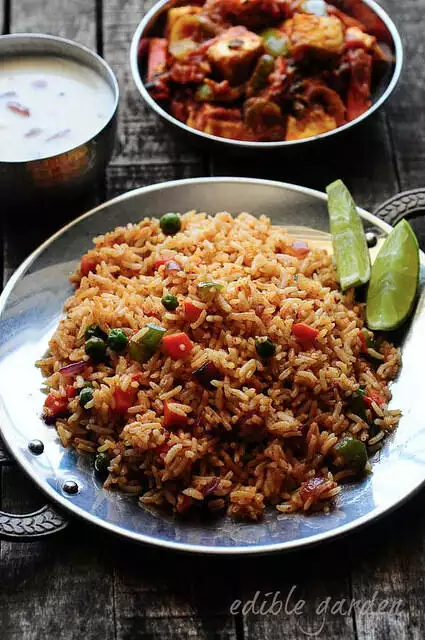 I've made this a few times especially when making a more elaborate side dish like this paneer jalfrezi we had with tawa pulao a few weekends ago. Delicious and totally comforting meal.
TAWA PULAO RECIPE (PULAO + PAV BHAJI MASALA)
Preparation time: 10 minutes
Cooking time: 30 minutes
Serves 4
Adapted from: The Yum Factor
INGREDIENTS:
2 cups of cooked rice
1/2 cup of minced onions
1 cup of chopped tomatoes
1 cup of mixed vegetables (I used peas, carrots, capsicum)
2 tsp of pav bhaji masala
1/2 of a lime or lemon
2 tbsp of salted butter
1/2 tsp of minced garlic
1/2 tsp of grated ginger
INSTRUCTIONS:
1. Heat 1 tbsp butter in a pan until melted
2. Add 1/2 minced onion, 1/2 tsp minced garlic, and 1/2 tsp grated ginger. Saute until the onion turns pink and the mixture is fragrant
3. Add all the vegetables and stir well to combine. Sprinkle 2-3 tbsp water and cook covered on low flame until the vegetables are cooked yet hold their shape. Uncover and saute a min longer until the extra water, if any, is absorbed
4. Add the pav bhaji masala and some salt. Mix and add the cooked rice. Mix again
5. Turn off heat, add the remaining 1 tbsp butter and some chopped coriander leaves (optional). Mix and squeeze some lime or lemon over it before serving
Serve hot with raita and papad