Beans Mezhukkupuratti (stir-fried) recipe.
What do you get when you lightly fry up any chopped vegetable and a paste of shallots and garlic in some oil and add salt and some chilly powder? Mezhukkupuratti! Its a quintessential Kerala side dish, often made to complement a gravy that's coconut-rich (is it wrong that my mouth is watering as I type this?).
Anyway, this beans mezhukkupuratti is not just any mezhukkupuratti. This is Pennamma chechy's recipe. Pennamma chechy was my best friend's maid. Yeah, I will give you a minute to figure that out.
Ok so, Deepa, my BFF, had a maid called Pennamma chechy, a typical Catholic lady who cooked amazing Kerala food and each time I eat at Deepa's place, there's always mezhukkupuratti and it's always always yummy. Once I asked her for the recipe and since then, I have never made mezhukkupuratti any other way. You may also wish to check out this carrot beetroot stir fry and stir-fried jackfruit seeds (chakka kuru)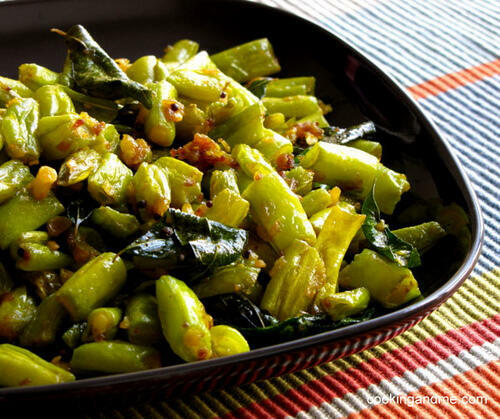 Beans Mezhukkupuratti
Serves: 2
Ingredients:
1 cup French beans, cut into 1/2″ pieces
1 small onion, thinly sliced (optional)
8-10 shallots (also called sambar onion)
2 cloves of garlic
1 tsp red chilli powder
1/4 tsp jeera / jeerakam
1 tbsp oil
1/2 tsp mustard seeds
A pinch of turmeric
A few curry leaves
Salt to taste
Instructions:
1. Heat oil and add the mustard seeds and jeera. When the seeds pop, add the onions (if using), beans and the curry leaves.
2. Lower fire to sim and stir fry the beans until almost cooked. This will take about 12-15 minutes.
3. Grind the shallots and garlic with the turmeric powder and add to the cooked beans. Increase the heat a bit and fry, stirring well, until the shallot-garlic paste is golden brown.
4. Add salt and chilly powder. Fry for another minute.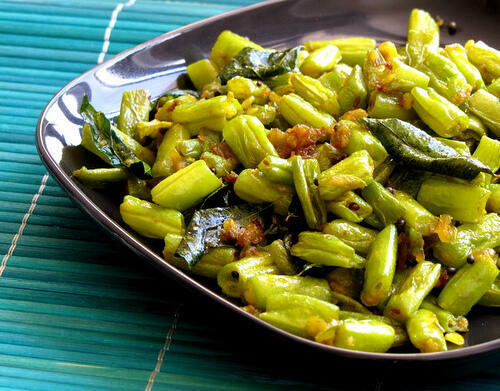 Serve hot with steamed rice and any coconut based gravy, like thella pulusu or theeyal.