I don't what it is about Punjabi recipes that is so alluring. Both TH and I, though born South Indians, have a huge affinity towards North Indian food. His favourite meal of all times would be garlic naan and
palak paneer
(which he orders in every Indian restaurant we every go to!) and I love my
khadis
, and khichdis and
paneer butter masala
too.
This is another recipe I'd been meaning to try forever. I had bookmarked a lot of variations from different sources but ended up making it my way. The ingredients list is basically the same across all baingan bharta recipes I saw online but I largely adjusted the amount of spices to suit our taste. Please be mindful of that when you try our your version.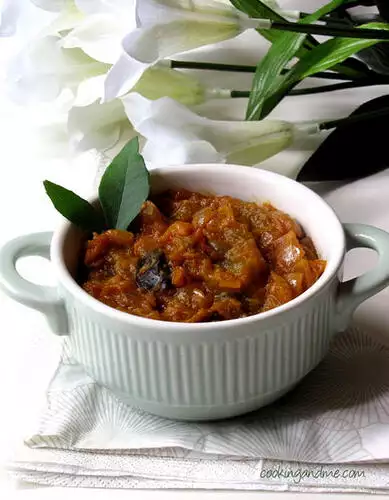 Baingan Bharta Recipe

Serves: 4

Preparation time: 15mins grilling eggplant + 45mins for chopping and cooking

What I Used:

2 medium tomatoes, chopped

2 medium onions, chopped fine

3 green chillies (adjust to taste, I used Indian green chillies)

1 tsp minced ginger

1/2 tsp minced garlic (optional)

1 tsp of Kashmiri chilli powder (for the deep red colour. If using ordinary red chilli powder, please be mindful of the extra heat)

1 tbsp coriander powder / malli podi

1 tsp garam masala

1/4 tsp turmeric powder

1 tsp cumin seeds

1 tbsp oil

1 lime wedge

Fresh coriander leaves for garnish

Salt

How I Made It:

2. Heat oil in a pan and add the cumin seeds. Once they sizzle, add the chopped onions, green chillies, ginger and garlic with a pinch of salt.

3. When the onions turn pink (don't brown it too much), add the garam masala, coriander powder, turmeric and chilli powder. Fry for 10 seconds and then add the chopped tomatoes. Mix well and cook covered for about 10 mins, stirring once or twice in between.

4. Once the tomatoes are cooked soft, add the mashed grilled eggplant and mix well. Adjust salt and let it simmer for 5-7 mins, stirring occasionally.

5. Remove from fire. Squeeze some lime juice and mix well. Garnish with fresh coriander leaves and serve hot with rotis/phulkas/jeera rice.
This has become our favourite side dish with phulkas. If it didn't take this long for the eggplant to grill + make the baingan bharta, we would have this for dinner every other day.