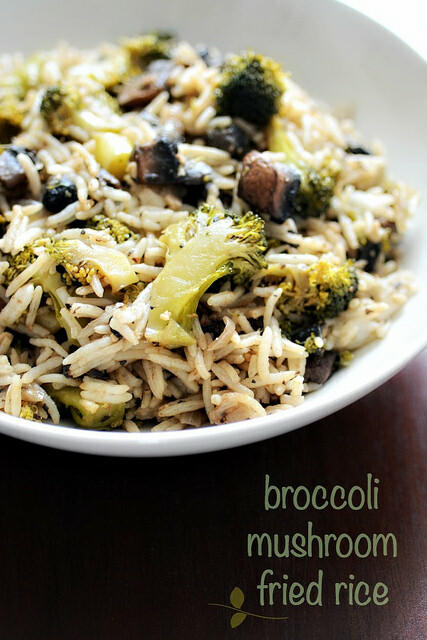 Learn how to make broccoli mushroom fried rice, an easy step by step fried rice recipe with mushrooms and broccoli.
Fried rice is a no-brainer for lunch boxes. Since I started making one-pot meals for lunch for TH and I to take to work, various types of fried rice have been making their appearance in my kitchen. I tend to add 1:1 ratio of rice to vegetables to make it as filling and nutritious as possible. This fried rice also tastes fabulous when made with brown rice, just make sure the rice is cooked well so it retains its chewy texture yet mingles well with the rest of the ingredients. Here's how to cook rice for fried rice.
More fried rice recipes to choose from:
Egg fried rice
Vegetable fried rice
Mushroom fried rice
Chicken fried rice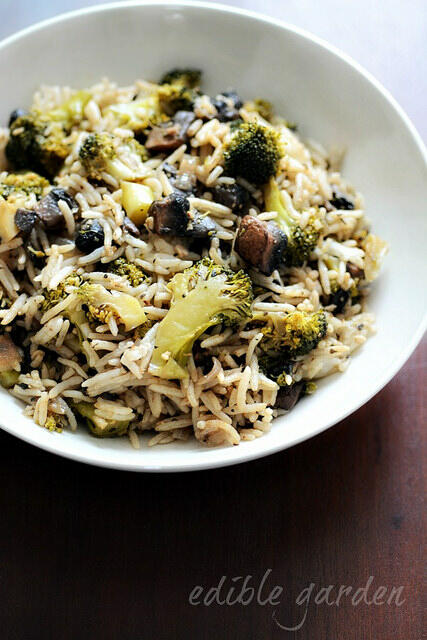 Every time I cook broccoli, I am reminded of those TV shows and cartoons from my childhood that talk about kids hating it. TH and I, we love it! While it is comparable to the cauliflower in terms of looks, I think the texture and flavour are incomparable. I love the fact that its healthy, packs some lovely flavour, and the florets absorb flavours so well. Broccoli also cooks very quickly and you can decide if you want to keep the crunch or cook it a bit more, retaining just a bit of the bite. Mushrooms and broccoli pair really well too and I love using this combination in stir-fried dishes and this mushroom broccoli fried rice.
Side Dish Ideas for Fried Rice:
Szhechuan eggplant
Schezwan vegetables
Gobi manchurian
Chilli paneer gravy
Some tips when preparing broccoli mushroom fried rice:
– Separate the florets and place in water as you cut the broccoli open
– Drain that water and rinse well 1-2 times before using
– When cooking mushrooms for stir-fry and fried rice, use high heat. This way, the mushrooms get seared but don't let out water which can make the dish bland
– Lots of pepper! This is what adds the flavour and heat to this dish. I do use a dash of chilli powder and pepper is the star
– Celery is a compulsory ingredient in most of my fried rice recipes. Try this recipe and you will see why
BROCCOLI MUSHROOM FRIED RICE RECIPE
Preparation time: 20 minutes
Cooking time: 15 minutes
Serves 4
INGREDIENTS:
2 tbsp of oil
1/4 cup of finely chopped onions
2 tsp of soya sauce
1-2 tsp of chilli sauce, red or green
2 cups of broccoli florets
2 cups of cubed mushrooms
1/2 tsp of minced garlic
2 tbsp of chopped celery
4 cups of cooked rice
2-3 tsp of black pepper powder
1 tbsp of spring onion, for garnish (optional)
1/2 tsp of grated ginger
1 tbsp of tomato sauce
INSTRUCTIONS:
Heat the oil and fry onions until light golden brown
Add the garlic and ginger and fry for another minute
Add the soya sauce, tomato sauce, and chilli sauce
On high heat, cook the mixture for a minute, stirring well as you do so
Now, add the chopped broccoli and mushroom
Keeping heat on high, give everything a good mix for 2 mins or so
Lower flame and continue to cook until the vegetables are soft. Per your preference, leave the vegetables a bit crunchy or cook until a bit softer. Since I keep this fried rice for a couple days, I cook the vegetables until they turn a bit soft. If serving immediately, you can leave them a bit crunchy
Once the vegetables are almost done, add chopped celery
To this, add cooked rice and mix well
Top up with lots of black pepper and salt. Mix again.
Press down and keep covered until ready to serve. If packing in your lunchbox, cook completely and pack it to go.
Step by step pictures to make broccoli mushroom fried rice
Heat oil and fry onions until light golden brown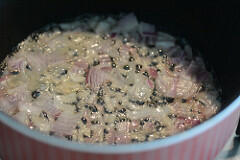 Add ginger and garlic. Fry another 2 minutes.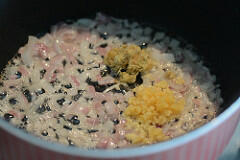 Add the sauces – soya, chilli, and tomato. On high heat, mix for a minute stirring continuously.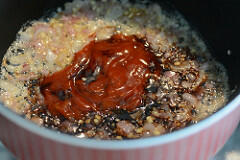 Add the broccoli and mushrooms. Mix well and lower heat. Cook, stirring occasionally, until the vegetables have turned softer.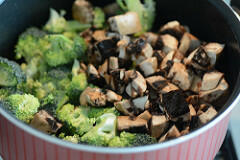 Add celery and mix again.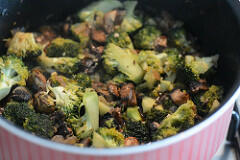 Now add the cooked rice and mix again gently.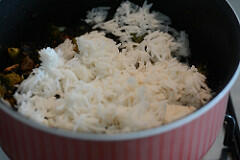 Top up with salt, pepper, and spring onions (if using). Mix again and remove from heat. Serve warm or cool completely before packing in your lunchbox.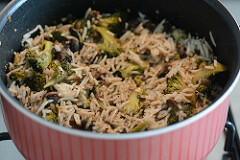 Delicious and flavourful broccoli mushroom fried rice is ready! Easy, right? If you use the right ingredients and have just some time to spare, nothing like a good fried rice to make a good meal.
Notes:
– I use basmati rice to make fried rice
– Any type of mushrooms can be used in this dish. In this instance, I used shiitake but fresh button mushrooms work well too
– Try to use fresh ginger and garlic for better flavour. Bottled works in a pinch too.
– I used sriracha red chilli sauce in this recipe but the green chilli that you use to make other Indo-Chinese dishes will work too