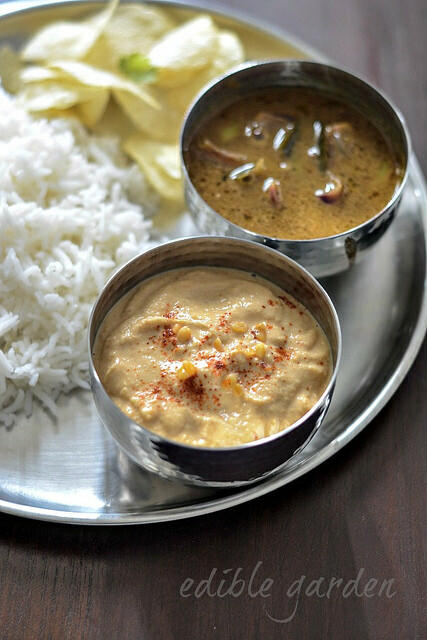 Moong dal chutney or thogayal, an easy chutney with moong dal (paasi paruppu in Tamil, cherupayar in Malayalam) that is a lip smacking combination with rice and kuzhambu, especially kara kuzhambu. I use a lot of moong dal in my cooking, especially in the form of kootu and moong dal tadka but this is the first attempt at making a thogayal with moong dal and I must say it was a success.
We absolutely love thogayal and rice in the Edible Garden household so if you are anything like us, definitely try my:
Paruppu thogayal recipe
Kothamalli thogayal
Chow chow thogayal
Brinjal chutney
Tomato Chutney
Andhra peanut chutney
Browse all chutney recipes here.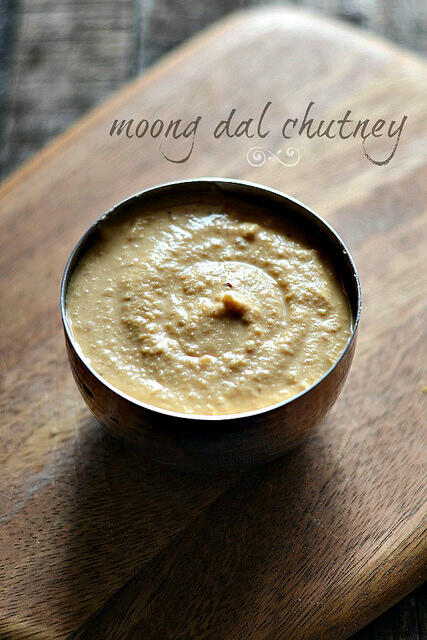 I didn't have enough fresh coconut in hand to make a chutney so I decided to make paruppu thogayal following my usual method. But I was also out of toor dal (these were my last few days in Sydney before we packed everything up again and moved back to Singapore) so I decided to use up some desiccated coconut I had. It ended up being a fabulous decision since the coconut flavour wasn't dominating but subtle and roasted moong dal lends a great flavour which is, in my opinion, quite a bit nicer than roasted toor dal. There are a couple of different variations to making this moong dal thogayal – you can soak the dal and grind it before doing a tadka (tempering) or you can roast the dal with the spices and then grind it at the end. I followed the latter method and didn't regret that decision.
MOONG DAL THOGAYAL RECIPE
Preparation time: 20 minutes
Cooking time: 15 minutes
Serves 4
INGREDIENTS:
1 cup of moong dal
1/4 cup of coconut (fresh or desiccated)
1/2 tsp of red chilli powder or fllakes (adjust to taste)
A large pinch of hing, asafoetida, perungaayam
2 tsp of oil
Salt to taste.
INSTRUCTIONS:
Heat oil in a pan and add the moong dal.
Roast on low heat until golden brown.
Add the coconut, chillies, and hing.
Roast again until the coconut loses its moisture and turns a light golden colour.
Add salt and 1 cup water (or enough water to fully submerge the dal). Turn off heat.
Let it soak for 15-20 mins (or longer, if you have time).
Grind to a paste, adding more water as needed. You can make it as smooth as you want or keep the thogayal course, that's entirely up to you.
Serve with rice and any spicy curry or kuzhambu. Goes well even with rasam and rice.
Step by Step Pictures to make Moong Dal Thogayal:
1. Heat oil and roast the moong dal until golden brown.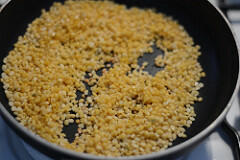 2. Add the chilli flakes (or powder)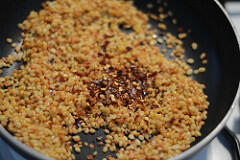 coconut and hing. Mix well until fragrant.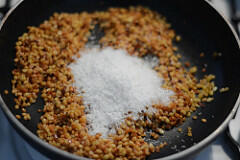 Now add salt and enough water to submerge the roasted dal mixture. Turn off heat and let it soak for 15-20 mins.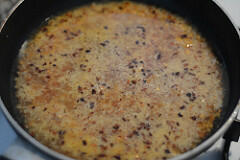 Grind to a smooth or coarse texture to your preference, adding more water if needed. I am sorry I don't have a picture of the ground thogayal for some reason!
Serve moong dal thogayal with rice and any kuzhambu or rasam.