Eggless mango recipes to use up ripe mangoes this mango season. Using up ripe mangoes in mango desserts is a great problem to have, unfortunately one I haven't been faced with in many years since mangoes are not cheap in Singapore or Australia but more importantly, they don't taste the same as our delicious Indian varieties. Summer is hot and humid but that also means we get to taste most of our favourite fruits by the dozens – mangoes!When we were kids, Amma used to buy all fruits seasonally from the wholesaler in baskets or boxes. We never bought 1 or 2 kilos of fruit, ever. With mangoes, we would buy them in 5 or 10 kilo wooden crates packed with hay. Once brought home, the mangoes were carefully taken out and laid in the store room on layers of newspaper and some hay for added cushioning. They needed to be aired out properly or the mangoes would ripen too soon, faster than we could eat them.
Then, for the next month or two, the supply was replenished and every day after lunch and sometimes after dinner too, we'd have freshly peeled and chopped mangoes. Either Amma or my grand mom we fondly called Aatha would bring out the steel knives (no iron because it leaves a dark deposit on the mangoes and no peeler because too much fruit got wasted stuck to the skin) and carefully peel out the skin as close to the flesh of the mangoes as possible. This was an art – they would start at the top of the fruit and carefully spiral their way down until the mango was perfectly peeled. As kids, we'd cheer them them on to make sure the skin comes out in one giant spiral.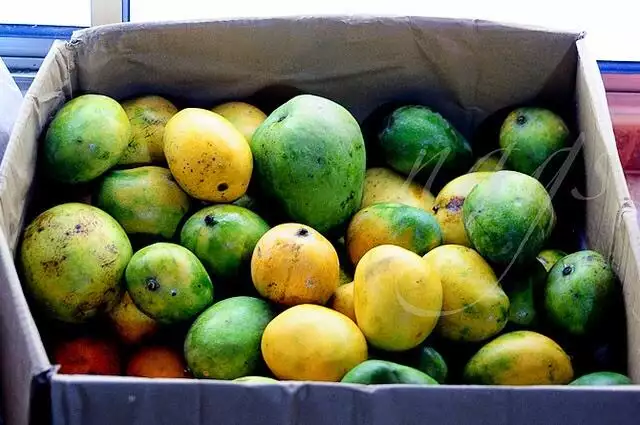 Once 4-5 mangoes were peeled, they'd cut out bit-sized cubes from all sides and taste as they go. Some mangoes would naturally be sweeter than the others but the cut pieces were always uniformly mixed together so nobody had to have just average-tasting mangoes that day. My family has a lot of mango lovers. I am a famous one with lots of stories from when I was a toddler and my love for the fruit. My mom's sister is another because she'd eat any mango down to the pith, not even caring too much if it's underripe, overripe, or slightly begun to decay (gross, I know, but go to respect that kind of love).
Ok, pulling myself right back from my reminiscing, let me get right to the mango recipes. If you find yourself with some really ripe mangoes and you are tired of eating them plain, here are my favourite mango recipes to fix that situation. You can use any sweet mango for these recipes. Ok, so let's get down to them!
1. Eggless Mango Cheesecake Recipe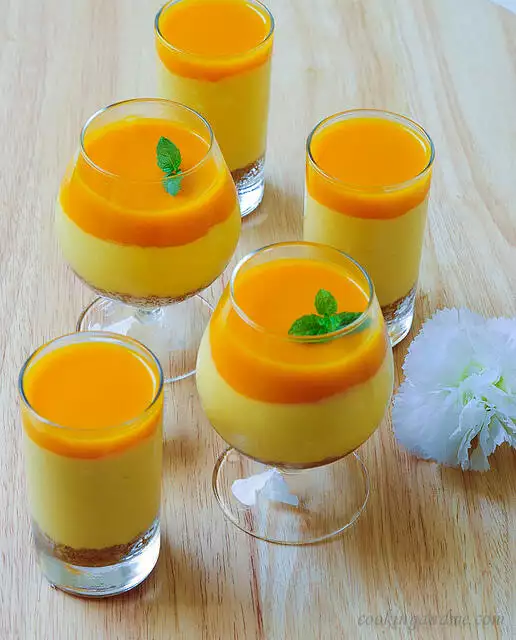 This is possibly the most popular recipe on Edible Garden. It's delicious, easy to make, and mango is really the best fruit for this recipe. Go ahead, indulge!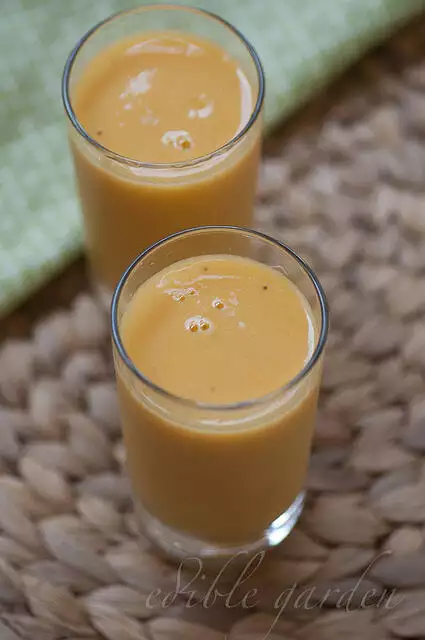 Making a milkshake with mangoes may seem like the most obvious thing to do but add some bananas to this mix and you will immediately see why it's a good idea. More than a milkshake or dessert, I recommend starting your day with this mango banana milkshake and see how full and happy you feel.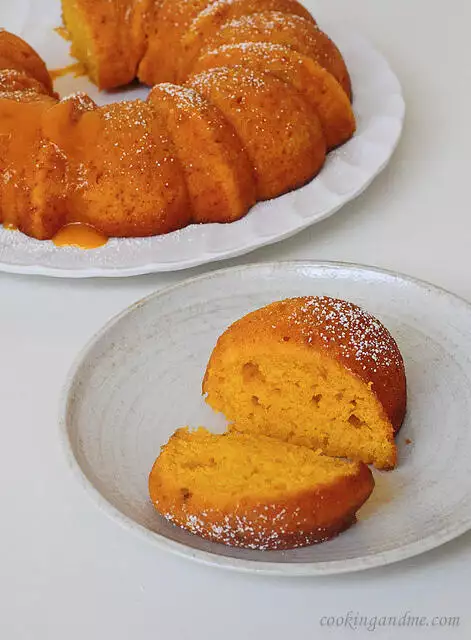 I love my cakes with chocolate but this mango cake is really a special one. The only change I have made in subsequent versions is to use butter instead of oil which doesn't make it vegan anymore but unless you follow a vegan diet, I recommend that change.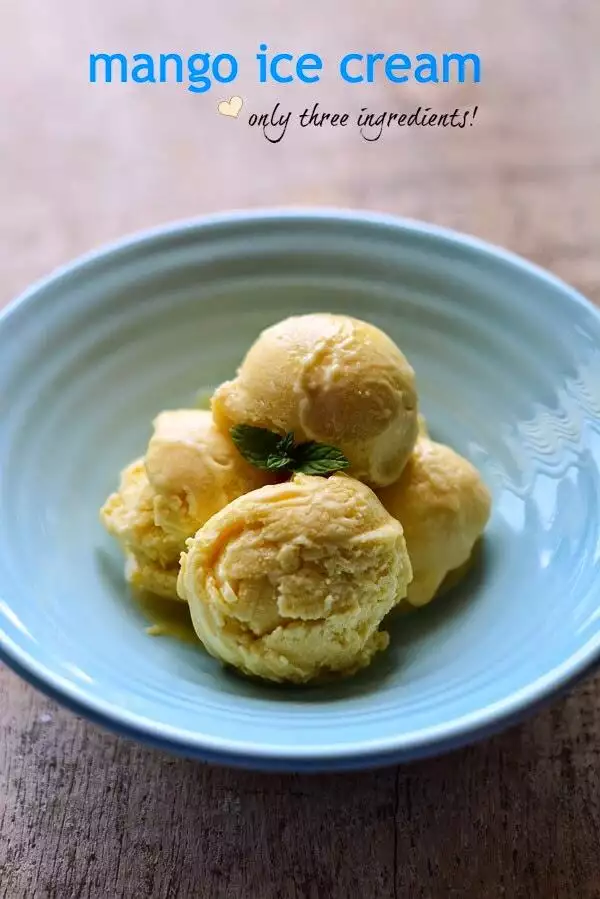 Ice creams have the reputation of being time-consuming but this condensed milk mango ice cream recipe only uses three ingredients and there's no churning or freezing-blending-refreezing steps needed. Probably my favourite basic ice cream recipe which I plan to try with other fruits and ingredients. Kids would love this too and making ice cream at home is so much better than buying them, no matter how good or expensive.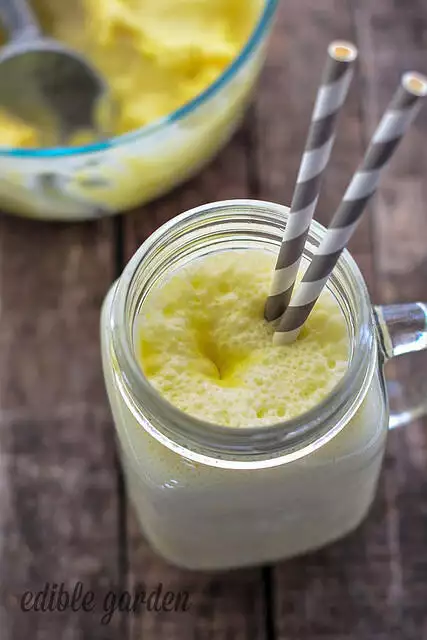 When you
make mango ice cream
, you may find yourself with some extra like we did. I blended the ice cream into some delicious milkshake. However, making this doesn't need you to have mango ice cream in hand – just use ripe cut mangoes and vanilla ice cream. That's definitely a more delicious way to make this milkshake, I just happened to have mango ice cream in hand so used that. Great way to beat the heat this summer.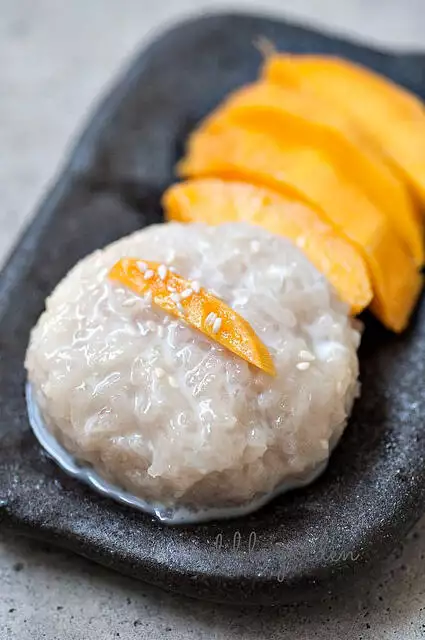 Mango sticky rice is easily one of my favourite non-Indian desserts. It's ridiculously easy to make and you are eating the mangoes chopped up and as is but clubbing it with the coconut flavoured sticky rice just makes it extra special. If you haven't tried this dessert before, I highly recommend you change that this summer. Just make sure you buy the right kind of glutinous rice to make the sticky rice, regular rice won't cut it.
7. Mango Lassi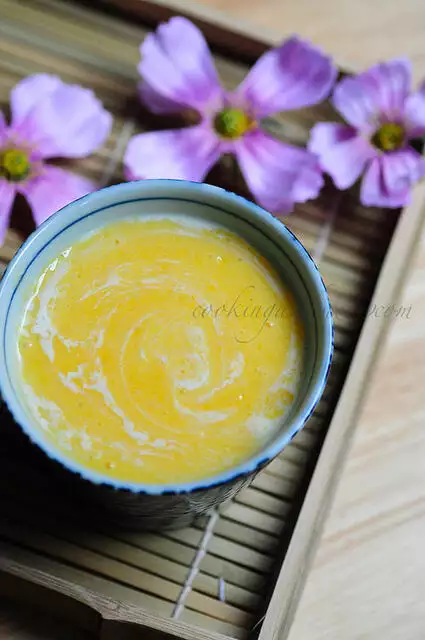 Mango lassi is a classic Indian drink and it's very easy to get in Indian restaurants if you don't feel like making your own lassi at home. However, the kind I see here are too yellow, too sweet, and too artificial-tasting. Homemade lassi is just extra special so why not use the mangoes and put them to good use? Yogurt is great for added calcium and cooling properties during the summer months too. Go easy on the sugar if your mangoes are already sweet enough.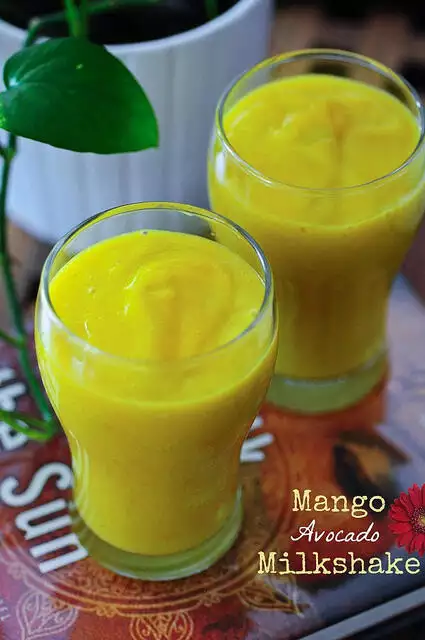 Just like adding bananas to mango milkshake, avocados make a great addition too. It lends creaminess without needing to add cream, milk, ice cream or any of those. Especially great if you are following a vegan diet. A good one to start your morning with or even drink during midday to stay away from unhealthy snacking.
I will be posting more mango recipes this summer so stay tuned. Meanwhile, enjoy the fruits and ignore the heat (well, try to!).