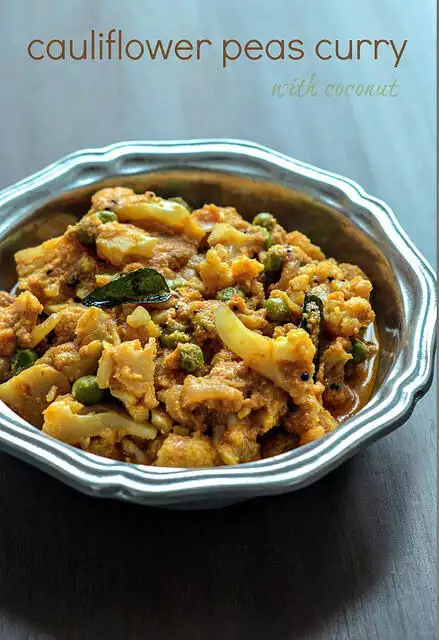 Cauliflower green peas curry in a coconut base, a perfect South Indian vegetarian side dish for rice and even chapatis.
Cauliflower and green peas are quite a match and this simple South Indian style curry with coconut really hits the spot, especially if you are a cauliflower lover. The recipe is not particularly 'authentic' or anything, just something I made up as I went but the result surely suggests it's a keeper!
Cauliflower is one of TH's favourite vegetables and on days he goes to pick up vegetables and I don't give a list saying what exactly to get, you can be sure I'll be staring at a large head of cauliflower when he gets back. Somehow he gravitates towards it, knowing that I will turn it into a nice gobi manchurian, cauliflower biryani, or something similar.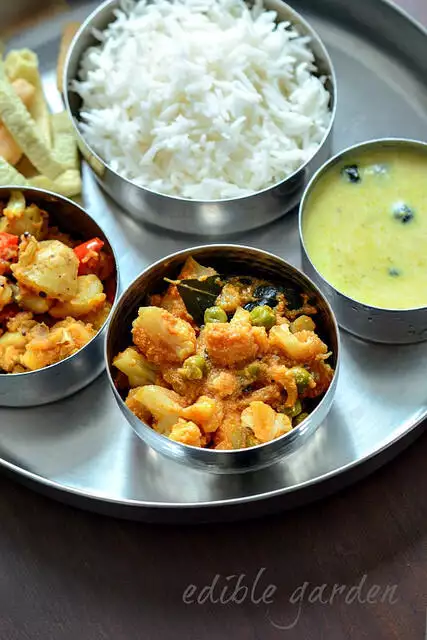 On Saturdays I cook more than any other day of the week. Breakfast is simple with eggs usually and I quickly move on to lunch which is almost always rice with two types of vegetable sides (one with coconut and one without), one kuzhambu or rasam, and papadom or chips for the crunch. Curd and pickles are a staple anyway so that's a given too. For the coconut-based curry, I default to a Kerala thoran because I love the flavour of ground coconut, shallots and cumin but this particular Saturday, I had to deal with some cauliflower which doesn't transform itself very well into a thoran. I needed a coconut based curry so this is what ended up happening. Threw in a handful of frozen peas, ground up some coconut paste, and the resultant side dish was super flavourful and paired really well with mor kuzhambu and roasted potatoes.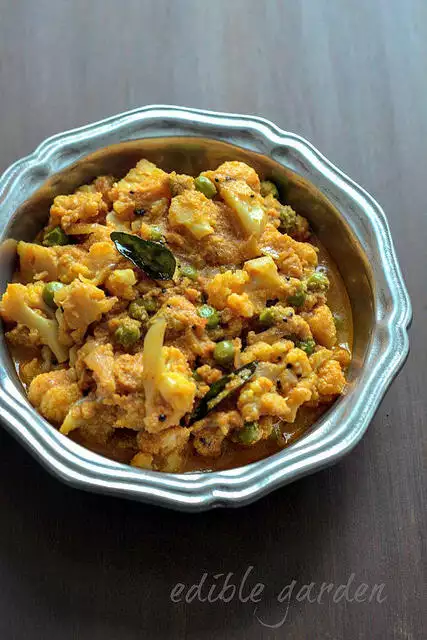 The more dry version of gobi peas masala is a great recipe too and doesn't use coconut so check that out if that's more to your liking.
Other easy Indian cauliflower recipes you may like:
Aloo gobi
Gobi manchurian
Gobi paratha
Gobi mushroom masala
Gobi kheema
CAULIFLOWER PEAS COCONUT CURRY RECIPE
Preparation time: 15 minutes
Cooking time: 30 minutes
Serves 6
INGREDIENTS:
5 cups of cauliflower florets, cleaned and washed
1/2 cup of green peas, fresh or frozen
1/2 cup of onions or shallots, sliced
2 tbsp of oil
1/2 tsp of black mustard seeds
1 tbsp of tomato paste (or 1/2 cup tomato puree)
1 tsp of coriander powder
1/2 tsp of red chilli powder
1/2 tsp of cumin powder
2 tbsp of plain or Greek yogurt
1/4 tsp of turmeric powder
A few curry leaves
For the coconut paste:
1 cup of grated coconut (thawed if using frozen coconut)
1 green chilli
2″ piece of ginger
3 cloves of garlic (or 1 tsp minced garlic)
INSTRUCTIONS:
Make the coconut paste first. Add the coconut, garlic, ginger, and chilli to a spice mixer or small jar of your mixer grinder.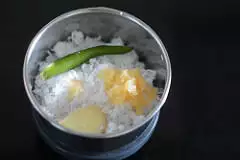 Add 1/2 cup water and grind to a smooth paste. Set aside.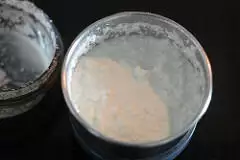 Heat the oil in a pan and add the black mustard seeds. When they pop, add the sliced onions. Cook until the onions turn a light golden brown.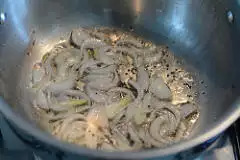 Now add the ground coconut paste to this.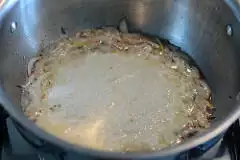 Mix well and add the tomato paste or tomato puree, whatever you are using. Mix again. and add the spice powders – turmeric, chilli, coriander, and cumin.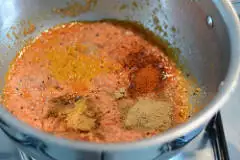 Cook on low flame until the gravy thickens a bit and the spices lose their raw smell.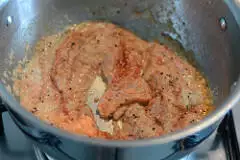 Add the cauliflower florets and peas, top up with 1-2 cups water.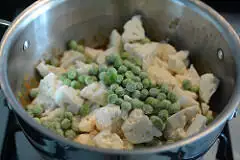 Mix well to combine.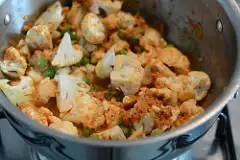 Cook covered for 10-12 minutes on low flame until the cauliflower is cooked but not mushy. You can add water as needed but don't add too much, we want only a semi-gravy type situation.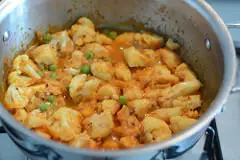 Final step – add the yogurt, salt, and curry leaves. Mix again.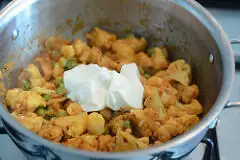 All done! I like this dish to have just a small amount of gravy but you can obviously adjust it by adding more or less water according to your preference.
Serve cauliflower peas curry with steamed rice or rotis, nan.
For gobi matar curry recipe in Hindi, Tamil, Telugu, Urdu, etc please use the Google translate button in the sidebar.