Learn how to make Onion Potato Poha or Kanda Batata Poha, an easy and healthy Maharashtrian breakfast recipe using Indian flattened rice, potatoes, onions, and some mild spices.
Needless to say, I didn't grow up eating Kanda Batata Poha, what with it being a Maharashtrian recipe and all that. The first time I tried Batata Poha was at this mini exhibition and sale conducted by some ladies group in my home town that amma was an active member of. They would set up stalls and sell a variety of things, all homemade. In one of those, they were selling Kanda Batata Poha in small cups for 5 rupees each. Amma and I had no clue what Batata or Poha was but decided to give it a shot anyway. After one bite of it, amma goes "ahh aval!" and then quickly went on to dissect the ingredients and tell me exactly what went into the Batata Poha and how it was probably made.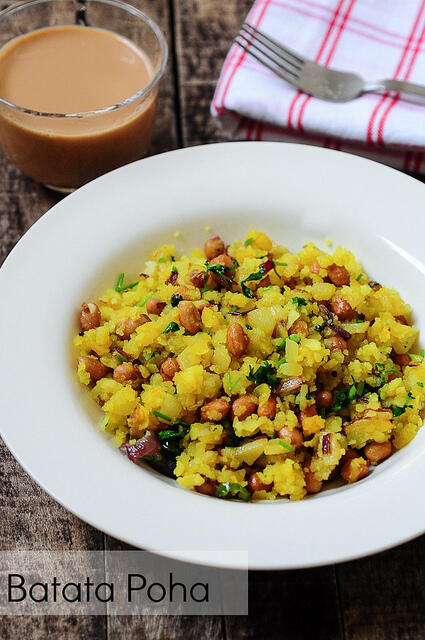 Fast forward a few more years, I moved to Hyderabad for work and met people from all over. I tasted food that I'd never even heard of before. This recipe is from a Maharashtrian colleague who made his mom's Kanda Batata Poha one day and posted it on FB. I, of course, immediately asked him for the recipe and obliged. Thanks Yash!
I was wondering if Batata Poha and Kanda Poha are the same thing so I asked Yash and he said batata = potato and kanda = onion. If you add both to the poha, then it kinda becomes Kanda Batata Poha. Anyway, irrespective of the finer details, this is an delicious, easy, and healthy recipe that you must make!
Love poha or aval recipes? Then check out this aval vadai recipe, and sweetened poha with coconut, a regular evening snack in Kerala. Check this link for more breakfast recipes.
Kanda Batata Poha Recipe
Preparation time: 5 minutes
Cooking time: 10 minutes
Serves 2
Recipe adapted from: Yash Godbole
Ingredients:
1.5 cups of poha (aval, avalakki, Indian flattened rice)
1 onion, chopped fine
1 potato, boiled and chopped fine (see notes)
1/4 cup of peanuts (raw or roasted)
2-3 green chillies, chopped
1/8 tsp of hing (perungaayam, asafoetida)
1/4 tsp of sugar (optional)
1/4 tsp of turmeric powder
1 bunch of fresh coriander leaves or cilantro
1 wedge of lime or lemon
1 tbsp of oil
1/4 tsp of mustard seeds
3/4 tsp of salt (adjust to taste)
How to Make Kanda Batata Poha:
1. Rinse the poha through some running water, drain completely, and set aside. I mixed the turmeric in the wet poha and mixed before keeping it aside for uniform colouring.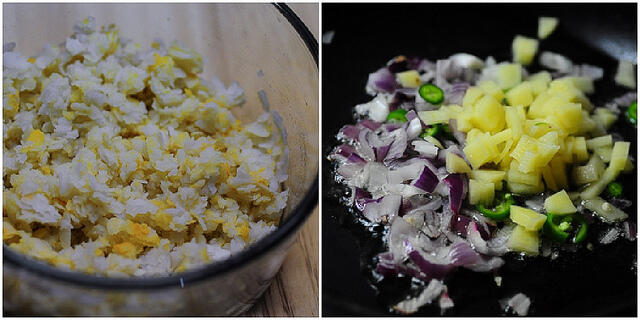 2. Heat oil in a wide pan and add the mustard seeds. When they start to pop, add the onions, hing and green chillies. Saute for a few mins until the onions turn transparent and then add the finely chopped boiled potato. Saute a while longer and then add the peanuts. Since I used raw peanuts, I let it roast in there for a while so the raw smell would leave it. The onions will also roast a bit more which is perfect.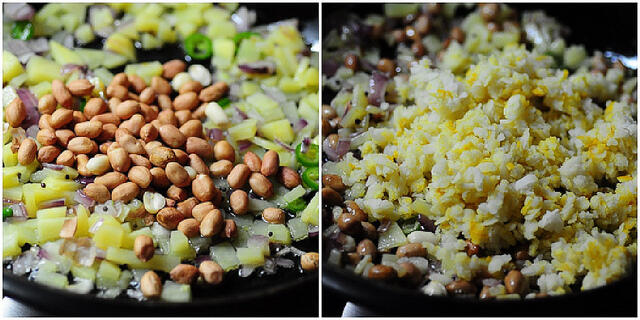 3. Next, add the washed poha, sugar (if using) and salt. Mix well and let the ingredients blend together imparting a lovely yellow colour and a nice flavour to the poha.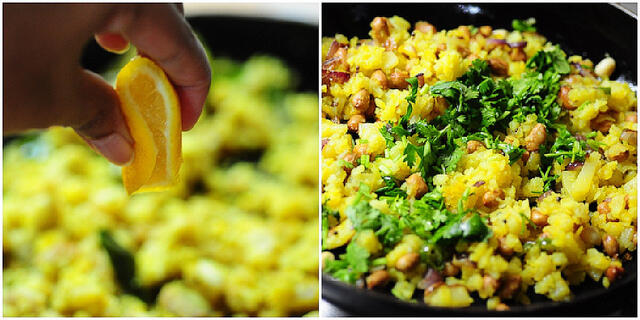 4. Turn off heat, add a few drops of lime or lemon and garnish with a generous amount of chopped coriander leaves. These two ingredients are really not optional to make Kanda Batata Poha. Mix again and serve hot with some steaming cardamom tea!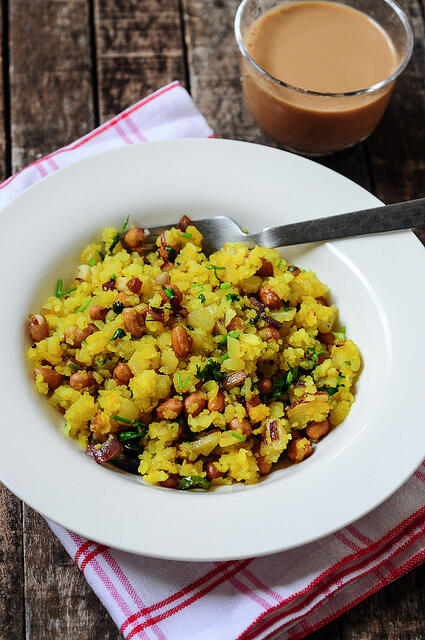 Notes:
– Another, probably more authentic, way of making Kanda Batata Poha is to fry the potato cubes separately and then adding to the poha. Since I happened to have a boiled potato in hand, I used that. You can also grate a raw potato and add it but the cooking time will be a bit longer.
– The peanuts I used were raw and I did feel like they didn't roast completely since I added them after the onions, etc. Either use roasted peanuts or roast them separately before adding, if you are particular about it.
– Curry leaves can be added to batata poha if you prefer but since I added a lot of coriander, I wanted just that flavour to dominate.
– The sugar is optional. I added some and liked the flavour but you can skip it if you'd like.
Before I sign off, here are some South Indian Breakfast Recipes from Edible Garden to motivate you to cook and eat the most important meal of the day
– Soft Idlis
– Instant wheat dosa
– Rava upma
– Semiya upma
– Rava idli
– Idli with idli rava
– Wheat puttu
– Idiyappam