I love Korean food. The flavours are amazing and I love those tiny dishes of so many different things they serve along with their meals. I love the small, steel, tiffin box type thing they serve rice in, it's all just so lovely.
Kimchi is an integral part of every household and apparently there are more than a hundred varieties of kimchi. My Korean colleague tells me that her mom makes it in bulk and stores it, especially when the cabbage used to make Kimchi is in season. My favourite Korean dish is Bibimbap, closely followed by grilled Saba fish, mainly because it's a great one pot meal and has pretty much everything a meal should contain. The sauce that comes with it is nice and flavourful and adequately spicy for my Indian palate.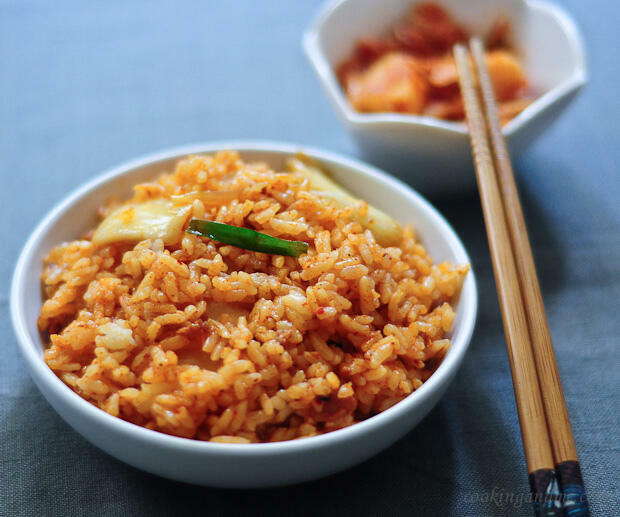 I hope to make a vegetarian version of Bibimbap at home some day. When I went on a whirlwind trip to Seoul in July this year (pictures are here), I brought back some vegetarian Kimchi from the amazing variety that was available in the Seoul airport. There were two options for vegetarian Kimchi and I picked the one that looked redder and spicier. It didn't disappoint. I whipped up some super delicious fried rice with it, and here's the recipe.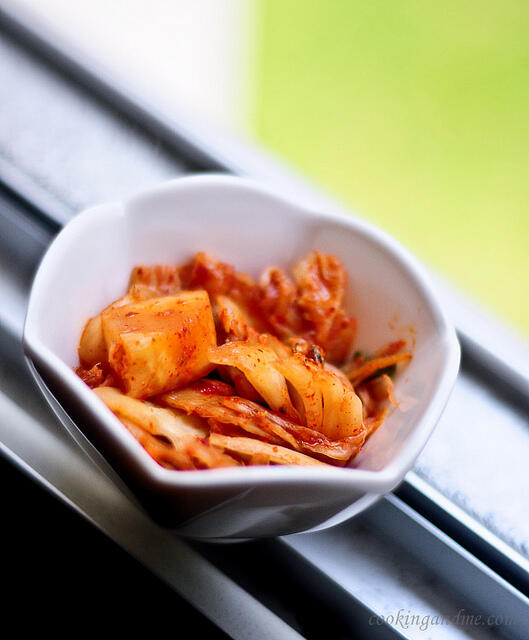 Vegetarian Kimchi Fried Rice (Kimchi Bokkeumbap) Recipe
Serves 2 people
Ingredients:
2 cups of
cooked rice (I used regular ponni rice)

1 cup vegetarian kimchi
1 onion, sliced
2-3 spring onion, chopped into 3″ pieces

2 tsp of
Asian sesame oil (or any oil you have in hand)

2 eggs (optional)

2-3 cloves of
garlic, minced

1/2 tsp black pepper powder
How I Made It:
1. Heat the oil and add the minced garlic. Fry for 30 seconds and then add the onion. Fry until soft and transparent.
2. Now add the kimchi and the cooked rice, stir well to incorporate and heat through until well combined. Adjust salt and add pepper powder.
3. You can top off each bowl with a fried egg, that's how fried rice is normally served in Korea. You can also scramble the egg and incorporate that into the fried rice.
For a non-vegetarian version, add boiled chunks of meat of choice to the garlic and oil, fry for a bit and proceed with the rest of the steps.