Payasam
is often the most looked-forward to item in any
Kerala Sadya
or during
Onam
when sadya preparations start in earnest. Every year that I was home, Amma would ask what payasam we would like for Onam and I would always opt for the jaggery based
Kerala-style payasams
that are deep brown, sweet, coconut-scented and just totally awesome. I have started making payasam at home on rare occasions and this is my first attempt at making
Cherupayar Payasam
which turned out quite good.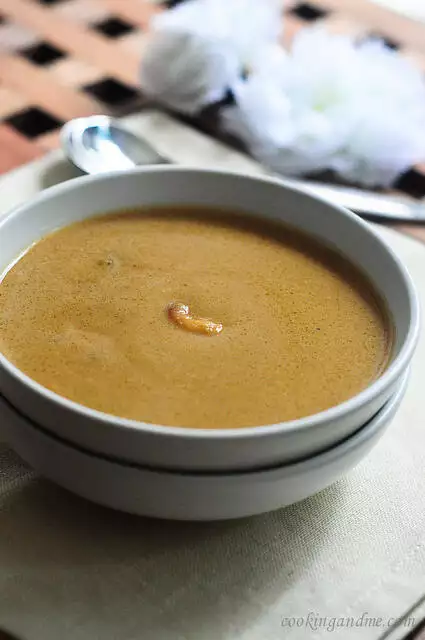 Being away for Onam for the past 6 years, one would imagine I would be used to the acute feeling of homesickness each time. Nope. Doesn't look like that's happening.
Although I had resolved to get more involved in cooking for festivals, I failed miserably for Onam this year. A sudden work trip took me away from home and I didn't even have my camera with me to do something about it.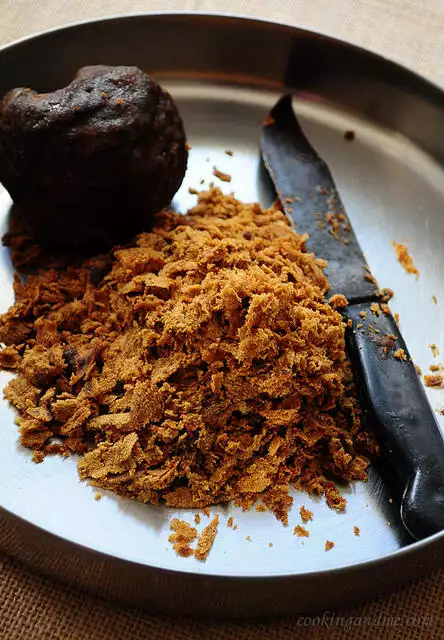 Anyway, what's all that in the face of a good, warm (or cold) bowl of payasam, eh? Any payasam with sharkkara (vellam or jaggery) is my absolute favourite. Of course, TH can't stand jaggery and won't even come near anything made with it but each time I go home to Kerala, I bring back two of these jaggery balls and store them in the fridge. Leave out for a few mins before grating with a knife if you like to do the same. I prefer this darker, no-salt version to the white terribly salty versions that seem to be available everywhere outside Kerala. Use this for a genuine Kerala flavour to anything with jaggery.
This jaggery is also the reason for the deep brown colour for my sweet modak poornam filling.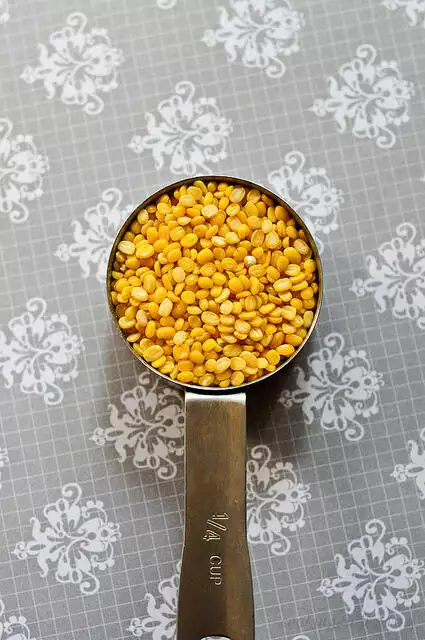 Although kadala parippu payasam is also a favourite, I decided to go with cheru payar (moong dal or pasi paruppu) this time. This Kadala Parippu pasayam is another favourite jaggery-based South Indian payasam. Browse more Payasam Recipes for Onam.
Cherupayar Payasam (Kerala Parippu Payasam)
Serves 4

INGREDIENTS:
1/4 cup of cheru payar / pasi paruppu / moong dal
3/4 cup more or less of grated jaggery (or brown sugar, but it's a poor substitute)
3 heaping tbsp of ghee
10 plain, unsalted cashewnuts
A few of raisins
1 cup of thick coconut milk (onnaam paal)
3-4 cups of thin coconut milk (rendaam paal)
4-5 cardamom pods, crushed
INSTRUCTIONS:
1. Roast the parippu in a dry pan until it turns golden brown.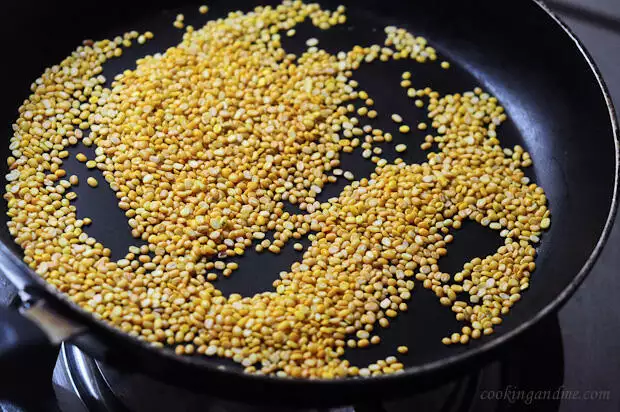 2. Add the thin coconut milk (rendaam paal) and pressure cook for 5-6 whistles until mushy.
In hindsight, I probably should have left some whole dal in there too, for some texture. I think I mashed it up too much.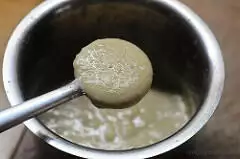 3. Add some water to the grated jaggery and heat it on medium flame until it begins to melt. Stir well until the jaggery fully melts, strain, and mix in with the cooked dal.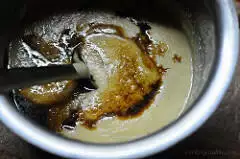 4. Return the dal mixture to the fire, bring to boil and add the thick coconut milk. Heat through, add the crushed cardamom and remove from fire. Do not boil after adding the thick coconut milk.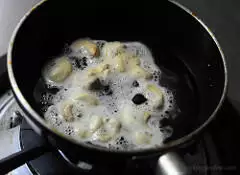 5. Now, heat the ghee in a pan and add the cashew nuts and raisins. When the nuts turn golden brown and the raisins have puffed up, remove and add to the payasam. Mix well.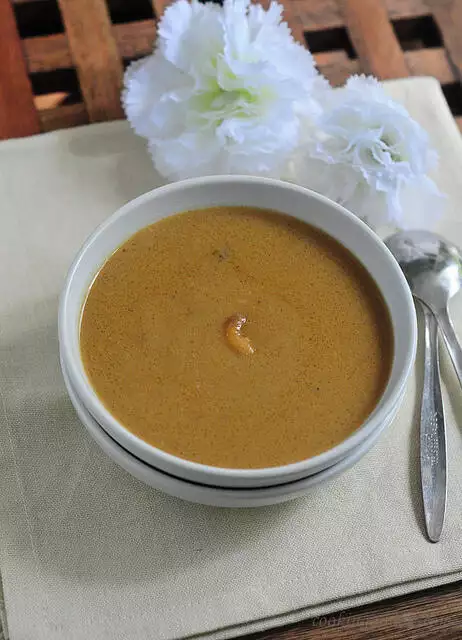 Notes:
1. I used canned coconut milk so I think it was thicker than I expected. My payasam turned out thicker than I am used to eating back home but it was still very tasty and I couldn't sense any difference in flavour.
2. Don't mush up the dal too much, leave some bits whole for some added texture.
Also, Happy Onam everyone 🙂