Drum stick leaves will always remind me of my maternal grand mom and her immense patience when it came to cooking. As I type this, I can imagine her squatting on the kitchen floor, her tongue flicking out now and then to wet her lips as she plucks out each leaf with great concentration.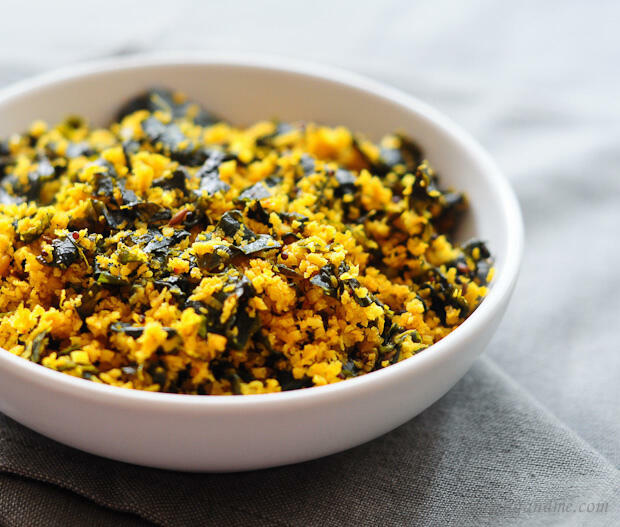 Needless to say, I did this extremely time-consuming task watching tv and recruited TH to help me too. He did it with an expression that seemed to say "why are we doing this again? I don't feel compelled to eat this thing if prepping it is such a pain you know". I ignored it and kept plucking diligently until I had a large plate full of fresh drum stick leaves.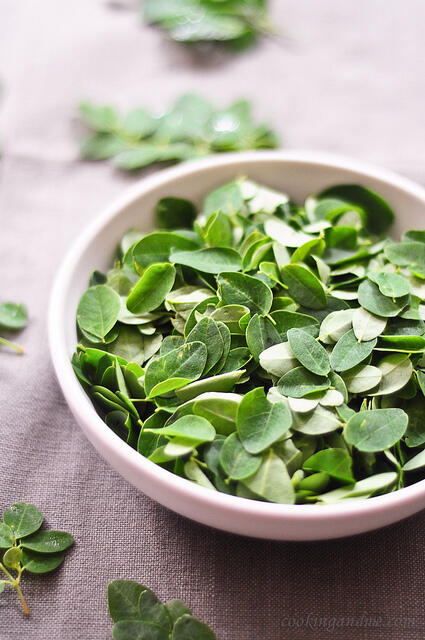 Then I realised I didn't know how exactly aatha (amma's amma in Reddiar telugu) cooked this so I called amma. She told me you need to rub the leaves with the spices you are going to use and then cook in a low flame with water sprinkled over it. This is how amma makes most thoran although I cook the vegetable first before adding spices. For the drumstick leaves, I decided to go the aatha way.
Also check out drumstick leaves rasam and drumstick sambar recipe.
Muringayila Thoran / Drumstick Leaves cooked with Coconut
Serves 2
Recipe Source: Amma, Aatha
Ingredients:
4 cups drumstick leaves muringayila
1 cup grated coconut (adjust amount to taste)
1 tsp red chilli powder
A large pinch of turmeric
2 shallots
1/2 tsp jeera / cumin powder
Salt to taste
1 tbsp coconut oil
1/4 tsp mustard seeds
How I Made It:
1. Remove the drum stick leaves from the stems. Wash thoroughly.
2. Add salt, turmeric and red chilli powder to the washed leaves. Set aside for 30 mins. It will let out water.
3. Grind coconut coarsely with the shallots and cumin powder.
4. Heat oil in a pan and add the mustard seeds. When they pop, add the marinated leaves, stir around to combine. Cook closed on low heat for about 5 mins. Open, add the ground coconut mixture and stir well again.
5. Cook closed for another 5-10 mins until the leaves are cooked through and soft. Make sure you mix in between to prevent browning at the bottom.
Serve with rice and any pulusu / kozhambu of choice.