Chickpeas Sunday is a Navaratri special recipe. I have never paid much attention to sundal before in my life but one night, I this sudden craving for it, maybe because there was a bowl of soaked and pressure cooked chickpeas in the fridge and I knew this would be done in a jiffy.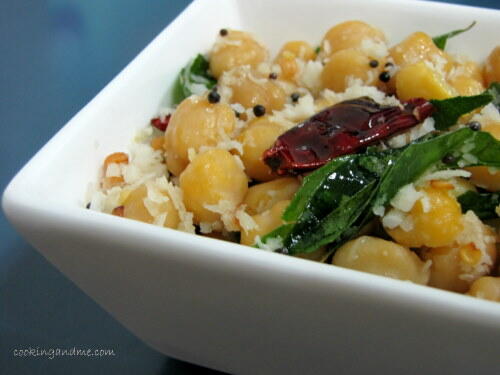 It's great as a snack, in addition to being a decent side dish with rice and some gravy. Of course, you can also bookmark it if you are looking for Navaratri Special Recipes. Green peas sundal and kadalai paruppu sundal are certain other staples.
Kadalai Sundal Recipe
Serves 2
Ingredients:
1 cup chickpeas / kabooli channa, soaked overnight
2 tbsp grated coconut
2 tsp oil
1/4 tsp mustard seeds
1/2 tsp urad dal / ulutham paruppu / husked and split black gram
2-3 dry red chillies
A few curry leaves
Salt to taste
Instructions:
1. Pressure cook the chickpeas for 3-4 whistles (until its cooked but still holds its shape). 3 whistles is a safer bit although in Singapore I feel pressure cooking takes more time.
2. Heat the oil in a pan and add the mustard seeds. When they start to pop, add the urad dal, red chillies each broken into two and the curry leaves.
3. Once the urad dal turns a golden brown, add the drained chickpeas, coconut and salt. Mix well on medium flame for 3-4 minutes.
4. Serve warm as is or with rice and side dish.
Check out Mochakkottai Sundal Recipe I had posted earlier.