Some time back, I had asked people to share their favourite paneer dish in the
Edible Garden Facebook page
. I was quite surprised to see that
Paneer Bhurji
got the most votes, only followed by
paneer tikka masala
. I was surprised that this simple dish that I hadn't even bothered to blog about impresses so many people.
So here goes, my most versatile Indian paneer recipe – Paneer Bhurji. The beauty of this recipe is, it's entirely flexible. You can change around the masala powders (like using pav bhaji masala) you use and experiment with adding different vegetables (like adding tomatoes).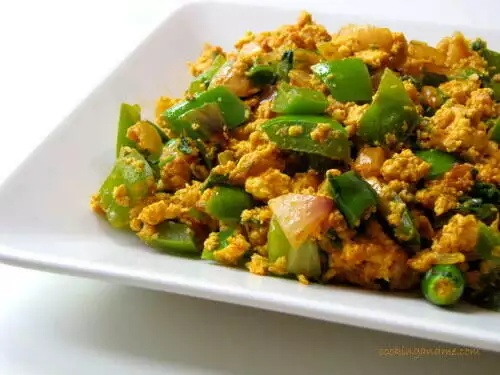 Paneer Bhurji Recipe
Serves 2
Ingredients for Paneer Bhurji:
1.5 cups paneer, crumbled
1 small onion, chopped fine
2 green chillies, chopped fine (adjust to taste)
1/2 of a capsicum, chopped fine
A pinch of turmeric
1/2 tsp jeera (cumin) powder
1/2 tsp garam masala
Fresh coriander leaves to garnish
2 tsp oil
Salt to taste
How to Make Paneer Bhurji:
1. Heat oil in a pan and add the onions and green chillies. Once the onions turn soft and pink, add the jeera, salt, and turmeric. Fry for a minute.
2. Now add the paneer, garam masala and capsicum. Stir well and cook on low fire for 7-8 mins, stirring in between. The capsicum should be crunchy. Adjust salt.
3. Garnish with the coriander leaves and serve warm with rotis or use in a sandwich. Yum!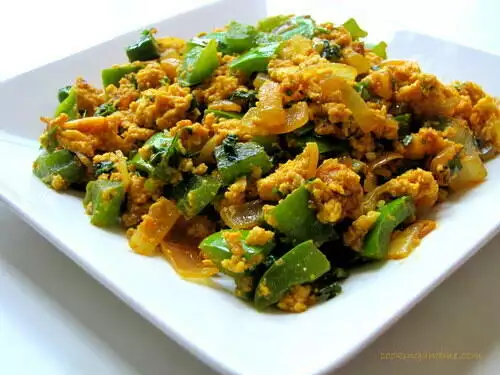 Paneer Bhurji recipe is so ridiculously simple that if you use store-bought paneer cubes, this should be done in less than 15 mins. How's that for a quick dinner idea?
Note: Substitute crumbled paneer with scrambled eggs and you have egg bhurji!