Bagara Baingan is a relatively mellow Hyderabad dish that uses young brinjal or baingan and a masala paste with peanuts. I tried this with roti and it was a delicious combination! A friend of mine had been asking me for a good bagara baingan recipe after trying it in Hyderabad so I was kinda forced into making this but boy, am I glad I did. Try this easy bagara bainga at home, you surely won't be disappointed.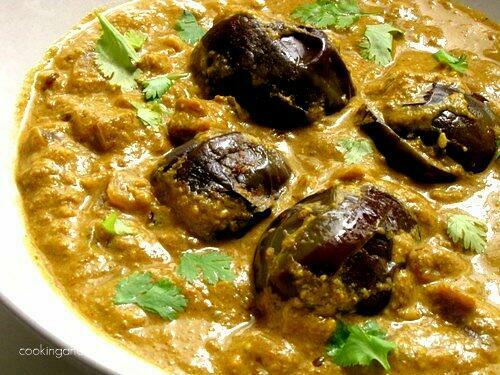 This bagara baingan recipe is loosely based on a recipe I saw in a Nita Mehta book at the library. I didn't borrow it so made this based on what I could remember from her recipe. The amount of ingredients are all my own approximation but it turned out very tasty, a perfect combo with roti, pulao or biryani (like they serve it in Hyderabad).
Also check out: 
Bagara Baingan Recipe
Bagara baingan recipe, Hyderabad style bagara baingan, a delicious curry with eggplant cooked in a sesame peanut onion paste.
Ingredients
6 purple baby brinjals
2 tbsp white sesame seeds
2 tbsp peanuts
2 tbsp grated coconut
1 onion, chopped fine
1" piece of ginger
2 garlic pods (or 2 tsp ginger garlic paste)
¼ tsp turmeric powder
1 tsp jeera / cumin seeds
1 tbsp coriander powder/malli podi
1 tsp red chilli powder (or to taste)
A small lemon sized ball of tamarind
1 tbsp oil
Salt
Fresh coriander leaves for garnish
Instructions
Dry roast the peanuts and sesame seeds separately until golden brown. Set aside to cool. Then, grind together with the coconut and little water to form a smooth paste.
Extract the tamarind paste in 1 cup warm water. Grind the ginger and garlic together if using fresh gg paste.
Fry the brinjals in oil until soft but still holds shape. Drain and set aside. In the same oil, fry the onions and ginger garlic paste until golden. Then add the ground paste and fry for a minute.
To this, add turmeric powder, chilli powder, jeera, coriander powder and salt. Mix well and fry for another minute.
Add the tamarind water, mix, then add the brinjals and cook closed for 5-10 mins. Garnish with fresh coriander leaves before serving.
Step by Step Bagara Baingan Recipe
First, dry roast about 2 tbsp of white sesame seeds / til / ellu until golden brown. Set aside.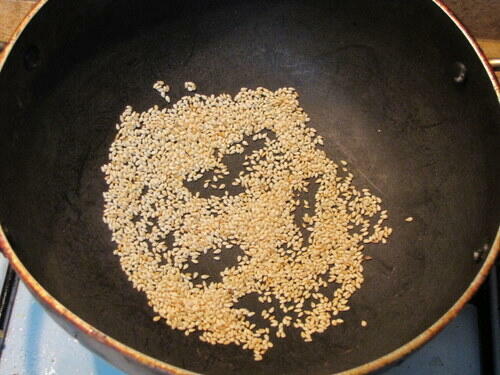 Then, dry roast 2 tbsp peanuts until roasted and brown. Mine was raw and unsalted so if you are going to use the salted kind, then make sure you keep that in mind while adding salt to the final dish. Set aside.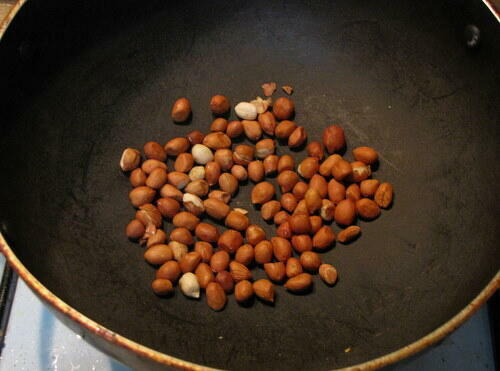 Next, heat 1 tbsp oil in the same kadai and throw in the washed and slit baby brinjal. We are using the same kind used for ennai kathirikkai kuzhambu. Fry until soft and set aside.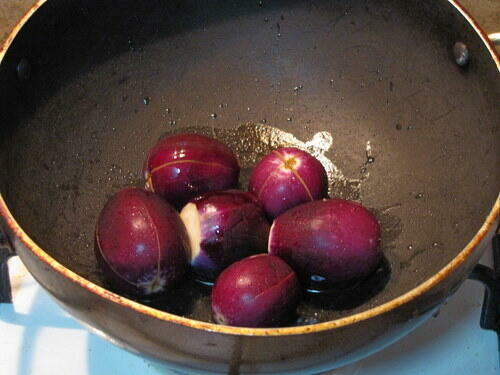 In the same oil, add 1 onion, chopped fine.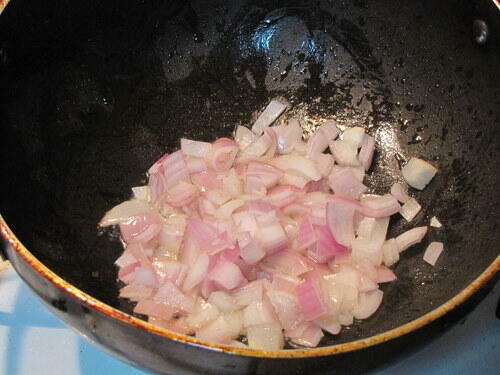 To this, add a 1″ piece ginger and 2 garlic pods ground together. Alternately, add 2 tsp readymade ginger garlic paste.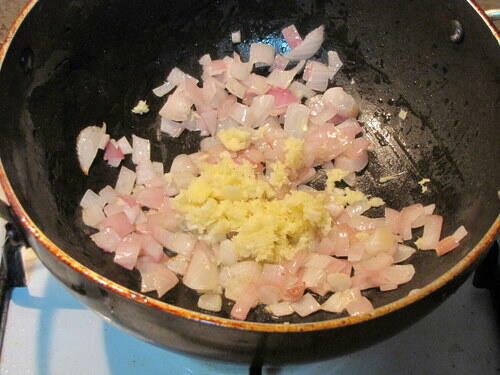 While you let that fry, grind the sesame and peanuts with 2 tbsp grated coconut to a smooth paste.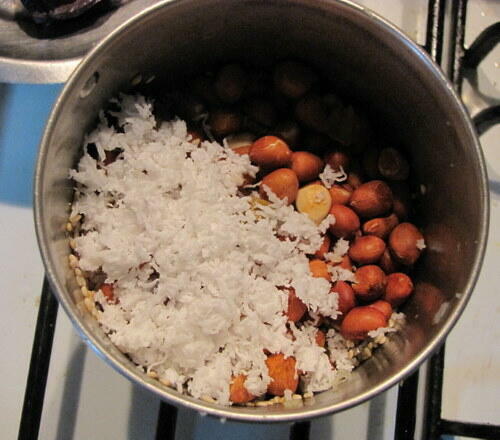 Which looks like this. Yes, you can add a little bit of water while grinding.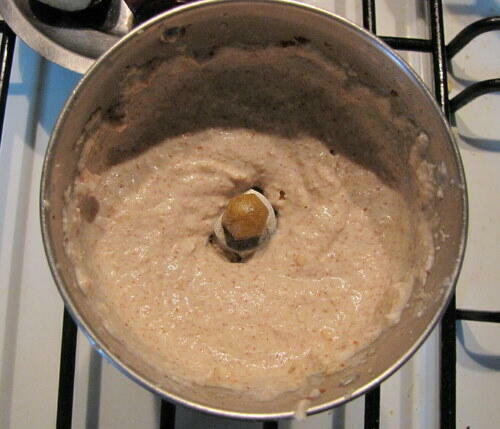 By now, the onions would have started to brown. Add the ground paste and mix well.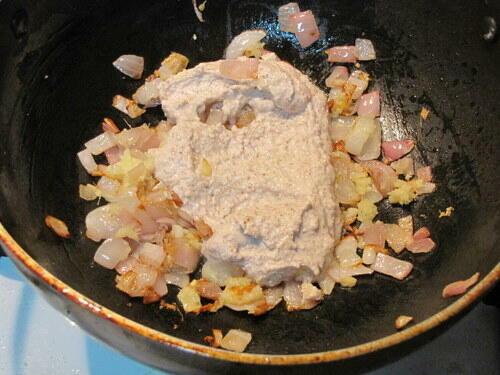 To this, add 1/4 tsp turmeric powder, 1 tsp jeera, 1 tbsp coriander powder and 1-2 tsp red chilli powder, with salt.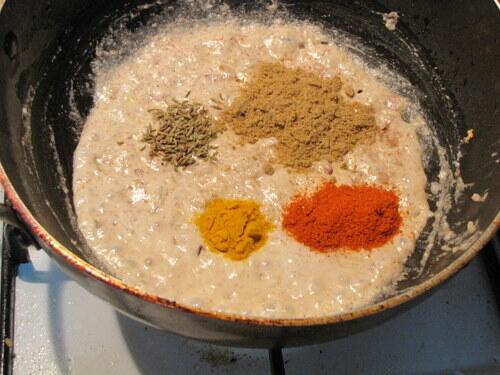 Mix well and stir for a minute until the paste thickens.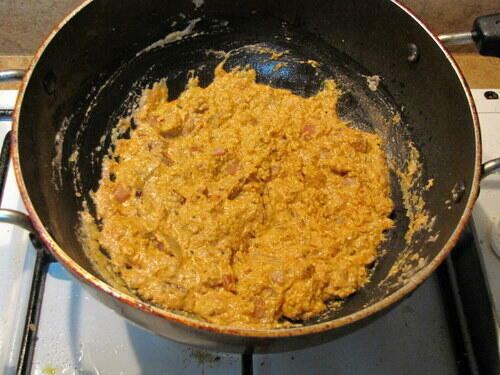 I know this looks kinda gross so let's quickly get this over with. Add the tamarind water made with a small lemon sized ball of tamarind and 1 cup warm water. Ok next step, quick!
*Please ignore the stains on my stove. They are from a dish I made just before this. Thank you*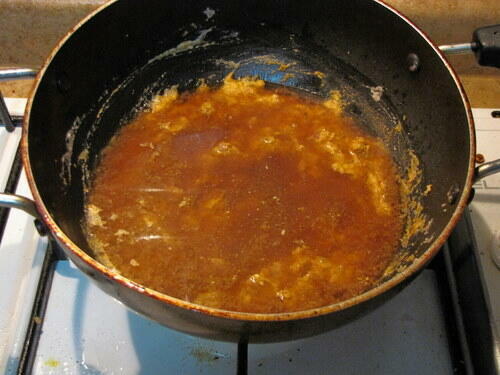 Ah, not so bad once its mixed. So mix well and then..


.. add the fried baby brinjal.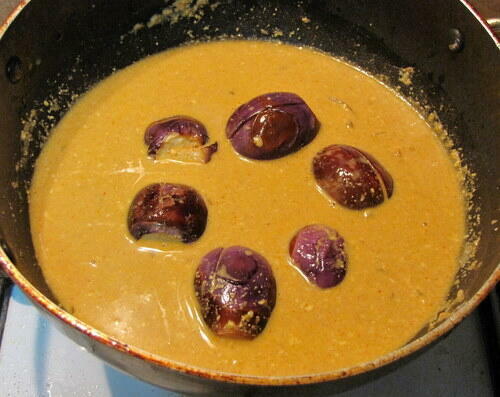 Cook closed for 5-10 mins until the gravy thickens.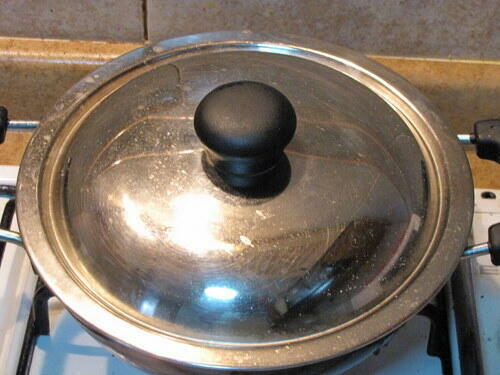 Done! Serve bagara baingan warm with a garnish of chopped coriander leaves. This tasted really really good and I really think I should make more curries with roasted peanut paste as the base. The sesame really helps enhance the taste too!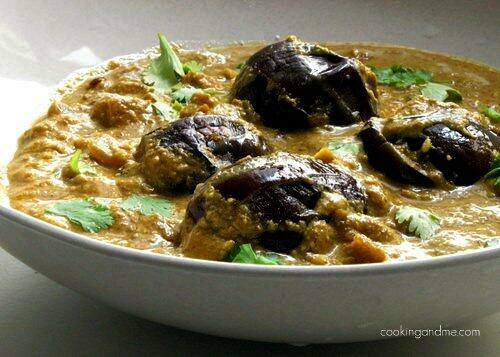 For bagara baingan recipe in Telugu, Tamil, Hindi, Urdu, Kannada etc please use the Google translate button in the sidebar.