How to make simple and easy Pound Cake
I am sure that at some point or the other in our lives, we would have tasted this simple yet yummy cake. It gets the name pound cake from the traditional and original recipe which called for one pound each of all ingredients – flour, sugar, eggs and butter. I remember my mom too making it in this manner where she used to weigh all the ingredients and take equal quantities, even the eggs! Her weighing the eggs used to put my young mind into eternal confusion but that never stopped me from stirring the batter and licking it off the bowl in the end 😀
The recipe has evolved and changed over time but I tried it the traditional way. Since I normally cook for one, I used 100gm of all the ingredients and then adjusted it a bit here and there to my taste.
Vanilla Pound Cake Recipe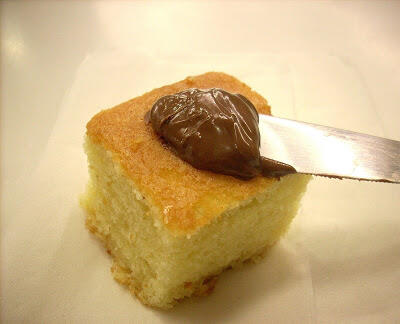 Ingredients:
Flour – 100gm
Butter – 100 gm (at room temperature)
Eggs – 100 gm (approx 2 medium sized eggs)
Sugar – 100 gm (I ended up using around 1/2 a cup and a bit more, since it seemed like a lot after powdering)
Vanilla extract – 1 tsp
Salt – one pinch (optional)
How to make Pound Cake:
1. Beat the eggs till soft. This might take upto 2 mins on a hand blender. I don't own an electric hand blender so I used the good old mixie to get the eggs whipped up.
2. Next, lightly beat the butter and sugar together till nicely blended. Add the beaten eggs to this. Ideally, the butter and sugar should be at room temperature, otherwise you will find that it curdles. Panic not! It happened to me but everything is fine when the flour is folded in.
3. Once the egg-butter-sugar mixture is well blended, add the vanilla and salt and mix gently.
4. Gently fold the flour in. I used a wide wooden spatula for this. The idea is to not loose the fluffiness of the beaten eggs. The batter will seem slightly thicker than the normal cake batter. Again, panic not! 🙂
5. Transfer to a greased tray and bake in a pre-heated oven for 30-35 mins at 350 degrees. The top should turn a lovely golden brown, a toothpick inserted into the centre should come out clean and your neighbours should get the lovely aroma! At that point, your cake is done.
I normally don't like frosting on homemade cakes so I had mine with a generous helping of Nutella 😀
For all those who asked, yes, Nutella is very much available in India, thank God! And for those who said they haven't tried it yet, you absolutely should!! Its divine (provided you like the flavour of hazelnuts).