My mom-in-law made this amazing
Palak Pualo
(
Keerai Sadam
or
Spinach Rice
) when we had gone back to India last year. I very diligently took pictures as she cooked and then duly forgot to take a picture of the final dish. The palak pulao taste lingered in my mind for a long time and I finally made it a few days back. Spinach rice is a great one pot meal and doesn't need any elaborate side dishes as it's balanced and nutritious on its own. Also, since we use the pressure cooker for making this spinach rice, it makes our job much quicker and easier.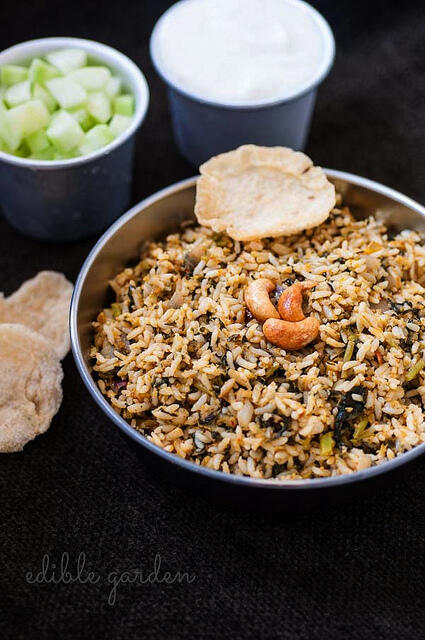 What I loved about her spinach rice recipe is the ground coconut-coriander leaves paste that adds a wonderful flavour and makes the rice delicious. Since spinach is a bit bland on its own, I highly recommend adding all the ingredients mentioned so that you can serve it as a one-pot meal.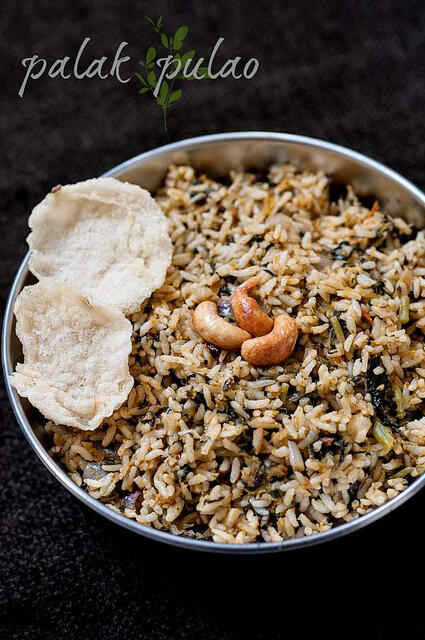 Since TH and I love spinach in pretty much any form – his favour dish ever is Palak Paneer – this rice is a welcome lunch for us. You can use any variety of spinach that's available, just make sure to use green spinach and fresh leaves if you can.
PALAK PULAO RECIPE (SPINACH RICE)
Preparation time: 15 minutes
Cooking time: 30 minutes
Serves 4
Recipe source: Mom-in-law
Ingredients:
1.5 cups of rice, washed
1 large bunch of spinach, washed and coarsely chopped
1 tomato, cubed
1 onion, sliced
2 green chillies (optional)
2 tsp ghee or oil
1/2 tsp jeera or cumin
10 roasted cashew nuts, for garnish (optional)
To grind:
1/4 cup of grated coconut
1 small bunch of coriander leaves (cilantro)
1 onion or a few shallots (chinna vengayam)
1 tsp of red chilli powder
1 tsp of garam masala
How to make Spinach Rice:
1. Heat the ghee in your pressure cooker pan (we used a wider pan to make it easier to take pictures). Add the sliced onions and saute until it lightly browns.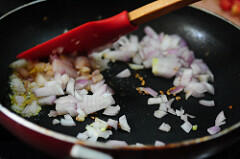 2. Then add the cubed tomatoes and the green chillies, slit lengthwise (if using).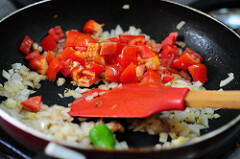 3. Add the chopped spinach and mix well.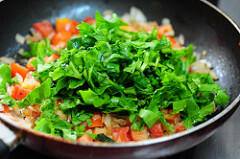 Let it cook for a while. The spinach will let out water so there's no need to add any more at this time.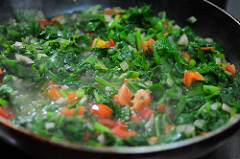 5. In the meantime, grind the ingredients under "to grind" with some water to a smooth paste.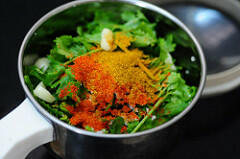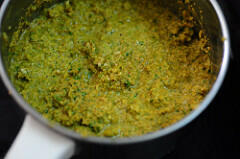 6. Add this to the spinach mixture and mix well.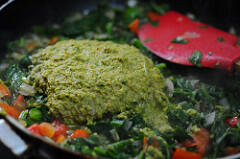 Next, add the rice and some salt and mix again (we transferred the spinach rice mixture to the pressure pan now to finish the cooking process. As mentioned, you can do all the steps in a pressure cooker pan since this is a one-pot rice dish). Add about 2.5 cups water, close the pressure cooker and cook for 2 whistles or about 15 mins. The amount of water required will depend on the type of rice you are using.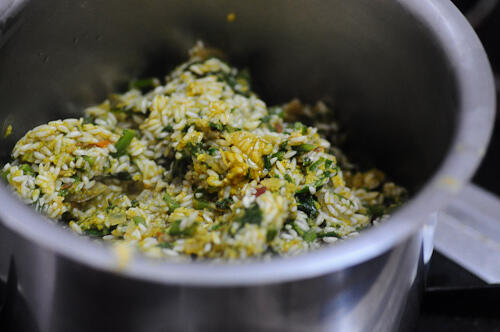 Once done, garnish with roasted cashew nuts and serve hot with curd / cucumber raita and appalam / vadaam.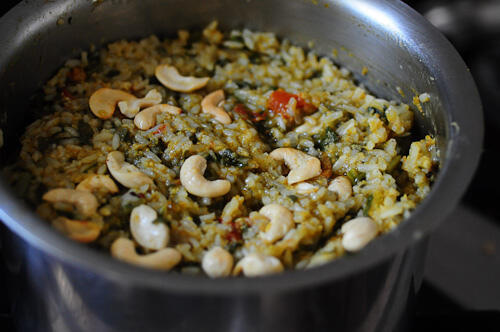 Notes:
Add a fistful of mint leaves to the paste while grinding for some added flavour
If you don't want to use garam masala, use biryani masala, or even some coriander powder. The flavours will be different and more subtle/pronounced depending on your choice
You can omit the coconut but the pulao will definitely lack in some flavour.
If you don't want to use a pressure cooker, use a wide pan and cook closed on low flame until the rice is cooked and soft.
Add a clove of garlic to the paste. Try it!
For Palak Pulao recipe in Hindi, Tamil, Telugu, Urdu, please use the Google Translate button on the top right of this website.