Learn how to make restaurant-style Paneer Shashlik, a sizzler-special paneer starter, at home using this easy recipe. Paneer Shashlik is similar to Paneer Tikka and usually made in a tandoor or on a sizzler plate. This is an easier version we can make at home without any special equipment.
Paneer Shashlik is a slightly lesser known paneer starter that's usually served on a sizzler plate on skewers. I have tasted Paneer Shashlik sizzlers many times but never attempted to make it at home until my brother happened to sign me up for a cooking demo by "big chef Naushad", who is a popular chef and caterer in Kerala known for his original recipes, especially biryani. He demo'ed 4 tandoor starter recipes that were easy to make on a griddle on the stovetop at home. We loved this Paneer Shashlik and the very next day, amma made a fresh batch of homemade paner and I got cracking.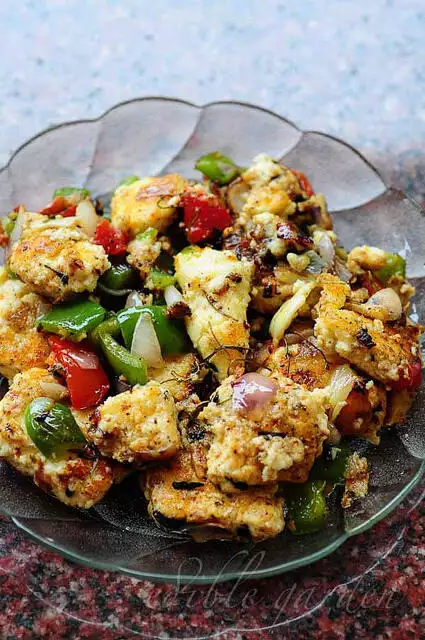 You need to marinate the paneer pieces just like you do for Paneer Tikka recipe, to let the flavours incorporate into the otherwise bland paneer. Since we used fresh homemade paneer, it was more crumbly and soft than frozen paneer but you can use whatever you have in hand. The capsicum and onions add a lovely flavour too. So here's a step by step on how to make Paneer Shashlik at home using this easy recipe from Chef Naushad.

More Paneer Recipes on Edible Garden
STOVETOP PANEER SHASHLIK RECIPE
Preparation time: 10 minutes
Cooking time: 10 minutes
Serves 4 as a starter
Recipe source: Chef Naushad
Ingredients:
2 cups of cubed paneer (I used homemade paneer)
1 large onion, cubed
1/2 of a capsicum, cubed
1 tomato, insides scooped out and cubed
4 tbsp of thick plain curd / yogurt
1/2 tsp of crushed ginger
1 tsp of crushed garlic
1/4 tsp of roasted cumin powder
1/2 tsp of freshly cracked black pepper
1 tsp + 2 tsp of oil (chef recommended mustard oil and that's what we used)
1 tsp of kasuri methi / dried fenugreek leaves
1/2 tsp of chaat masala
1 tsp of butter (optional)


How to Make Paneer Shashlik:
1. Marinate the paneer cubes in curd + ginger + garlic + pepper + cumin + salt + 1 tsp oil. Set aside for 5-10 mins.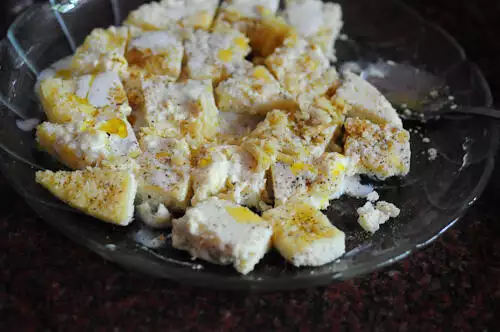 2. Meanwhile, cube your vegetables evenly and set aside (Sidenote: I LOVE the light in my mom's kitchen!)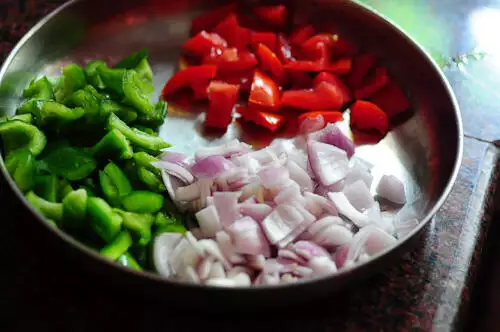 3. Heat the 2 tsp oil (in an iron skillet if you have one) and swirl until the pan is well coated. Gently place the paneer pieces on the heated pan without overlapping. Keep flame at medium and let one side brown.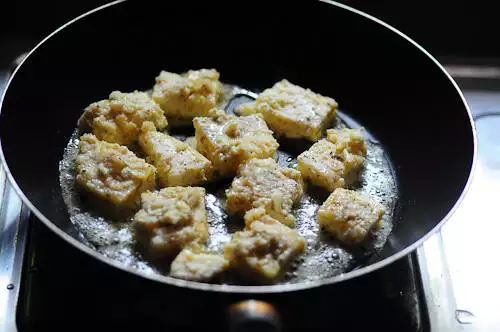 4. Add the onions, tomatoes, and capsicum and gently flip the paneer to cook the other side. The vegetables will also get flipped around, that's fine.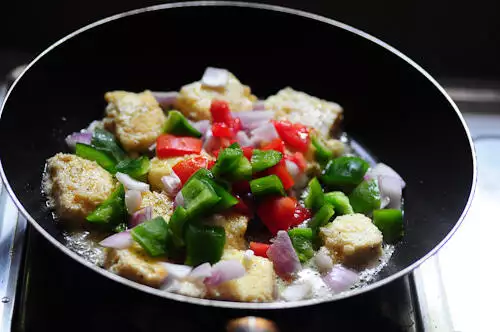 5. When the paneer looks almost done (nicely browned and sizzling) and the vegetables are softer, add the kasuri methi, some more salt if needed, and chaat masala. Gently mix until combined.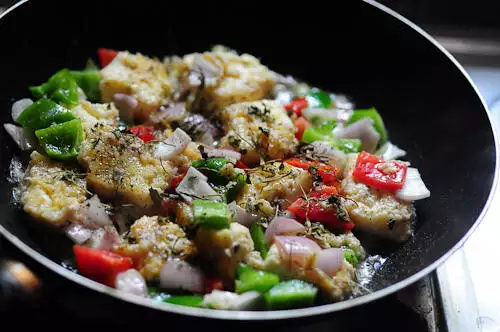 6. Cook for 2 more mins, turn off flame and add butter on top (if using). We added some homemade butter for flavour. Transfer to a plate and serve hot.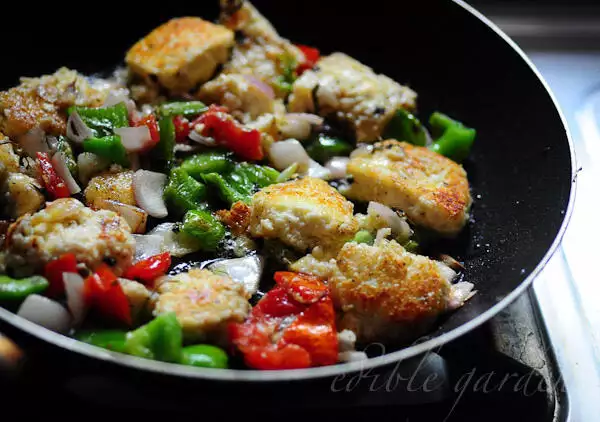 Notes:
This is an easy way to make Paneer Shashlik at home without skewers, a sizzler plate, or any other special equipment. If you want to make it look more authentic, you can thread the marinated paneer and vegetables on a skewer and then cook it. Or, you can thread the cooked paneer and vegetables on skewers before serving. I would probably go with the latter option if I really wanted to serve these on skewers.
You can also use some fresh coriander leaves (cilantro) for garnish to enhance the taste and flavour.