Learn how to make Kerala-Style Sambar with mixed vegetables and Fresh Sambar Powder. This Kerala Sambar can be used as a side dish for idli, dosa, and rice.
Sambar in Kerala is quite simple. There aren't many kinds like in Tamil Nadu where sambar usually has one or two vegetables and the flavours are adjusted a bit according to the vegetable added. In the Kerala-style sambar which amma and athamma make, we add carrots, potatoes, drumsticks, onions or shallots, and sometimes capsicum too. This sambar can be served with rice, idli, and dosa and the amount of tamarind is adjusted to accordingly.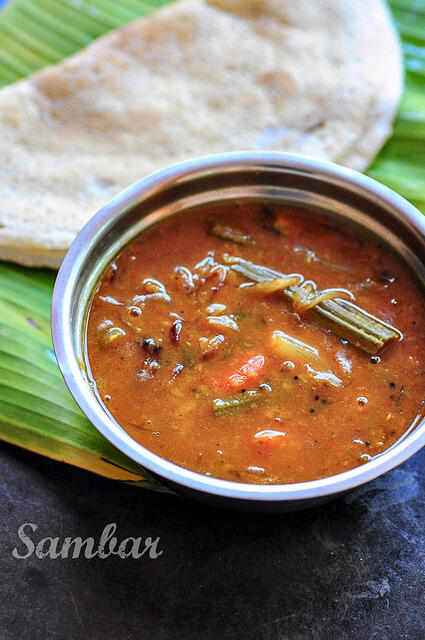 When I shared the Fresh Sambar Powder Recipe last week, there was a lot of positive feedback from many of you. I took a picture of the final sambar (above) to illustrate what we made with the sambar powder but a lot of you emailed asking for the recipe. Then I realised the way amma makes sambar is very different from the way my MIL (who is a Tamil Brahmin) makes it so here how we make the Kerala-Style Sambar with freshly ground spices.
Also check out radish sambar recipe here.
Amma never adds coconut to sambar. We do have a Reddiar version of sambar with coconut called kottu sambar – I'll share the recipe some time soon. This version of Kerala Sambar is from K. Athamma, who also gave me the recipe of sambar powder.
Kerala Vegetable Sambar Recipe (No Coconut)
Preparation time: 15 mins | Cooking time: 30 mins | Serves 4 | Source: Kumari Athamma
Ingredients:
1/2 cup of toor dal (tuvaram parippu)
1 cup of tamarind water, see preparation steps
1 onion, sliced long
1 carrot, cubed
1 potato, cubed
1 drumstick, cut into 4″ pieces
1/4 tsp of turmeric powder
2 green chillies, slit
3 tbsp of fresh sambar powder (make your own sambar powder)
1 small bunch of coriander leaves, chopped, for garnish
For tempering:
1 tbsp of coconut oil
1/2 tsp of black mustard seeds (kaduku)
5-6 fenugreek seeds (uluva, vendhayam)
1/2 tsp of hing (kaaya podi, perungaayam)
A few curry leaves
4-5 shallots (ulli, chinna vengaayam), sliced
How to Make Kerala-Style Sambar:
1. Cook the toor dal with water in a pressure cooker until it's soft and completely mushy. While this is getting cooked, make the fresh sambar powder.
2. Soak a small ball of tamarind in warm water and squeeze to extract the juice. Discard pulp and seeds. You should have a cup of liquid at the end. The level or sourness is up to you so add more tamarind if you require. Start will lesser than what you think you require.
3. Cook the vegetables and green chillies in the tamarind water + one more cup of water until soft. Add the sambar powder and the cooked toor dal. Bring to boil. If the sambar is too thick, add more water and bring to boil and if it's too watery, boil until the right consistency is reached.
4. Heat the oil for tempering in a small pan. Add the mustard and when they pop, add the rest of the ingredients. When the shallots turn golden brown, dunk into the prepared sambar. Mix well and garnish with chopped coriander leaves.
Note:
– You can saute the sliced onions in a little ghee or oil before adding to the tamarind water with the rest of the vegetables. This enhances the flavour of the sambar greatly.
– You can also use your own sambar powder in place of freshly ground spices to make this Kerala Sambar.