Learn how to make South Indian Tomato Uthappam with idli-dosa batter and freshly sliced tomatoes and curry leaves.
There really isn't a specific recipe for making Uthappam. In fact, I am not even a fan of Uthappam and prefer the lacier, crispier dosa to Uthappam. However, TH invariably orders Uthappam when we go out to South Indian restaurants, even in Murugan Idli Kadai! He loves tomatoes and Tomato Uthappam or Tomato Onion Uthappam is his standard order.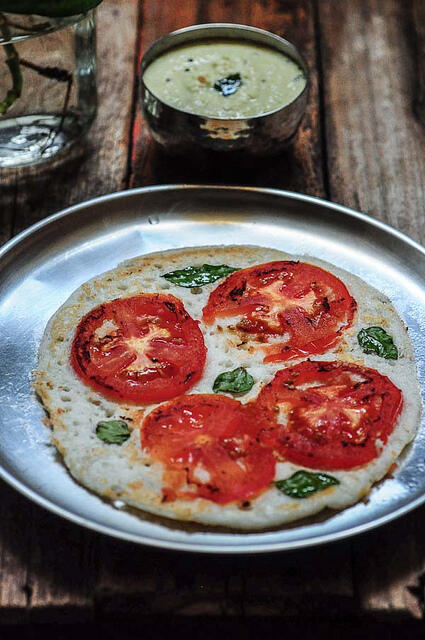 I decided to make Tomato Uthappam at home one very rainy day a couple of months back, which explains the tone of the pictures. I had some idli batter that had been in the fridge for a week and some overripe tomatoes waiting to be used up so the stars aligned just so and a delicious breakfast happened that day.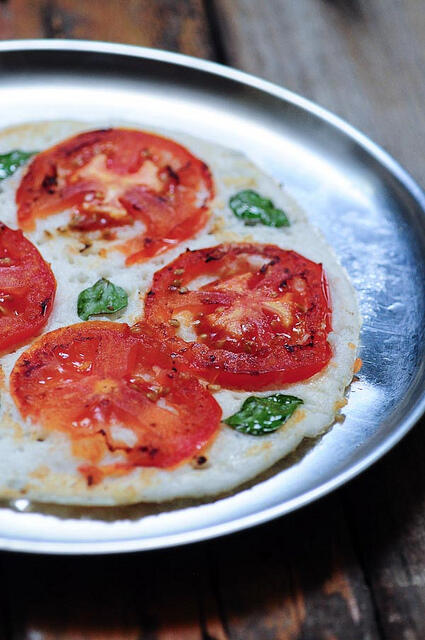 I remember we had Tomato Uthappam at some hotel where the tomato slices were whole like I have used and not chopped up. I also love adding curry leaves to my uthappam, the flavour is amazing.
Step by Step Pictures to Make Tomato Uttapam:
1. Slice the tomatos into thin slices. You can also chop them up smaller but they tend to fall off the uthappam as you flip to cook it on both sides.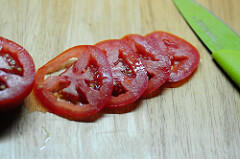 2. Pour about 1/3 cup batter on a hot iron griddle or tawa and spread into a 1/4″ thick circle with the back of a rounded spoon. Gently place about 4 tomato slices on the uthappam.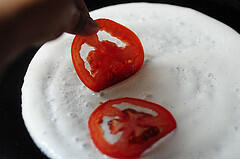 3. Place a few curry leaves around the tomato slices and pour a few drops of oil around and on the uthappam.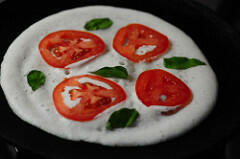 4. When the edges of the uthappam start to leave the tawa, gently flip over.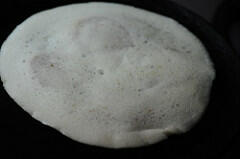 5. After a minute or so, flip back gently and make sure the side with the tomatoes is cooked. Keep the flame at medium at all times.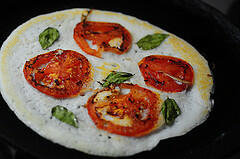 That's it! Tomato Uttapam is now ready to serve. I love Uthappam with Tomato Onion Chutney but Hotel-Style Coconut Chutney or Kothamalli Thogayal will go very well with it too.
Tomato Uthappam – Tomato Uttapam Recipe
Preparation time: 2 minutes | Cooking time: 10 minutes | Makes ~ 6 Uttapams
Ingredients:
2 cups of idli batter, preferably 2-3 days old
1 of tomato
A few of curry leaves
2-3 tbsp of gingelly oil, Indian sesame oil, I use Idhayam
Method:
1. Slice the tomatos into thin slices.
2. Pour about 1/3 cup batter on a hot iron griddle and shape into a thick circle. Place tomato slices and curry leaves on top.
3. Drizzle oil and flip over when one side is cooked.
4. Cook the other side until lightly browned.
5. Flip around to make sure both sides are cooked.
6. Serve hot.