I was making a
layered checkered cake
for a good friend last weekend using the
eggless sponge cake
as the base. For the chocolate sponge cake layer, I just added some cocoa powder to the batter and removed some flour to compensate. While going through the steps for the cake, I suddenly had this urge to take some of the chocolate sponge cake batter and steam it since I get a lot of questions from readers if they can make a cake without an oven, or if they can steam cakes instead of baking them. Well, there was only one way to find out.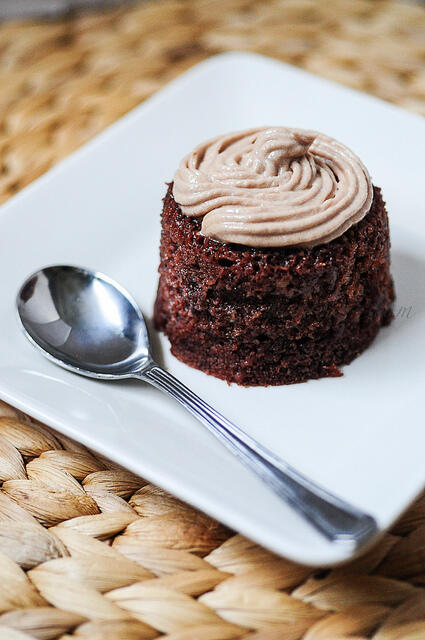 So I pulled out two pudding moulds, greased them, added the chocolate batter, and steamed them. The resulting steamed eggless chocolate cake was moist, soft, fudgy, and delicious! I got super excited and wanted to share this steamed chocolate cake with you immediately.

So those of you without an oven, don't worry about making your own cakes. Steamed cakes are the way to go!
Before you attempt steaming cakes, please read the notes at the bottom of this post, they are from my experience and kinda important.
Some Useful Links:
How to make curd at home
How to make cupcake / cake moulds at home
Eggless basic sponge cake recipe
Eggless Steamed Chocolate Cake (No-Oven No-Bake)
Preparation time: 15 minutes
Cooking time: 30 minutes
Makes ~12 mini steamed cakes
Recipe adapted from Basic Eggless Sponge Cake
Ingredients:
1.5 cups of all-purpose flour or plain flour
1 cup of plain curd or yogurt, at room temperature
3/4 cup of sugar
1/2 tsp of baking soda
1 and 1/4 tsp of baking powder
1/2 cup of vegetable or sunflower oil
1 tsp of vanilla extract or essence
3 tbsp of cocoa powder
Silver foil for covering the cake moulds
How to make Steamed Eggless Chocolate Cake:
1. Beat the curd without any lumps and add the sugar to it. Beat again well. I used an electric beater for this but a normal whisk will do just fine. Add the soda and baking powder, mix well, and set aside for 5 mins until the mixture starts to bubble on top. Then add the vanilla and oil and mix well to combine. Remove 3 tbsp of flour from the measured 1.5 cups and add the cocoa powder to it. Sift into the wet ingredients in and gently fold until you see no streaks of flour left.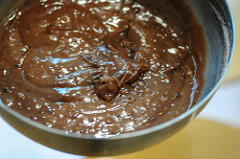 2. Grease two muffin cups (or any small container that fits in your steamer) generously with butter. Add some batter to it.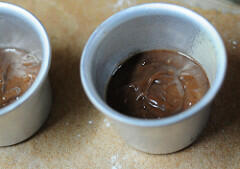 3. Cover the cake moulds with aluminium foil. This is important because if you don't, water that condenses inside the steamer will fall into your matter and that's not good at all.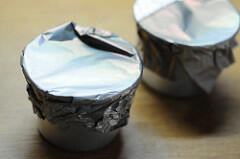 4. Place in your steamer and cover.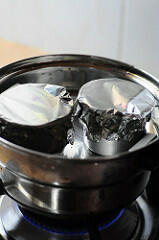 5. Cook for 30 mins or until the top of the cake springs back on touch and a fork inserted in it comes out with moist crumbs.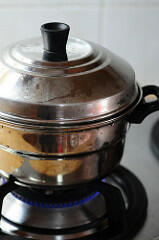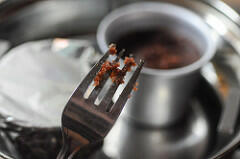 6. Let the cakes cool in the mould and once cool, run a knife along the edge of the cakes and gently invert onto serving plates.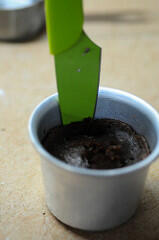 Tadaaa! Eggless steamed chocolate cakes are ready. These cakes are best served fresh and when still warm. As I mentioned, I was making a birthday cake for a friend so also had some chocolate buttercream in hand which I piped on the cake. This is purely optional but a bit of chocolate sauce definitely won't hurt.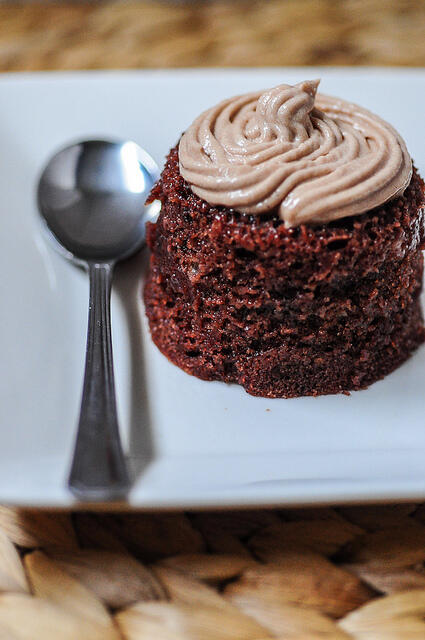 Notes:
– The cake is quite sweet on its own so the frosting or sauce on top is totally optional. The cake on its own is not very pretty though so if you are serving for guests, whip up some buttercream. I followed the recipe here for Basic Chocolate Buttercream Frosting. Or just use chocolate sauce.
– It's also possible to make cake in a pressure cooker.
– As mentioned, covering the cake moulds while steaming is important. Also, try to steam this cake in small batches and not in one big cake tray. I feel like the insides may not cook too well otherwise.
– The 30 mins I have mentioned is purely based on my steamer which is quite small and I only had two cakes cooking inside. You may need longer cooking time depending on your steamer and other factors. It's ok to open the steamer and check in between but make sure you cover the mould again with the foil if the cake needs more cooking time,
– Cook the cake with the steamer on low flame or simmer.
– I found that this steamed chocolate cake is best served on the same day. I have half of one leftover and the next day it was a bit more dense. It was still good and edible but not as good as freshly serving the cake.
– You can try many variations in flavours with this basic cake recipe. Omit the cocoa for a plain vanilla eggless steamed sponge cake. Add chocolate chips, fruit bits, tutti fruity, the options are endless.
– A friend messaged me to ask if this steamed chocolate cake can be made in idli moulds. That's when I remembered the chocolate idlis I used to make when I was in school. The batter recipe was different but I am positive this recipe with work if you steam the cake in idli moulds too. Do leave a comment if you try it.
– The texture of steamed cake is a bit different from the baked one. It will be more moist, a bit heavier, and not springy. It's still delicious but expect more of a pudding-cake than an airy cake.
– I use Valrhona Cocoa Powder in all my chocolate cakes and desserts. It is Dutch-processed but I use it in all recipes anyway, even the ones that call for non Dutch-processed cocoa powder. It gives a deep mahogany colour to your dessert and the flavour is unmatched (not a paid endorsement).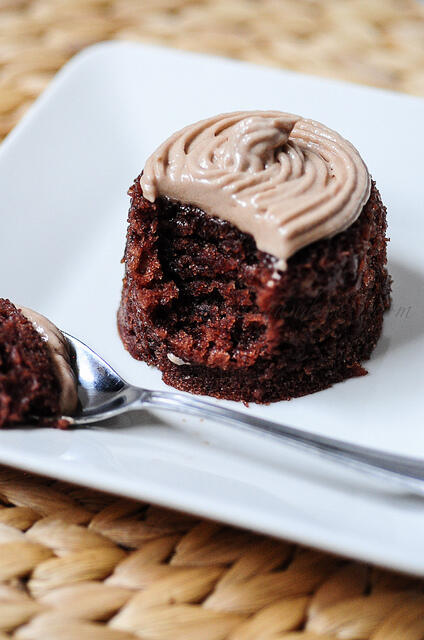 So what are you waiting for? Make cake. Eat. Smile.