Poori Masala
was rarely made at my amma's place because at any point in time, we needed to make breakfast for at least 5 people and what do you do with all that oil after frying the poori? Well, this was the story when we were growing up but now, amma makes
poori masala
at least once during our trips back home. Ah, the joys of growing up.
I remember how in school we'd have cooking and baking classes and during summer we would be given summer holiday homework. During the summer vacation before 5th std, we were asked to learn how to make poori masala. I remember learning this from amma back then!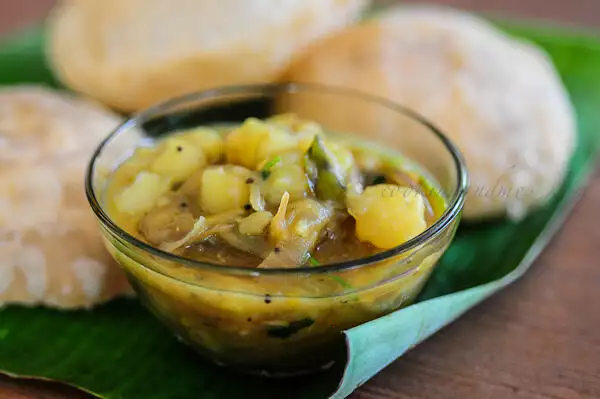 Eons ago, I shared the recipe for how to make poori at home. It's actually quite simple and hard to get wrong since anything deep fried like poori generally tastes good. During my last trip home, I realised amma makes the potato masala for poori a bit differently than I do and her potato masala tastes immensely better. The single reason for that seemed to be the equal amount of potatoes and onions she used in the potato masala. So I had to take pictures and share her recipe with you. I mean, that's what any self-respecting food blogger would do, right?
Note that the potato masala we make for pooris (also tastes great with chapatis and rotis, btw) is a bit different and milder than the potato masala for rice. The former kind is also much easier to prepare and tastes great with minimum effort, so it's totally my kind of recipe.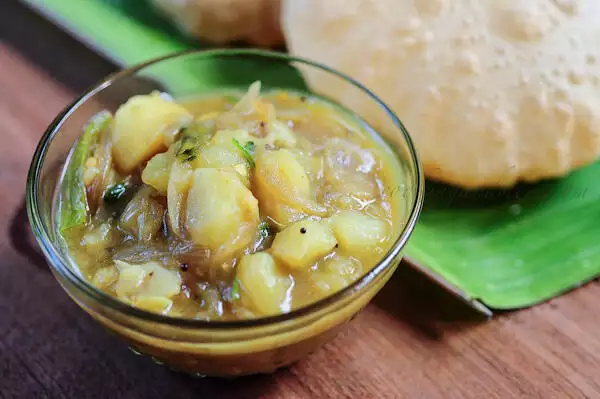 Potato Masala for Poori (Poori Masala Recipe)
Preparation time: 10 minutes
Cooking time: 15 minutes
Serves 4 as side dish for poori
Recipe source: Amma
Ingredients:
2 potatoes, boiled until soft,cooled, and peeled
2 large onions, sliced
3-4 green chillies, slit lengthwise
1 tbsp of oil
1/4 tsp of mustard seeds
1/2 tsp of roasted and powdered cumin (jeera)
1/2 tsp of minced, fresh ginger
1 small bunch of fresh coriander leaves, chopped
A pinch of sugar (optional)
1 tsp of chana dal or split urad dal (kadala paruppu or ulutham paruppu)
1/4 tsp of turmeric powder
How to make Potato Masala for Poori:
1. Roughly mash the boiled and peeled potatoes and set aside.
2. Heat the oil and add the mustard seeds. When they begin to pop, add the chana dal or urad dal and fry until golden. When it turns golden, add the green chillies and sliced onions. Saute until the onions turn a light golden brown (about 3-4 mins).
3. Add the ginger and fry for a few more seconds until fragrant. Then add the turmeric powder, roasted jeera and mashed potatoes.
4. Mix well and add 1/2 cup water along with salt and sugar (if using). Mix well and continue to mash the potatoes with your ladle. You need to retain some pieces but mashing it up will release more gravy to your potato masala.
5. If the potato masala is too thick at this stage, you can add more water and bring to boil. If it's too thin, don't worry too much, the potato masala thickens as it sits. Garnish with the coriander leaves and remove from fire.
Hot and fresh potato masala is now ready for your pooris!
Notes:
– Amma usually doesn't add curry leaves to potato masala meant for pooris because it changes the flavour a bit. It's entirely up to you though.
– You can add some boiled fresh green peas to your poori masala if you prefer.
– If you want a bit of sourness for the gravy, add 1 chopped tomato after cooking the onions or squeeze some lemon juice at the end. I personally prefer potato masala without these ingredients.