There are so many different ways you can cook rice. This mostly depends on the type of rice you are using and what you plan to do with it – serve with curries, make into a mixed rice dish, add to a dessert, roll into a sushi, etc. When making mixed rice recipes, especially like
mushroom fried rice
or
vegetable pulao
, it's important to get the right consistency of cooked rice before you mix it in. This post will hopefully help you achieve that.
In my home, we have always cooked rice in an open pot of boiling water and drained the excess water off once the rice is cooked. This helps in removing the excess starch in rice (the resulting kanji vellam is used to starch clothes) and the grains remain separate, the way we like it.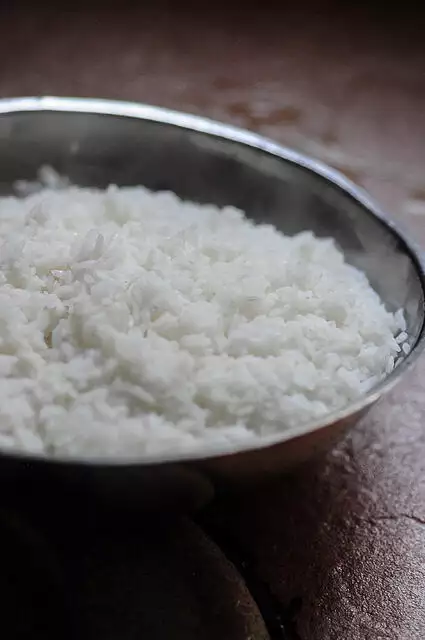 My in-laws consume raw rice which is cooked in a pressure cooker or rice cooker, always. The consistency is more sticky and this works well for the kind of rasam and kuzhambu the rice is served with, not to mention pongal and other dishes made with this rice.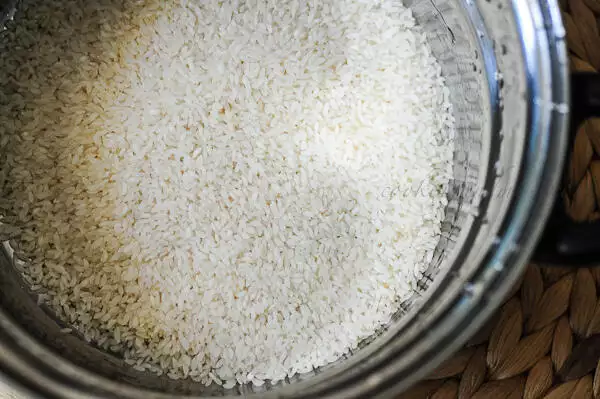 Seeraga Samba Rice
I use ponni par-boiled rice on a daily basis in Singapore (available in Fairprice in 5kg bags and all stores in Little India) and Basmati or Seeraga Samba rice for Biryani, Pulao, and other one-pot mixed rices.
While I use my rice cooker for the every day rice, I cook rice for biryani, pulao, differently and wanted to share the method with you. I get a lot of comments on my pulao posts asking how the rice grains remain separate after making the dish and the answer is – being able to control how much your rice gets cooked helps you get that consistency in biryani and pulao.
How to Cook Rice for Biryani, Fried Rice, Pulao
Preparation time: 30 minutes
Cooking time: 10 minutes
Makes 2.5 cups cooked rice
Ingredients:
1 cup of basmati rice or seeraga samba rice
3 cups of water
1 tsp of salt
How to Cook the Rice:
1. Wash and soak the rice in enough water to cover it for 30 mins.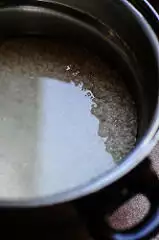 2. After 30 mins, drain the water completely, add 3 cups of fresh water (or enough to cover the rice by 2-3 inches) and place on the stove on medium flame.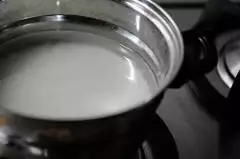 3. Add salt and bring to boil.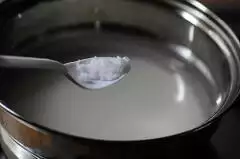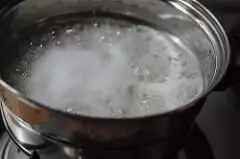 4. Once the water is boiling, lower flame and let the rice cook in the open pot for 10-12 mins. You will see the rice getting enlarged and the water level going down.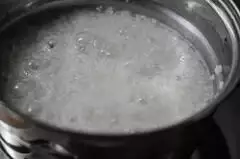 5. After 10 mins, check the grains to see if it's cooked. Generally I pinch a grain or rice between my thumb and forefinger and see if it smushes smoothly. Or, just put some grains of rice in your mouth and bite into them to see if they are hard inside. It's done when the rice is soft yet not mushy. It's better to leave it a bit underdone than overdone if you are in doubt.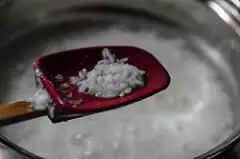 6. Switch off flame and immediately drain the rice in a colander. Let it sit on an uneven platform for 30 mins or so. You can fluff it with a fork midway so that the water drains out completely.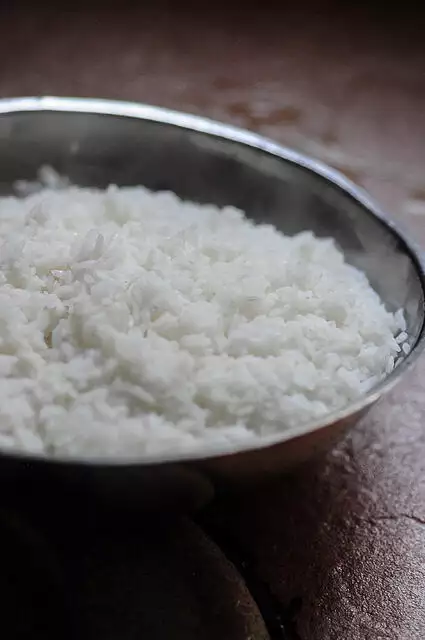 That's it! You can use this rice for making biryani, pualo, fried rice, or any mixed rice variety. The grains will remain separate and the flavours will be nicely incorporated once you are done.
Tip: You can add a few drops of oil to the boiling water if you want. I sometimes do this but it's not really super necessary.
Tip from a reader, Lakshmi: Add a few drops of lemon juice to the cooked rice when it's hot and mix well. The colour of the rice will be super white.