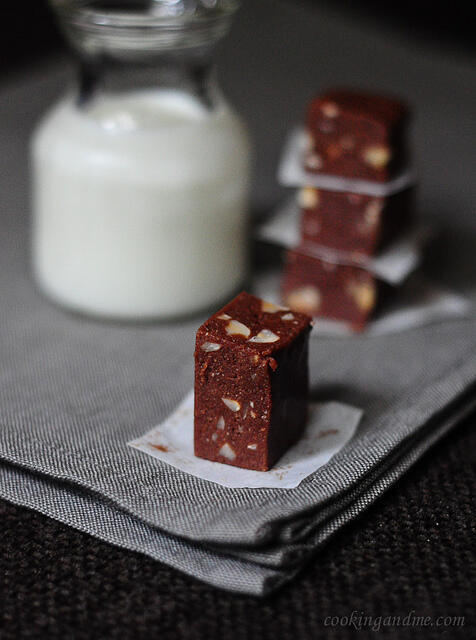 I love biscuit based sweets and desserts. That must be one reason why I love Twix bars! I love biscuit puddings and make the marie biscuit chocolate logs pretty often to satisfy my biscuit dessert cravings.
This is yet another wonderful addition to my list of quick and easy dessert recipes with biscuits as a base. It's eggless and no-bake which definitely adds to the charm.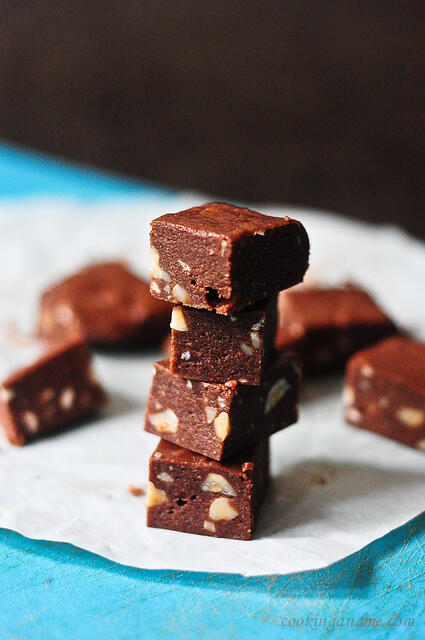 I often get asked for quick and easy bars and desserts that can be made without an oven or in the microwave. Since I enjoy baking, I hardly ever go actively looking for such recipes but when my cousin posted this in her blog couple of weeks back, I knew I had to try it as soon as possible.
I got Marie Biscuits during my next trip to the supermarket and made it that same weekend.

Eggless No-Bake Biscuit Brownie Recipe
Makes about 12 squares
Adapted from: DV
Also check out: 5 Min Chocolate Mug Cake | Marie Biscuit Chocolate Logs | Twix Bar Brownies
Ingredients:
20-25 Marie biscuits
3 tbsp unsweetened cocoa powder
1/4 cup roasted nut of choice (I used hazelnuts)
2 tsp sugar
1/2 of a 400gm tin condensed milk (I used low fat Milkmaid)
How to make Eggless Biscuit Brownies:
1. Break the biscuits into fours and powder coarsely. I left small bits of biscuits in this mixture to give the brownies some extra texture.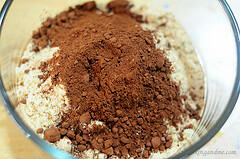 3. Add the cocoa powder to this and mix well.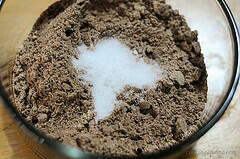 4. Add the sugar to this mixture and mix again. If you prefer mildly sweet brownies, you can omit this but I found the sweetness level perfect with 2 tsp sugar.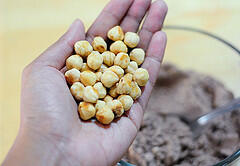 5. Dry-roast any nut of choice and let it cool. I had some roasted hazelnuts handy so used that. Roughly 1/4 cup should do.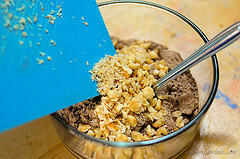 6. Chop it up coarsely and add to the mixture. Mix well.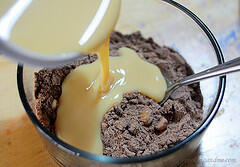 7. Add half a tin of condensed milk to this mixture. Feel free to lick up the remaining condensed milk sticking to the tin!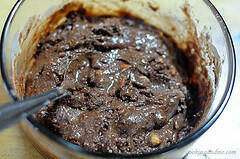 8. Mix well with a sturdy spoon. I would advice against using a whisk at this stage because the mixture will be very very thick and refuse to cooperate. Show it who's boss! Mix well until all the powdery bits are combined with the wet ingredients.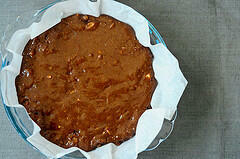 9. Line a plate, pie dish, or baking tray with butter paper (or just great with some butter) and transfer the mixture to it. Press firmly with wet fingertips until the mixture is uniformly spread.
The colours all look different because of the difference in lighting. Bear with me. Whatever colour the brownies are, they will be delicious, I promise.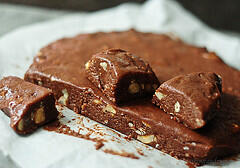 10. Refrigerate atleast for 4 hours or overnight if possible. This picture was taken after 2 hours of refrigeration because I was impatient. If you are like me, you will get more fudgy brownies that won't hold its shape when you cut it.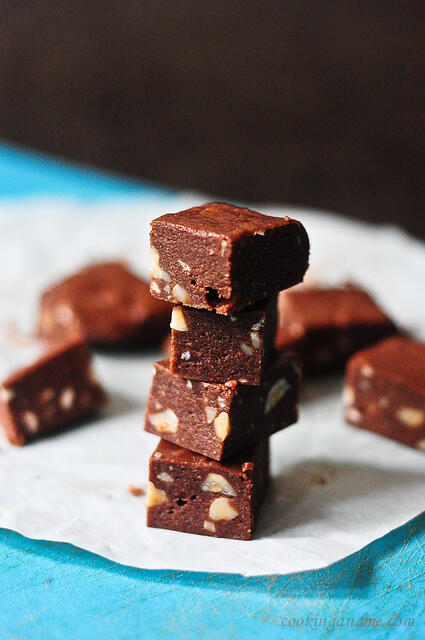 If you refrigerate longer, then they can be cut into perfect squares and taste delicious. This was taken the day after I made them.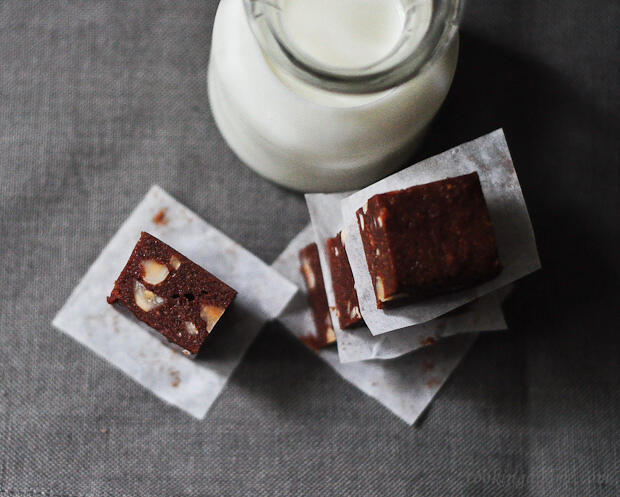 What's your favourite biscuit-based dessert recipe?