Learn how to make Yam Fry or Chena Fry on a tawa. This recipe uses lesser oil and is healthier than the more popular Yam Fry Recipe on this site.
Elephant Yam (Chena in Malayalam, Senai Kizhangu in Tamil) is one of my favourite vegetables so when saw this different method of frying yam on a tawa or pan, I was intrigued. Yam is a popular root vegetable in Kerala, often getting incorporated into koottu, stir-fries, and even our popular Erissery recipe wich is an essential dish in the Onam Sadya and for wedding sadyas.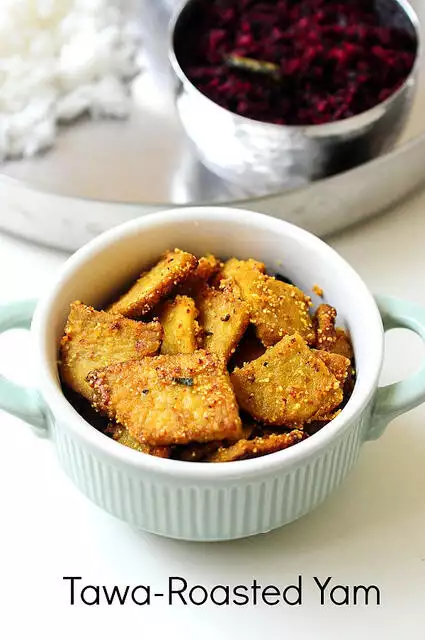 Yam takes longer time to cook than regular vegetables so it needs to be par-boiled in boiling water before you proceed with frying it. Also, many complain of the yam irritating their hands after handling it raw. I have the same issue and sometimes, if not cooked properly, it can also create an itching on the tongue and throat, much like an allergy.
To avoid the itching and irritation associated with yam, I can give you two tips. One, make your husband, brother, father, some man cut up the yam. I am yet to come across a guy whose hands itch after handling yam, trust me. And two, use the freshest yam possible. If you leave it around or in the fridge for a week or two, then it's as good as throwing it away, in my opinion.
Other Yam Recipes on Edible Garden:
– Yam Fry (Kerala-style)
– Erissery Recipe

Yam Fry – Chena Fry on Tawa
Preparation time: 15 minutes
Cooking time: 10 minutes
Serves 4
Recipe adapted from: Raks Kitchen
Ingredients:
250 gm of elephant yam (chena, senai kizhangu)
3 tbsp of besan (kadalai mavu, gram flour)
1/4 tsp of turmeric powder
1 tsp of red chilli powder
1/2 tsp of coriander powder
1/4 tsp of crushed jeera (cumin powder)
2 tbsp of rice flour
5-6 of curry leaves, chopped
1 tsp of salt (adjust to taste)
4 tbsp + 1 tsp of oil
How to Make Yam Fry on a Tawa:
1. Cut the yam into thin pieces of about 2″ diameter. Cook them in boiling water with turmeric until soft yet they hold their shape (about 4-5 mins). Drain completely.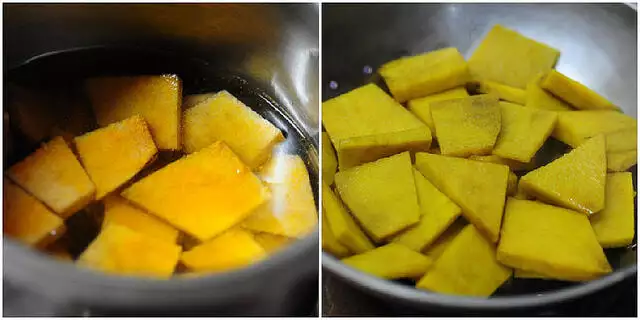 2. Transfer the cooked yam to a bowl and add the rest of the ingredients except the 4 tbsp oil (add the 1 tsp oil into the mixture too). Mix well until the masala coats the yam pieces uniformly. If you have the time, let this sit for a couple of hours or in the refrigerator if you want to keep it longer. Otherwise, proceed to the next step.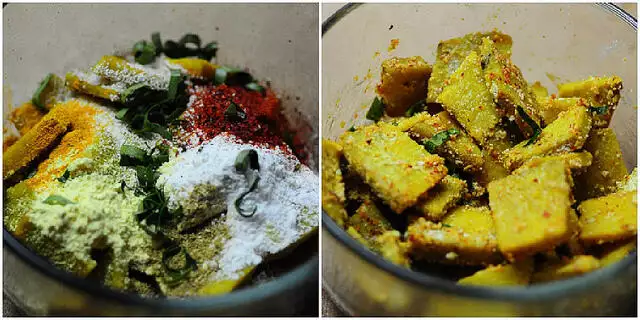 3. Heat the 4 tbsp oil in a wide pan or tawa (adjust oil amount to the size of your pan). Lay the coated yam pieces in a single layer over it and lightly roast both sides until crisp and golden here and there. Drain on kitchen towels.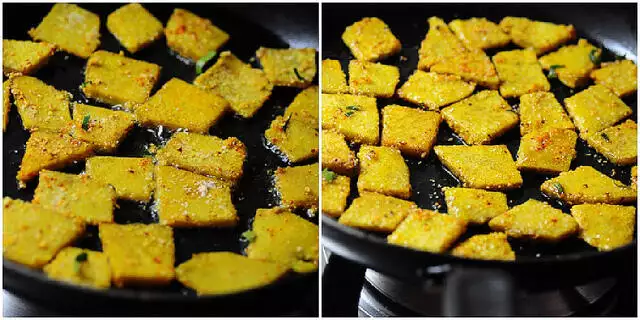 Delicious tawa-fried yam is now ready.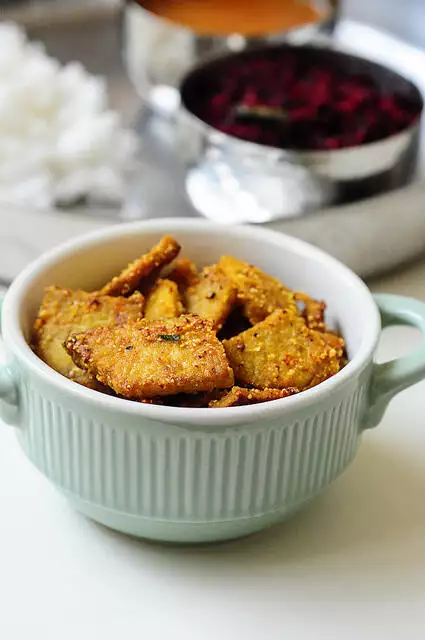 I served the Yam Fry with some rice, Beetroot Poriyal (recipe coming soon), and Tomato Rasam.
This Yam Fry Recipe is inspired by a recipe in Raks Kitchen. I have adapted the ingredients to suit my taste and what I had in the kitchen. This goes to the Tried and Tasted event hosted by Nivedhanam with focus on Raks Kitchen this month.