Learn
how to make vegetarian green curry paste
for Thai green curry with vegetables. This
authentic Thai recipe
uses no fish sauce and instead we compensate by adding two kinds of soy sauce. This recipe is perfect for those who love Thai food but follow a vegetarian diet. One other vegetarian Thai recipe I've tried is my favourite
veg tom kha soup
using coconut milk.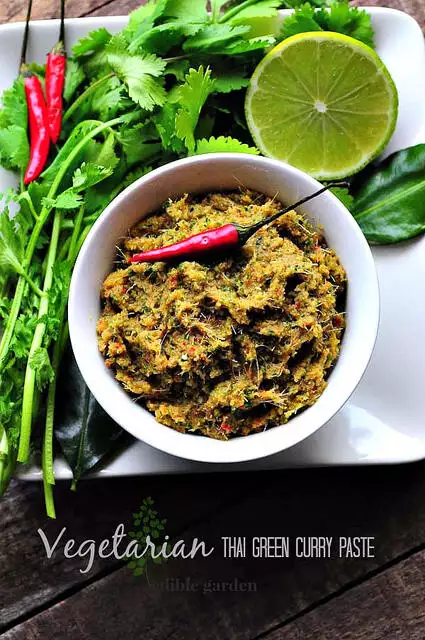 When I was in Bangkok in May 2013 on work, I extended my trip to include a weekend just so I could take a Vegetarian Thai cooking class in Bangkok. I took the recommendation from Sala's post on Thai cooking classes and picked May Kaidee Thai cooking school in Bangkok. It was not very fancy but the class was intimate (just me and 2 other guys) and we learnt so many dishes in 4 hours, in addition to Thai singing and dance!
TH and I love Thai food and since he's vegetarian, it was great to attend an exclusive vegetarian class. After getting back to Singapore, it was soon time for us to pack our bags to move to Australia and I was worried that I'd forget all the dishes we learnt in class. I'd taken pictures of all the ingredients we used so I could get similar or same brands wherever possible. The ingredients, particularly the coconut milk used in green curry, makes a lot of difference in taste to the final dish. I'll share the vegetarian Thai green curry recipe soon but first we need to learn how to make the green curry paste at home.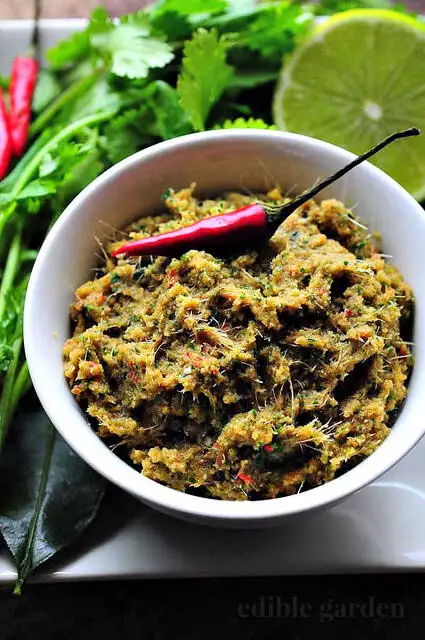 Most of the store-bought brands of green curry paste have fish sauce or too much salt in them and there's really no reason why you shouldn't make your own, since the ingredients are easily available in a Thai store. In Sydney, Lucky Thai Grocers near Paddy's Markets has everything you need. Admittedly their lemon grass was not very fresh so my green curry paste looks a bit fibrous but it still tasted fabulously fragrant.
When you make your own green curry paste, you can adjust flavours according to your preference, like the heat, salt levels, amount of lemongrass, etc. So let's get started on some Thai green curry paste, shall we?
VEGETARIAN THAI GREEN CURRY PASTE
Preparation time: 10 minutes
Makes 1 cup
Recipe Source: May Kaidee Thai cooking school notes
INGREDIENTS:
2 stalks of lemon grass, cut into small pieces
2 shallots or 1/4 cup chopped onions
6 Thai green chillies (I used mix of green and red), adjust to taste
4-5 kaffir lime leaves
1 tsp of cumin seeds
2″ piece of galangal
2 tbsp of coconut milk
1 tbsp of soya sauce (use thin soya sauce from healthy boy brand if available, or any Thai soya sauce)
INSTRUCTIONS:
1. It's important to prep your ingredients and have a mise en place to cook Thai food. Makes things more organized and easier to put together. If possible, use the brands of coconut milk and soya sauce shown below. For the paste, I used the thin soya sauce and when we make the curry, we'll use a mix of two soya sauces.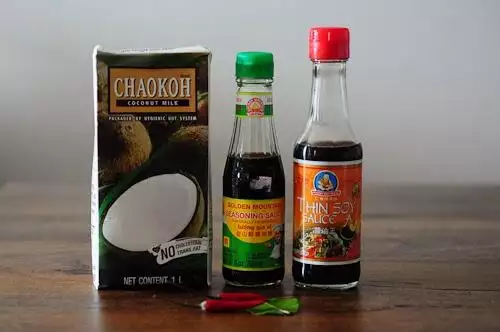 2. Grind all ingredients to a coarse paste. In the class we used a deep large stone pestle and mortar and it took about 12 mins to get the right consistency. in the mixie, it took me less than a minute. I'll let you decide how you want to do this 😀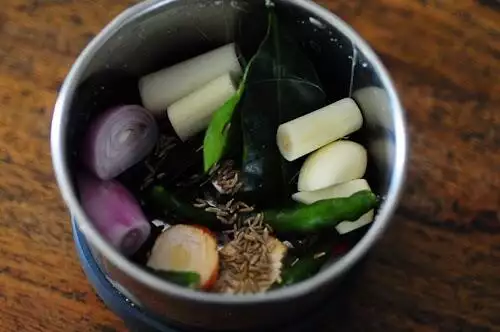 Once the paste is done, store in an airtight container in the refrigerator until ready to use. It keeps well for 2-3 days but I recommend making the paste just before making the green curry, for best results.