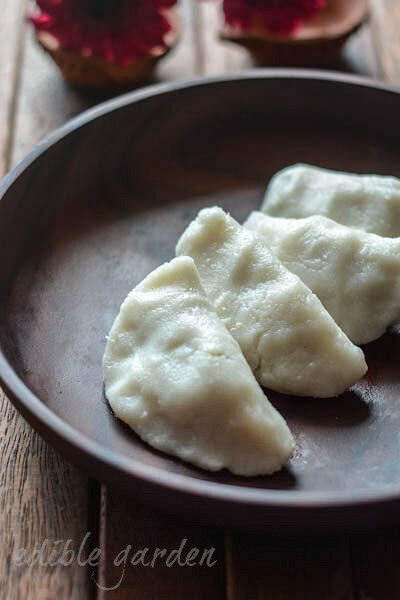 Kozhukattai (Modak, Modakam) and Lord Ganesh go hand in hand quite literally, we know that. When Ganesh Chaturthi rolls around every year, I try to make some modak the week before and get it as perfect as possible because, and I won't lie you guys, making the perfect kozhukattai is not easy. Or maybe it's me just needing more practice because my mom and grandmom seem to need no effort, measurements, or recipes on the internet to churn out gorgeous vella kozhukattai by the dozens, Ganesh Chaturthi or not.
Uppu or Ulundu Kozhukattai is the salty, savoury counterpart to the sticky sweet modaks which are probably more popular. But life is all about balance and so it's a good idea to make some of these salty kozhukattai to serve along with the sweet ones, I'd say.
Going back to making kozhukattai and practise – if you've ever attempted them before you'd know that the fillings are usually very easy and it's a good idea to make them first and keep them cooled and ready. The covering, now that's the tricky part and I'd be the first to admit that mine bombed so badly the first 3 times I made them for this post. They had nice fluted edges and stuff but they tasted terrible. So what you see in the pictures here are my fourth attempt at making ulundu kozhukattai and while the edges are impatiently stuck together with my fingers, they tasted near-perfect. Goes to prove it can be done because as I generally like to say, if I can cook something, anyone can.
Here's a list of Ganesh Chaturthi recipes I compiled last year. You can bookmark and refer back during the festival to get going with your offerings to the Lord.
Now, on to the step by step uppu kozhukattai recipe.
UPPU (ULUNDU) KOZHUKATTAI RECIPE
Preparation time: 30 minutes
Cooking time: 10 minutes
Makes ~ 8 kozhukattai
INGREDIENTS:

For the filling:
1/4 cup of whole white urad dal
1 of green chilli
2 tsp of oil
1/4 tsp of black mustard seeds
A pinch of hing / asafoetida / perungayam
A few curry leaves
2 tbsp of grated coconut (I used desiccated coconut)
For the covering:
1 cup of rice flour or idiyappam flour
1 and 1/4 cup of boiling water, more or less
2 tsp of ghee or oil
INSTRUCTIONS:
We'll make the filling or poornam first.
Soak the urad dal (ulutham paruppu) for one hour. Drain well and grind coarsely with the green chilli and some salt. Don't add water at this stage otherwise the urad dal will turn into paste.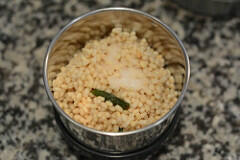 Make lime-sized balls of this urad dal mixture and steam for about 5 mins on low flame.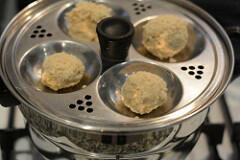 When cool enough to handle, crumble the steamed balls with fingertips into a fine, breadcrumb-like mixture and set aside.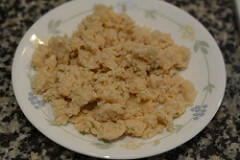 Heat oil and add the mustard seeds, curry leaves, and hing.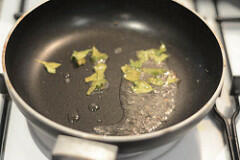 Add the urad dal crumbs and continue to cook on low flame until the oil has coated it well. Add the grated or desiccated coconut and mix well.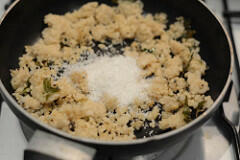 Test for salt and add more if required. Switch off and set aside to cool.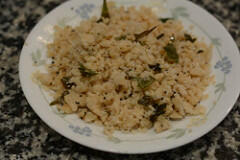 Now we'll make the rice flour coating. Mix the rice flour and some salt in a bowl. Boil water and add it a little at a time to the rice flour, mixing it immediately. You are partially cooking the rice flour at this stage with the heat of the water so a thorough mixing is very important.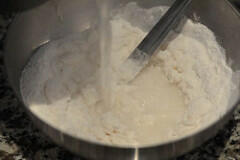 When the mixture begins to look like below, stop adding water and combine well with the tail end of a ladle (it will be too hot to use your hands). When the mixture cools down a bit, use your fingetips to knead properly.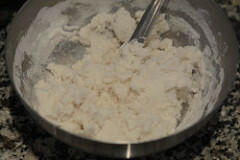 Make a lime-sized ball of the flour mixture with hands greased with ghee or oil. Pat it flat with the other palm and add a bit of the cooled ulundu filling.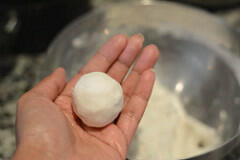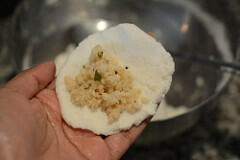 Close it into a semi-circle and pinch the ends together. Proceed with the remaining rice flour covering and filling. There may some of either leftover, it's hard to get the quantities perfect.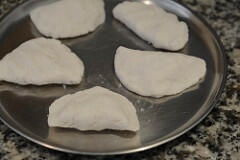 Prepare your steamed by adding water to the base and bringing it to a boil. Place the kozhukattai gently on the steamer plate and steam for not more than 10 minutes. Mine were done in about 8 minutes. The outer covering will turn glossy when done.
Serve warm. Kozhukattai are best eaten fresh and on the same day of preparing them.
Have a wonderful Ganesh Chaturthi 2014, dear reader!
For uppu kozhukattai recipe in Tamil please use the Google translate button in the sidebar.
If you found this post useful, do share, like, and pin it. Thanks for that motivation 🙂