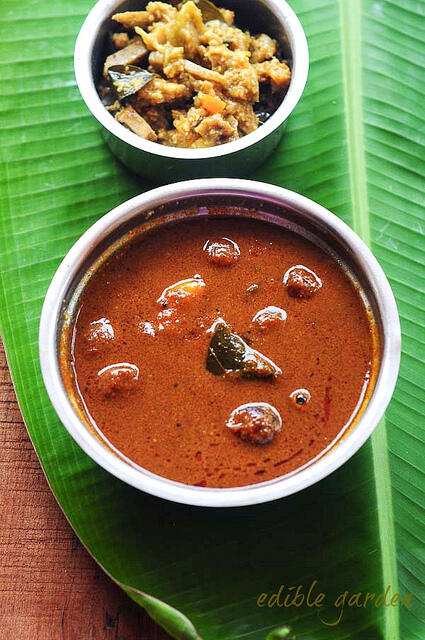 Ullipaya Pulusu is a name I figured out from Google search. The Reddiars in Kerala who migrated from Andhra and Tamil Nadu generations back – the small community that I am part of – call this Vatti Pulusu. We have our own version of Telugu that we speak and the names of food are, well, our own versions! Ullipaya Pulusu or vatti pulusu is probably the most common of all pulusu (kuzhambu) dishes we make to go with rice. Our pulusu is tangy, thick, contains no thickening agents like rice flour, uses lots of oil, and keeps well for days.
As with most pulusu recipes, the proportion of ingredients is the key here, much like for rasam. Traditionally, ullipaya pulusu is made by roasting coriander seeds and red chillies to perfection, making a spice powder, and then cooking it down in tamarind water along with shallots or pearl onions. Amma has a super quick version of this pulusu though – she uses spice powders that roast up much quicker and you can make a beautiful tangy pulusu in not more than 30 mins. While the full-fledged pulusu recipe intimidates me, this quick version is super easy and I can make it in my sleep now.
ULLIPAYA PULUSU RECIPE (REDDIAR VATTI PULUSU)
Preparation time: 10 minutes
Cooking time: 20 minutes
Serves 4-6
Recipe source: Amma
INGREDIENTS:
1 cup of shallots or pearl onions, peeled and washed
2 heaping tbsp of coriander powder
2 tsp of red chilli powder (add more or less to taste)
8 cloves of garlic
A few curry leaves
1/2 tsp of cumin or jeera powder
1/2 tsp of turmeric powder
3 tbsp of gingelly oil (Indian sesame oil)
1/2 tsp of black mustard seeds
1/2 tsp of hing or asafoetida powder
1 lime-sized ball of tamarind soaked in some water
A few fenugreek seeds
INSTRUCTIONS:
1. Heat 2 drops of oil in a pan and add the coriander and chilli powders. Roast on a low flame until dark brown and nearly burnt (but please don't burn it, that's no fun). If you add too much oil at this stage, the powders won't roast well so take care.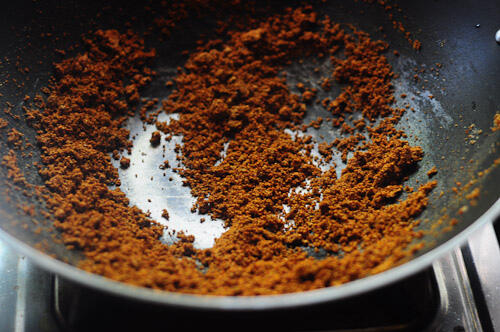 2. Once the spice powders are a dark brown, turn off flame and add some curry leaves, 4-5 shallots or pearl onions, 4 garlic cloves, jeera powder, and turmeric powder.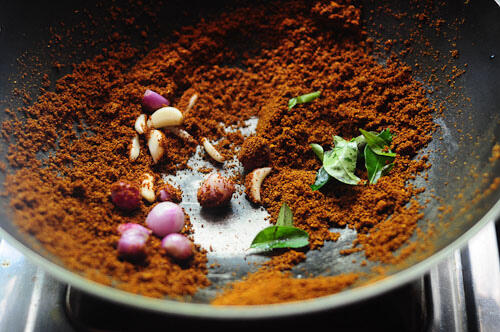 3. Mix well and let them warm up in the heat.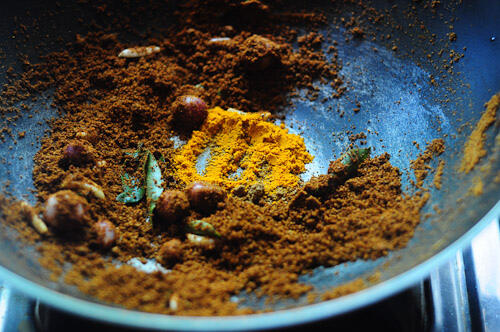 4. Add enough water to this and grind to a very smooth paste.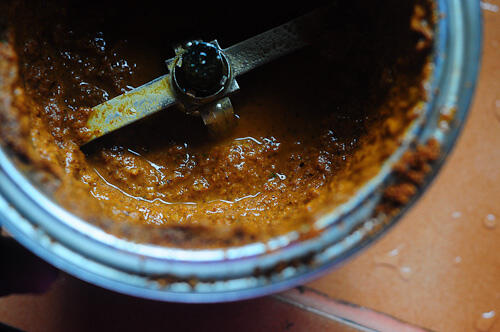 5. In the same pan used for the spices, heat the gingelly oil. Add mustard seeds, fenugreek seeds, and hing. When the mustard seeds pop, add the remaining shallots or pearl onions and saute for a couple minutes.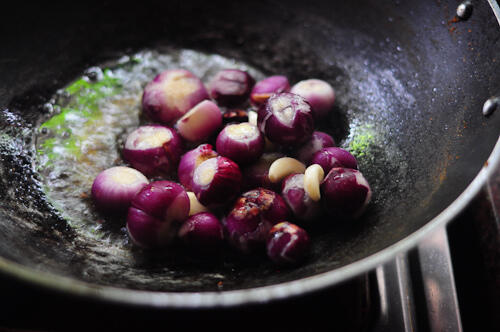 6. Throw in some curry leaves and the remaining cloves of garlic. Saute a while longer.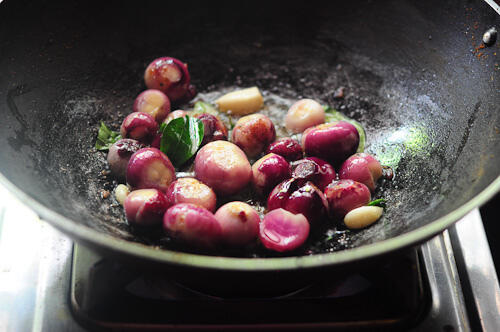 7. As this fries up a bit, squeeze the juice out of the soaking tamarind. Add up to 2 cups water and extract as much juice as possible and discard the pulp. Add this tamarind extract to the cooking onions.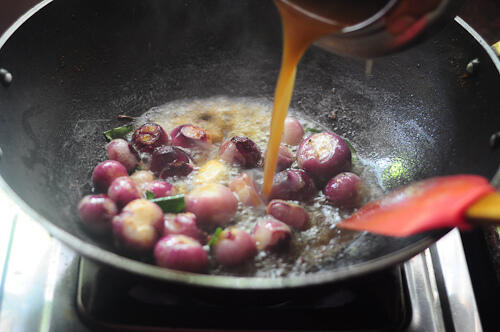 8. Bring to boil and let it simmer. Then add the ground spice paste.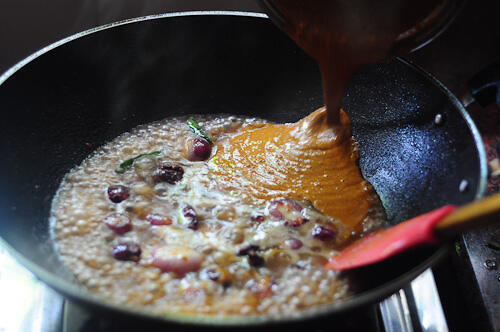 9. Add salt and continue to simmer for 5-8 mins until the pulusu thickens. You can adjust flavours at this point, like add more tamarind, chilli powder, salt, etc. The shallots should also be cooked soft by this time.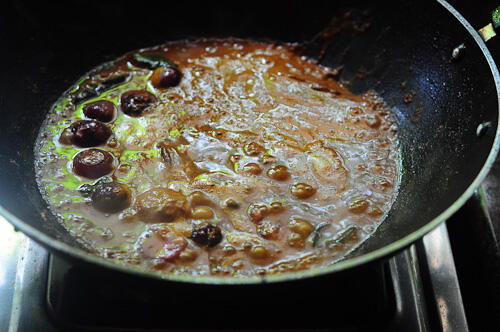 Notes:
This pulusu tastes better the longer it stays. You can store it at room temperature but remember to re-heat and bring to boil every day before serving
Don't add too much water while grinding the spices or with the tamarind. The pulusu is meant to be on the thicker and intense side and a little bit goes a long way. However, if you feel the 2 cups tamarind water is too less, add more water as the pulusu boils
You can add vathal to this pulusu if you like but we don't add anything beyond pearl onions or shallots (which taste better) and garlic
Don't skimp on the oil, it's important for the flavour. Other oils won't work as well as gingelly oil
We eat this ullipaya pulusu with rice, dosa, idli, and even puttu (ok that's just me). It's delicious and a wonderful accompaniment to coconut-based side dishes like aviyal and thoran