The Arusuvai Friendship Chain has been inspired by the Amish Friendship Bread Starter chain doing the rounds outside of India. It has been quite active and as part of it, I received a surprise ingredient from Lakshmi of Yum Blog. It was none other than my favourite – Chocolate!!!
It was a 500gm bar of Morde Dark Chocolate. I received her packet in office and throughout the day, me and my cube mate were treated to the lovely smell emanating from the box.
If you love brownies, then check out this eggless brownie recipe, dulce de leche brownies, and this no-bake biscuit brownie recipe.
There are so many things I could have made with this amazing ingredient and I started the search. Zeroed in on an easy, yet popular dish, Chocolate Brownies. Recipes adapted from Jugalbandi and Lakshmi's basic brownie recipe which she sent me via email.
Triple Chocolate Fudge Brownies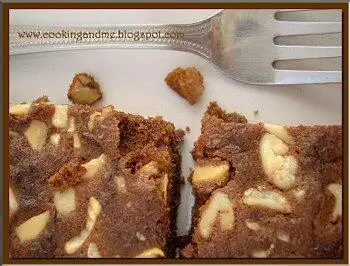 Makes 10 medium sized browniesWhat I Used:
Bittersweet chocolate – 125gm
Butter – 6 tbsp
Sugar – 5 tbsp
Maida – 1/2 cup
Cocoa powder – 2 tsp
Instant coffee powder – 1 tsp
Almonds – 20 nos
Eggs – 2
Vanilla – 1 tsp
Salt – one pinch
Instructions:
1. Melt chopped chocolate pieces and butter in a pan placed in another bigger one with simmering water. Once melted, keep aside until warm.
2. Powder sugar and add to the above mixture, along with vanilla.
3. Add the eggs one by one and stir well.
4. Then add the maida, salt, cocoa and coffee powder and mix till everything has blended in well.
5. I laid the top of this mixture with chopped almonds that were blanched first. To blanch almonds, pour boiling water over them, keep covered for 3-4 mins. Then plunge them in cold water, leave for 2 mins. Slide the the skin off and use.
6. Bake in a pre-heated oven at 350 degree centigrade for around 20 mins.
Serve warm with a scoop of vanilla ice-cream or homemade chocolate ice cream 🙂