Tomato spinach pulao recipe – whenever I post step-by-step recipes for baking, most of you love it, try it and give me your thoughts. I have been itching to do the same for normal recipes too, but the only reason stopping me was the poor lighting in my kitchen. After many months of giving myself this excuse, I decided to go ahead and post step by step pictures of cooking recipes whenever possible.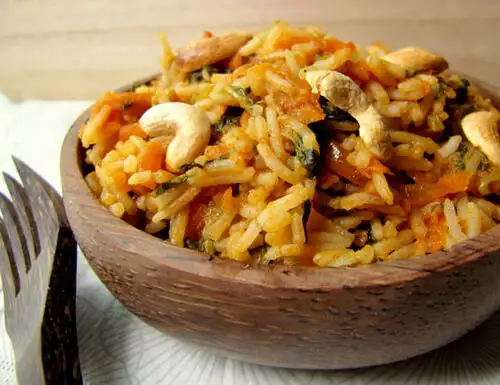 Because of this, you will see pictures with different lighting in this post, so bear with me. Hopefully you find it useful (not the lighting, the tomato spinach pulao recipe!)
After all that talk, I'm hungry. Let's have a nice bowl of hot tomato spinach pulao, shall we? If you want to skip the stepwise pictures, you can scroll to the end of this post for the recipe in one place.If you want to check out more pulao recipes, then here's my pressure cooker veg pulao, aloo capsicum pulao, palak khichdi recipe, and simple paneer pulao. You can also check out this Indian quinoa pulao recipe.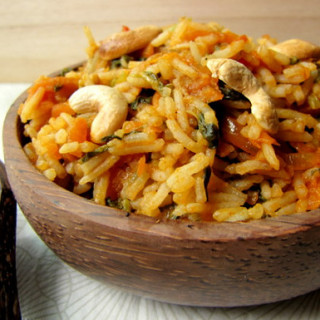 Tomato Spinach Pulao Recipe
Tomato spinach pulao recipe, an easy spinach and tomato pulao that's easy enough even for beginners. Serve with raita for a balanced and delicious meal.
Ingredients
3

cups

cooked rice

4

cups

chopped green spinach

1

grated carrot

2

chopped tomatoes

1

tbsp

tomato paste

or add another tomato

1

sliced onion

3

cloves

chopped garlic

1

tbsp

coriander powder / malli podi / dania powder

1

tsp

jeera / jeerakam / cumin seeds

2

tsp

red chilly powder

1

tbsb oil

Roasted cashew nuts to garnish

optional

Salt to taste
Instructions
Heat oil and fry the onions and garlic for 3 mins. Add the tomatoes to this and cook well until soft and mashed.

Add the coriander powder, cumin and red chilly powder. Mix well and fry for 2 mins.

Add tomato paste to this, if using, and mix well.

Add chopped spinach and grated carrot.

Close and cook for 10 mins until soft.

Add salt and cooked rice to this. Fold gently and serve after 3o mins, garnished with roasted cashew nuts.

Serve tomato spinach pulao hot with papad or chips and raita.
Step by Step Spinach Tomato Pulao Recipe

First, chop 4 cups of green spinach, 2 tomatoes and grate 1 carrot and set aside.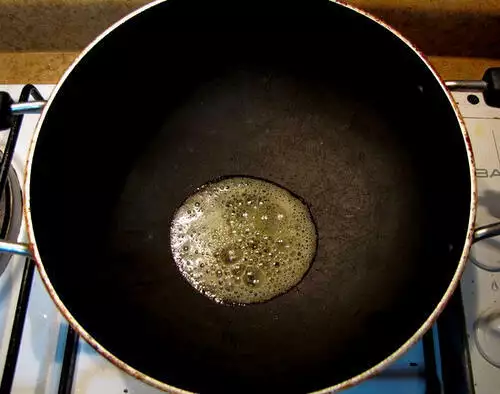 Pin Heat 1 tbsp oil in a kadai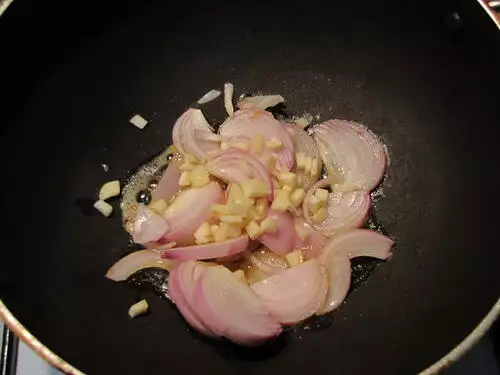 PinAdd 1 sliced onion and 3 cloves of chopped garlic to this.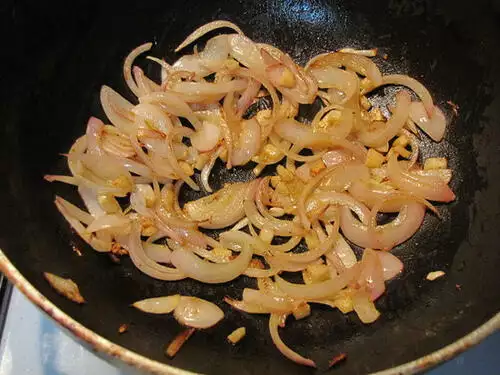 PinFry until the onions turn transparent and brown slightly.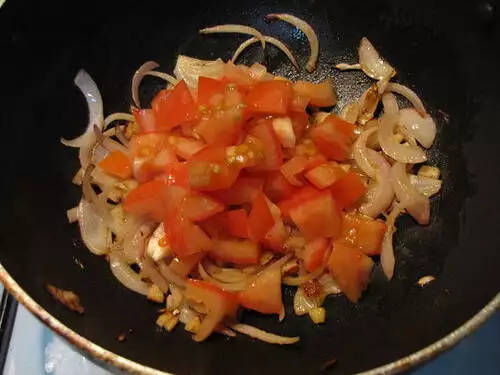 PinTime to bring out the 2 chopped tomatoes. Add these to the fried onions.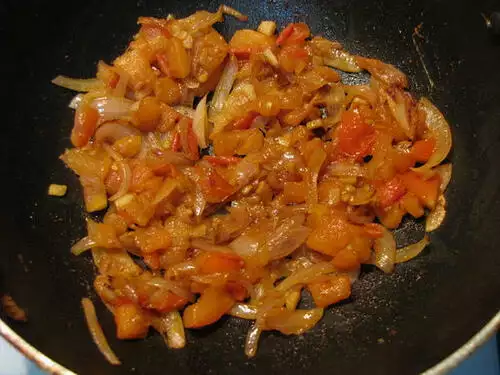 PinCook well until the tomatoes have wilted and turned soft.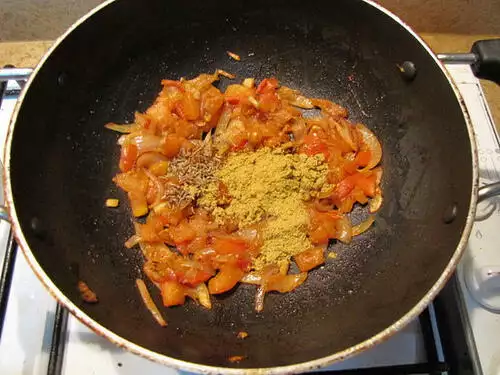 PinTo this, add 1 tbsp coriander powder and 1 tsp jeera or cumin. Mix well.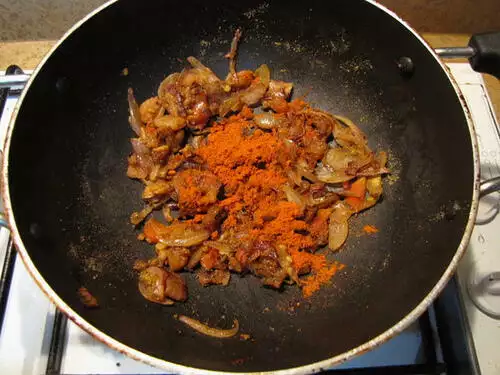 PinTime to spice things up a bit. Bring out your red chilly powder and add about 2 tsp of that. Go on, dare yourself and add another tsp if you wish 😉

PinWe've already added 2 tomatoes but since this is tomato spinach pulao, we will need a more dense tomato flavour. Canned tomato paste works best.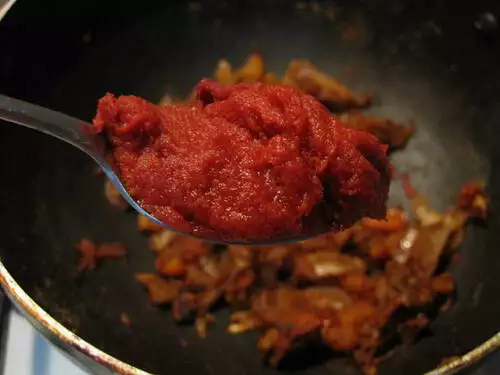 PinAdd 1 tbsp of that and mix well. If you don't want to use the paste, add 1 more large tomato in the first step.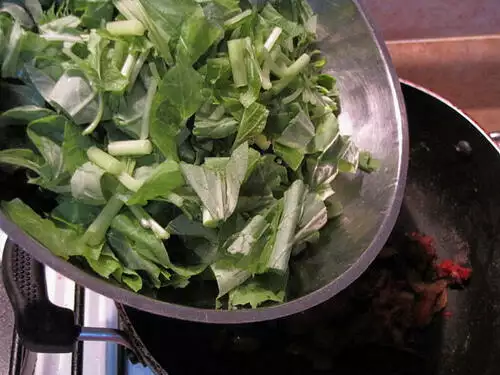 PinTo this, add the chopped spinach and..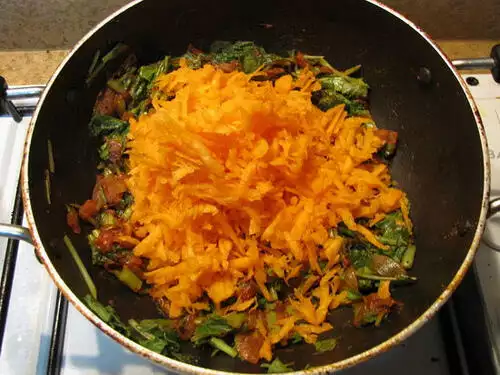 Pin.. grated carrot and mix well.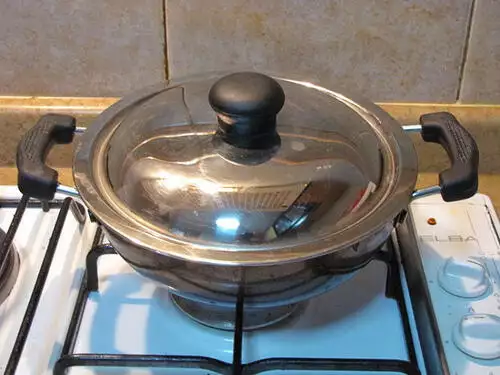 PinClose the kadai and let it cook on medium-low fire for about 10 mins. Don't add any water, the spinach will give out its own water while cooking making the mixture soft.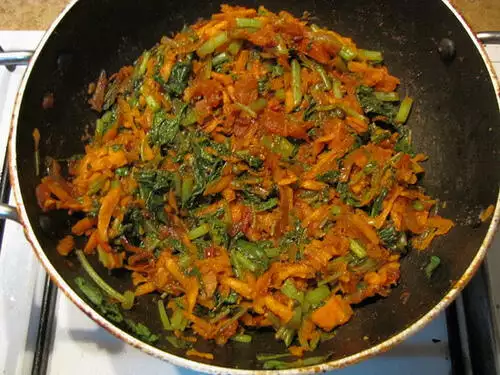 PinOpen kadai carefully after 10 mins and add salt.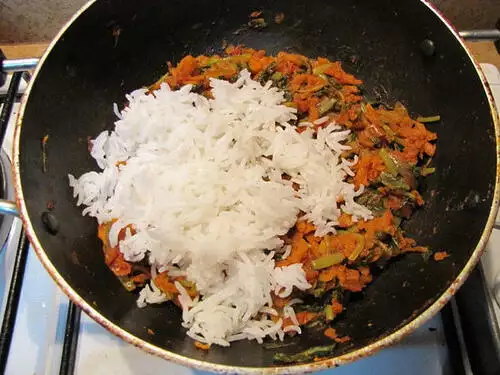 PinAdd about 3 cups cooked rice to this mixture. I used basmati rice but any rice will do, even warmed leftover rice.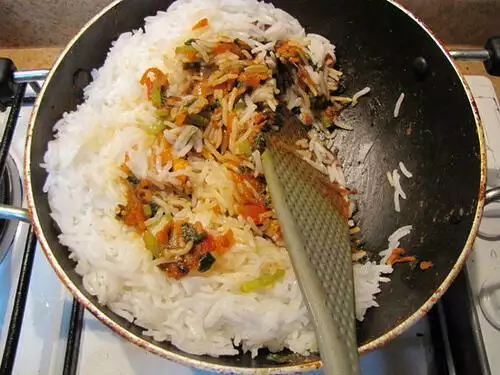 PinGently fold from one side so that the rice isn't mashed up too much.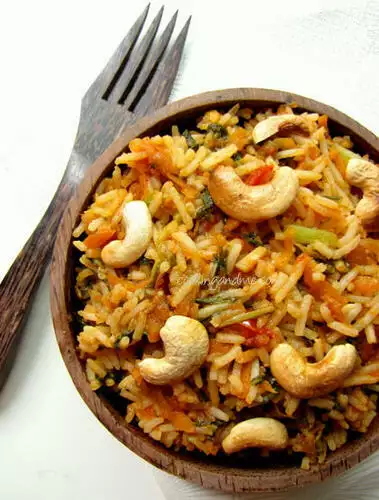 Pin
Garnish with some roasted cashews and serve hot. I roasted the cashew nuts in the microwave on medium power for a minute. Saves time and oil.
Serve tomato spinach pulao hot with papad or chips and raita.
For tomato spinach pulao recipe in Hindi, Tamil, Telugu, Kannada, Urdu, etc please use the Google translate button in the sidebar.