Amma often cooks for this blog too and the pics are taken and sent to me by her bother – my mama. Often, the pictures and recipes come at different times because my mom doesn't sit still enough for my uncle to type down the recipe from her. I know, I was there for 2 weeks and I had a list of recipes I wanted from her. I didn't even manage to get one – true story!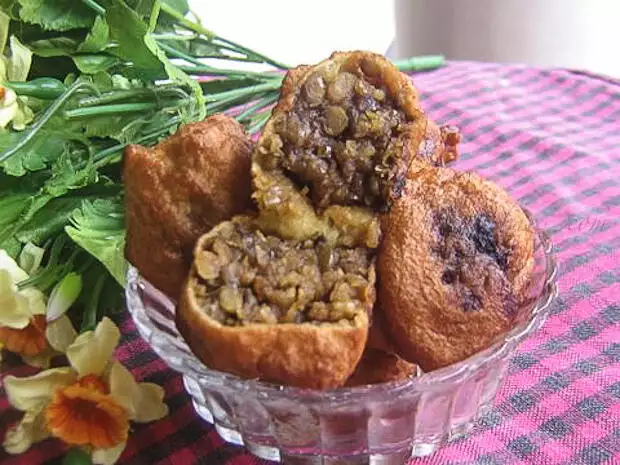 They sent me these sugiyan pictures over 2 years back. Although the recipe came soon after the pictures, they have been in draft for ages because I wanted to try them myself. That never happened. Sugiyan is one of my favourite sweets and amma makes an awesome sugiyan. I am sharing her recipe and her food photo styling (I find it so adorable how she's tried with a table cloth and flowers and all) with you as well as my uncle's photography skills 🙂

Check out my MIL's tamil-style Suyam Recipe too.
Sugiyan / Sukhiyan Recipe
Preparation time: 1 hour
Cooking time: 30 minutes
Makes 12-15 sukhiyan
Recipe source: Amma
Ingredients:
1 cup of green moong dal / green dal
1 cup of grated jaggery (or brown sugar)
1/3 cup of grated coconut
4-5 cardamom pods (powder the seeds inside)
1 cup of all-purpose flour (maida)
1/4 tsp of baking powder
A pinch of baking soda
1 tsp of sugar
A pinch of salt
Oil for deep frying
Instructions:
0. Mix the flour, salt, sugar, baking powder and baking soda together. Add enough water to form a thick batter and set aside for an hour (you can use this time to prepare the filling).
1. Soak the moong dal in warm water for 45 mins and pressure cook for 3-4 whistles until it's soft and mushy. You can also cook it in an open pot with enough water to cover the dal by 4-5 inches. This will take way longer though.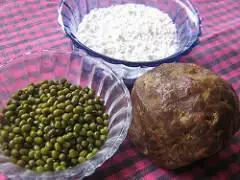 2. Melt the jaggery with about 1/4 cup water until it forms a syrup. There's no consistency test required, just make a syrup out of the jaggery by mixing it on heat for 3-4 mins, filter it through a sieve, and add to the cooked moong dal along with the powdered cardamom. You can mash the dal as much or as little as you want. It's nicer to leave a few of the larger pieces around though. Check for sweetness levels and add more jaggery syrup if needed.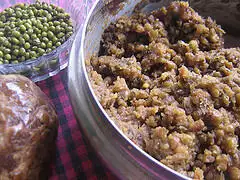 3. Heat oil for deep frying. Form lime-sized balls of the filling, dip into the prepared batter, and fry until the covering is golden brown.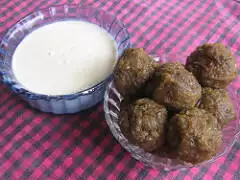 Drain on kitchen towels and serve hot.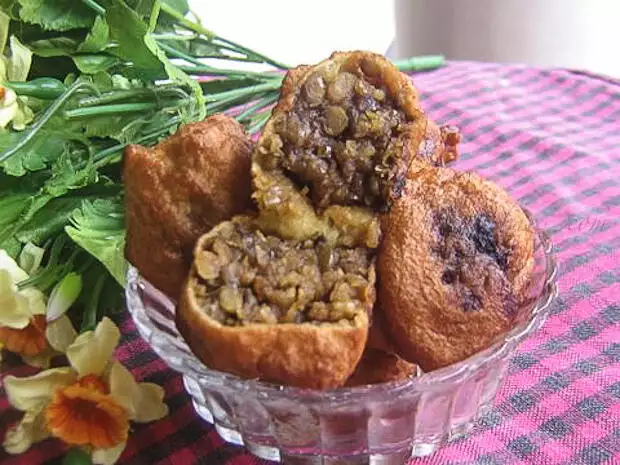 Sugiyan (Sukhiyan) makes a great tea-time snack and I loved them as a kid. In fact, anything made with jaggery is an immediate favourite for me.
Do try this easy sweet for Diwali and share your thoughts.