Spicy Diamond Cuts or Maida Biscuits or Khara Biscuits (doesn't matter what you call them) are as much a part of my childhood memories as Kai Murukku and Thenkuzhal. Although I don't make a lot of traditional Indian snacks at home, Diamond Cuts are so easy that I actually made these for starters when cooking dinner for some friends. They are also very addictive and you can't just stop with one 'diamond'. For the longest time, I thought Diamond Cuts are a Kerala snack recipe but apparently they are made and eaten around India, just under different names. They are also a popular savory snack made during Diwali.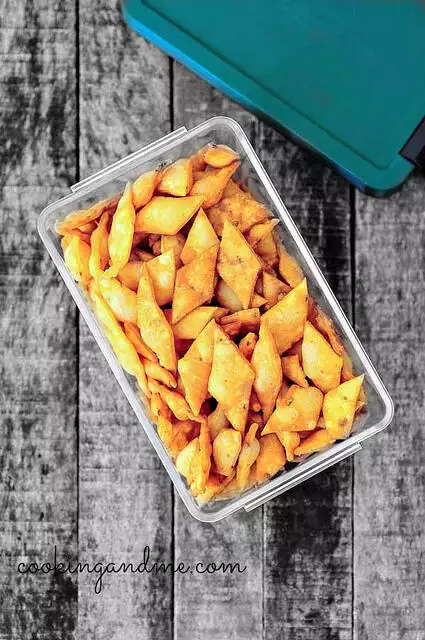 So if you are looking for an easy and quick snack that also stores well or you can make ahead, look no further. Why buy Diamond Cuts when you can easily make them at home? The sweet version of Diamond Cuts is equally delicious and quite a treat (and I have this killer Sweet Diamond Cuts recipe from my friend Deepa) but I prefer Spicy Diamond Cuts because I have trouble placing the sweet version in my day. I mean, are they dessert, or snack, or… what? If it's a snack, I prefer my snacks savory but then again, if I had different versions on a plate, that would be ideal 😀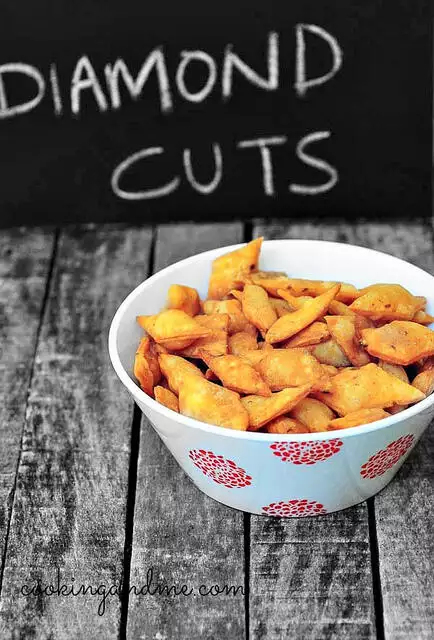 Since the dough for Diamond Cuts need to sit for a while, you can make it ahead and prepare other things and come back to making these.
You may also like butter murukku recipe, ribbon pakoda, kara boondi.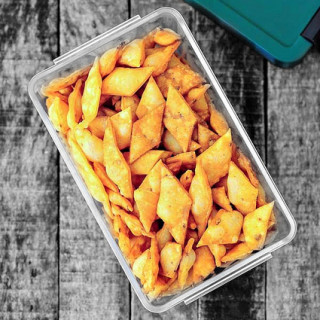 Spicy diamond cuts recipe
Spicy diamond cuts are made with plain flour and some spices which are made into a dough, rolled, cut into diamond shapes, and then deep fried. A perfect snack to gift and pass around during Diwali.
Ingredients
1

cup

of maida / all-purpose flour

1

tbsp

of cold butter or ghee

1/2

tsp

of cumin / jeera

1

tsp

of red chilli powder

1/4

tsp

of hing powder

asafoetida, perungaayam, kaayam

1/4

tsp

of ajwain

omam

1

tsp

of salt

1-2

tsp

of finely minced garlic

optional but highly recommended

3

cups

of oil

for deep frying
Instructions
Mix all ingredients (except oil) lightly with your fingertips until it resembles coarse sand

Add water very little at a time and knead into a firm ball of dough. It should not be sticky, just moist. Add more flour and knead in if your dough is too sticky

Transfer to a bowl and cover with a clean, damp, kitchen towel

Set aside for 30 mins

Heat oil for frying

Pinch off a lemon-sized amount of dough and roll into a ball between your palms

Press lightly and flour generously

Roll into a thin circle and cut into diamonds with a sharp knife or pizza cutter until, diagonally

Using a thin spatula, gently lift the pieces and add to the hot oil

Fry until golden brown - about 3-4 mins, gently turning midway during frying

Drain and set aside on a plate lined with a kitchen towel

Serve warm and if you have leftovers, cool completely and store in an airtight container

Stays fresh for up to a week
Step by Step Spicy Diamond Cuts Recipe
1. Mix all ingredients for diamond cuts lightly with your fingertips until it resembles coarse sand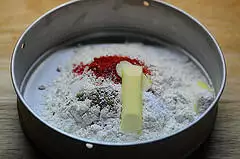 2. Add enough water to make a non-sticky dough. Keep covered aside for 30 mins.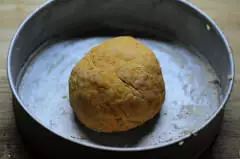 3. Pinch off a lemon-sized ball and flour generously. Roll into a thin circle.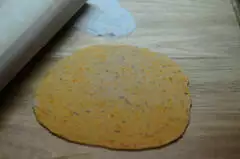 4. Cut diagonally into diamonds using a pizza cutter or a sharp knife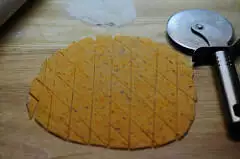 5. Gently lift with a spatula and add to hot oil.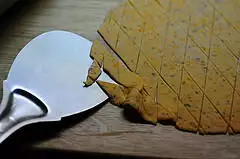 6. Fry until golden brown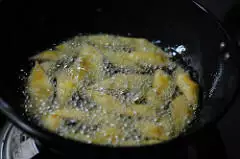 7. Drain and set side on a lined plate. Serve warm or store in airtight containers after completely cooled.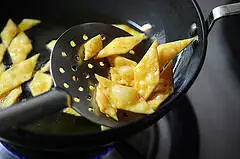 Notes:
– Although I am not a huge fan of ajwain, it adds a nice flavour to Diamond Cuts
– You can use butter or ghee. Don't add too much though because that would make the Diamond Cuts too soft and not crunchy. If you are vegan, use margarine or vanaspati
– The garlic gives a lovely flavour, definitely don't omit if you don't have a dietary restriction
– If you don't want the Diamond Cuts to puff up while frying, use a fork and poke some holes over them just before frying. I didn't mind the puffy ones too so didn't do this step
– You can use also use equal amounts of maida and atta to make the dough instead of using only maida (all-purpose flour)
For spicy diamond cuts recipe in Hindi, Tamil, Telugu, Kannada, etc please use the Google translate button in the sidebar.