Methi parathas
are fragrant and easy-to-prepare Indian parathas with fresh methi or fenugreek leaves. I love methi leaves for the slight bitterness they add to any dish.
Methi dal
is the usual favourite for TH and I and my default recipe to make with methi leaves. Each time I go to Little India, I scout around for a bunch. Apart from the extra time it takes to pick and clean them, I'd say cooking with the leaves is quite a delight and very rewarding in the flavour front. In fact, kasuri methi, the dried fenugreek leaves we add to dishes like
paneer butter masala
and
paneer jalfrezi
really elevate the flavour of those dishes.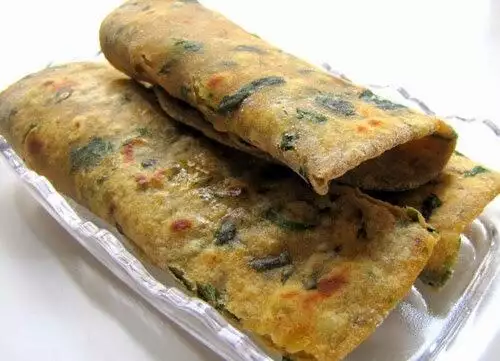 Methi Paratha was the outcome one weekend when I really wanted my cooking duties to end with a simple, single dish. I checked out many recipes online and a couple of cookbooks I have. I realised there are two ways to make methi paratha:
1. Make a spiced stuffing like you do for aloo paratha or gobi paratha and make methi parathas the same way.
2. Chop up the leaves and add them to the dough while making the dough and make parathas as normal.
I decided to go midway between the two options. Check out all methi recipes on Edible Garden.

Methi Paratha Recipe
Makes: ~20 parathas
Ingredients:
4 cups packed fresh methi / fenugreek leaves, cleaned and chopped fine
2 green chillies, chopped fine
1″ piece ginger, grated
1/2 tsp powdered jeera / cumin seeds
1 tsp oil
Salt to taste
For the dough
5 cups atta / wheat flour
Water as needed
Ghee or butter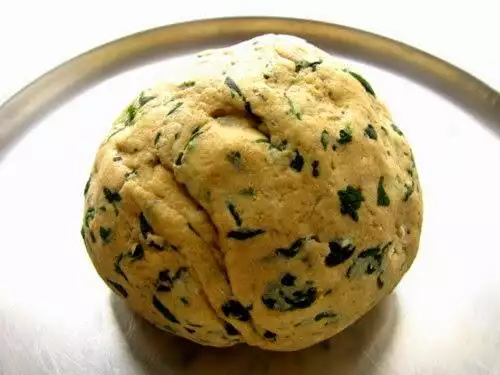 How to Make Methi Paratha:
1. Heat the oil and add the jeera. After about 5 seconds, add the ginger, methi leaves, green chillies and some salt. Stir until the leaves start to wilt and get lightly toasted. Don't cook it for more than 7 mins. Let this mixture cool.
2. Add the spiced methi mixture to the atta, more salt if needed and enough water to make a soft, pliable dough. Divide into 6 equal-sized balls. Roll out each and cook on a tawa or griddle until both sides are golden brown.
3. After removing from fire, pat ghee or butter on both side and keep covered to maintain softness.
Serve methi paratha warm with mango pickle and plain curds.