When someone like
Joann
decides to pack up and head back to where she came from, it calls for a lot of heavy-duty surprise throwing, and eating at new places, and ordering of cupcakes from far away lands (which ended up not happening since the cupcake people told me they need 4 days advance notice. Really? Do I look like someone who knows what I want 4 days from now?).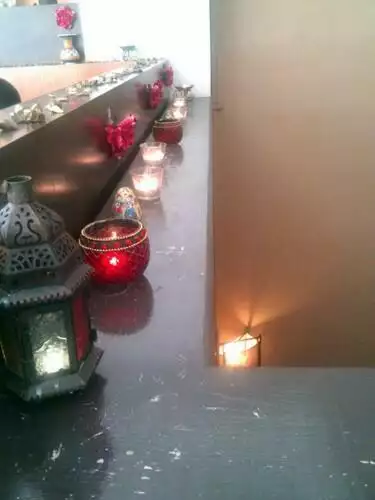 What
did
happen was this fun lunch with some people from the team at Sofra Turkish Cafe and Restaurant on Beach Road.
The place was decorated quite nicely and made it seem like a fancier place than it actually would have been–minus the decorations. Ok, that didn't make any sense. I should stick to talking about the food.
The menu was not extensive but had enough choices to make you go "I want that.. or maybe that… oh wait, I want this!"
We ordered some sesame bread and hummus for the table. The bread was extremely soft on the top and crusty at the base with tons of sesame seeds sprinkled over the top for a nice crunch.
The hummus was delicious and with the sesame bread, it made for a very nice start to the meal.
A few of us got drinks. Here's my peach juice (was nice as far as peach juices go)…
Joann's sour cherry juice..
My main dish was called Adana Kebab which was basically herbed chicken kebab. It was quite delicious but the attractive part was their presentation.
It came on a mini sword!
Joann got the Beyti kabab which are rolls filled with minced chicken and spices with tomato sauce over it. It was very firm and held its shape while we passed it around on a fork and tasted quite good. Although that serving doesn't look big, it was apparently very filling.
Anand's order – the famous Turkish Mussaka. I had heard a lot about this dish but the taste disappointed me. It had bread and eggplant and tomatoes and some meat and overall, didn't impress me. Pass.
A few people got the Chef's plate which is basically a mix of different breads and kebabs and salads. Yum.
Erika's Doner Kebab Rice, nothing to write home about but this was the cheapest thing on the menu (SGD 8.50) so for the price, it was very good, with the most substantial portion of salad.
There were some stuffed figs being passed around the table and they were.. good. If you like figs maybe you'd enjoy them more.
I was quite pleased with their decor and their presentation. Each dish was presented beautifully and had a good serving of salad and rice. The portion sizes are just right if you are hungry.
100 Beach Road #02-42/43/44
Shaw Tower
Shaw Leisure Gallery
Singapore 189702
Tel: (65) 6291 1433
Tel (65) 6291 1433
By Bus :
SBS 100, 107, 57, TIB 961
By MRT :
Bugis Station (abt 3 mins walk)
City Hall Station (abt 5 mins walk)