Onam has come and gone. Due to the recent bomb blasts in Hyderabad, things were a little gloomy at home. But nevertheless, I had two Onam sadyas – one at my colleague friend's house and the other at my friend Amitha's place. It was her first Onam after her wedding and her parents were in the city. So we all enjoyed a full-fledged sadya.
Payasam is an intergral part of any sadya and is the after-taste invariably. I for one, am a payasam lover but find it too time-consuming to actually prepare it myself. Anyway, this is the payasam that we made at home. The simplest and easiest of them all – Semiya Payasam.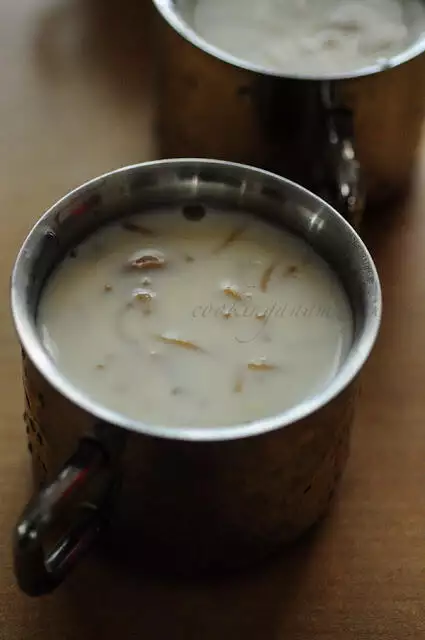 Browse all payasam recipes. My favourites are – ada pradhaman, paneer payasam, and payar payasam.
SEMIYA PAYASAM RECIPE
Ingredients for Semiya Payasam:
Milk – 3 cups
Water-1 cup
Vermicelli/semiya – 100gm
Sugar – 1 cup (adjust according to taste)
Cardamom – 4
Cashew nuts – 12
Raisins – 8
Ghee – 2 tsp
How to make Semiya Payasam:
1. Fry the raisins and cashew nuts in the ghee. Remove and then fry the vermicilli till it turns golden brown. Keep aside.
2. Mix water with the milk and boil in a pan, stirring constantly. Add sugar and cardamom. Bring to boil keeping the fire on sim.
3. Now add the vermicilli, stir well and bring to boil again. Make sure the vermicilli is cooked (leaving the pan aside, closed for some time will help)
4. Garnish with the fried raisins and cashews.
We enjoy semiya payasam cold but serve warm or cold accoring to your taste 🙂