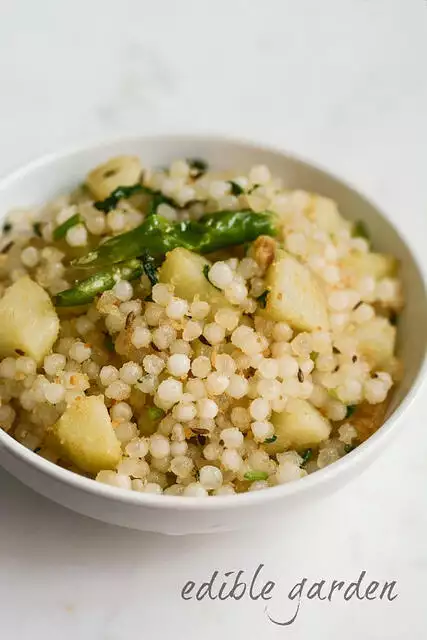 Sabudana Khichdi is a Maharashtrian recipe using sabudana (sago), potatoes, and peanut powder. Most popular as a vrat fasting food, sabudana khichdi is carb and protein heavy, which makes it a great breakfast food.
Ok. It's time for a confession, you all. I have attempted to make sabudana khichdi a few times before and failed quite badly. The problem was always getting the right consistency for the cooked sabudana. It's a very easy thing to mess up – too much water makes it gloopy (and gloopy food is never good) and too little water makes it hard and rubbery.
I experimented with different methods to cook sabudana and also tried to make this khichdi with different types of sabudana, from the tiny ones to the large, pepper-sized ones you see in the pictures here.
You may also like:
Vegetable rava upma
Dalia upma
Sago dosa
Kanchipuram idli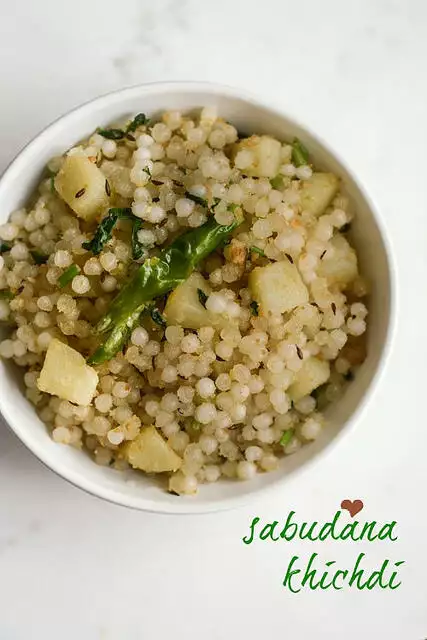 As a novice cooking with sabudana myself, here are some tips that may help you.
– For khichdi, use the larger sago pearls I have used here. They are easier to "control" and won't get mushy too soon. You also need to plan ahead. While cooking the khichdi is quick and easy, the sabudana has to be prepared before cooking and this needs some planning. I have detailed the steps below.
– For making sweet and keer like sago kheer, the smaller pearls work well since they take lesser soaking and cooking time.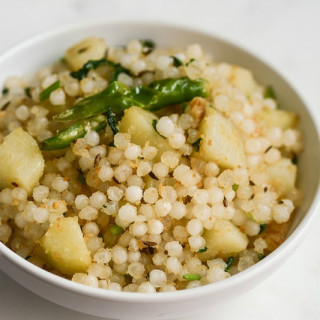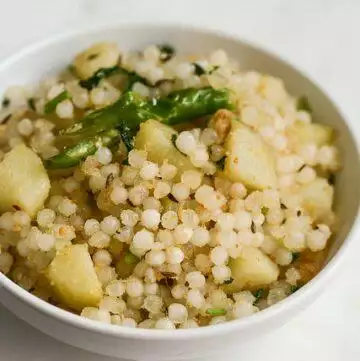 Sabudana Khichdi Recipe
Sabudana Khichdi is a popular Maharashtrian recipe that's usually made for breakfast. Also common during vrat time since it uses no onion, garlic, or rice.
Ingredients
1

cup

of sabudana

sago, javvarisi

1/2

cup

of boiled

cubed potato

2

tsp

of oil

1/2

tsp

of cumin seeds

2-3

green chillies

4

tbsp

of roasted and powdered peanut powder

1

tsp

of lime juice

adjust to taste

3

tbsp

of chopped coriander leaves

1/4

tsp

of sugar
Instructions
How to prepare sabudana for khichdi:
Wash and soak the sabudana pearls for 30 minutes

At the end 30 minutes, they will absorb water and swell up quite a bit

Drain the water completely and sprinkle about 2 tsp water over it

Mix with fingertips, cover, and place in the refrigerator to soak overnight or a minimum of 8 hours

Once it has soaked for the required time, sprinkle 2-3 teaspoon more water, mix with fingertips, and let it sit for another 30 minutes or so

At this stage, the sabudana should squish under your fingers when you crush a pearl between your fingers

Now your sabudana is ready for cooking
2 initial steps are required before you can proceed with making the khichdi
Prepare the peanut powder. Dry roast raw peanuts and powder coarsely (I took a quicker route and just bought roasted peanuts which I powdered coarsely in a spice grinder). Set aside until needed

Boil a potato and keep that ready
To make sabudana khichdi:
Heat oil and add the cumin seeds

When they sizzle and turn a light brown, add the potatoes and green chillies

Saute until the potatoes turn a light golden brown

Add the soaked sabudana and turn heat to low

Stir continuously and let it heat through

Add the peanut powder and keep mixing. The sabudana will turn translucent as it cooks

If at any point you feel like the sabudana is sticking together, make sure you use the spatula to keep mixing and spreading them out

Once the sabudana turns almost transparent, check to see if it's cooked through by again crushing between your fingertips or tasting one

Add sugar, lemon juice, and salt. Mix again

Turn the heat off and add chopped coriander leaves

Serve warm
Step by step pictures to make Sabudana Khichdi
Wash and soak the sabudana for 30 minutes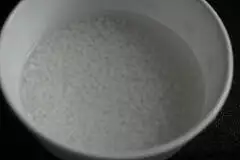 It would have absorbed moisture and puffed by by then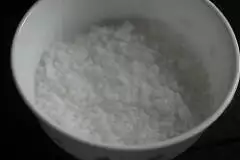 Drain the water completely and just sprinkle a few drops to keep them moist. Mix with fingertips and set aside for minimum 8 hours or overnight in the refrigerator. Once ready to make , sprinkle some more water, mix, and set aside until required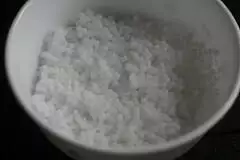 Dry roast some raw peanuts to make the peanut powder. I used roasted salted peanuts and just powdered them in my spice grinder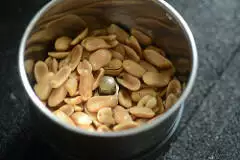 You can use as much peanut powder as you'd like so adjust the quantity to taste. Set aside until needed.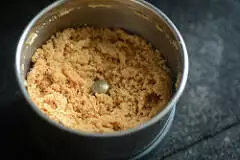 Heat oil (preferably in a non-stick pan) and add the cumin seeds.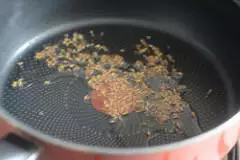 When they sizzle and turn brown, add the boiled potatoes and slit green chillies. You can also cut the chillies into small pieces and add them.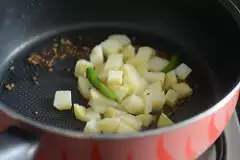 Saute until the potatoes turn a light golden brown and then add the soaked sabudana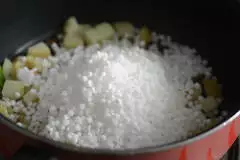 Mix well and stir continuously on a low flame for 2 minutes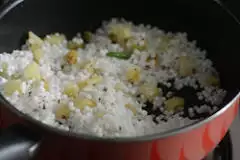 Now sprinkle the desired amount of peanut powder and keep stirring and mixing again. Depending on the size of the sabudana pearls, it will take anywhere between 5-7 minutes to cook fully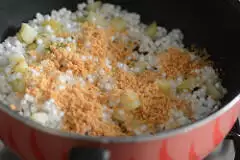 When the sabudana turns translucent and is done (do a taste test), add salt, sugar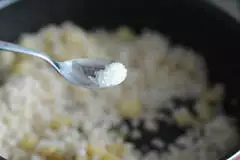 and lemon juice. Again, add as much as you'd like, per your taste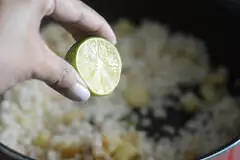 Turn off heat and garnish with chopped coriander leaves.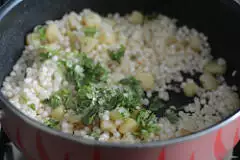 That's it, Sabudana khichdi is ready!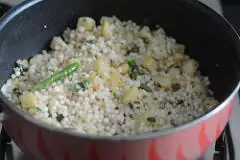 Notes:
– You can add some grated coconut towards the end if you prefer
– Keeps well in the refrigerator for 2-3 days. To re-heat, transfer to a pan, sprinkle some water, and heat on the stove top. Microwave heating of sabudana khichdi can make it very rubbery (learn from my mistakes, people!)
– I referred Madhura's video on how to cook sabudana properly
For Sabudana Khichdi recipe in Hindi, Marathi, Tamil, Telugu, Urdu, etc, please use the Google translate button in the sidebar