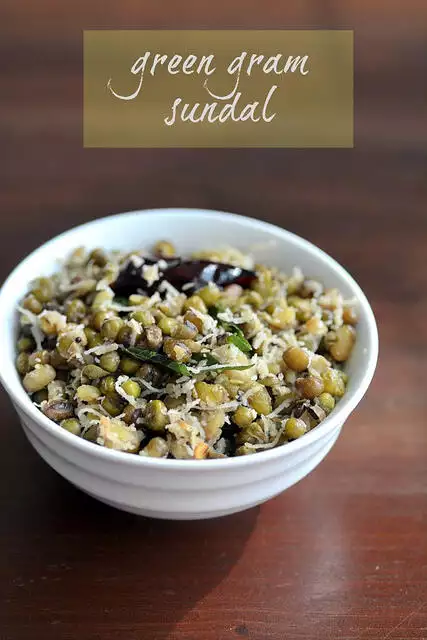 Green gram sundal (also called green moong sundal, mung bean sundal, or pacha payaru sundal in Tamil) is probably the most popular and easiest sundal you can make for Navratri. Although I don't do the pooja or golu that's customary during Navratri celebrations in Tamil homes, I do make sundal pretty much every day of the nine days that Navratri is celebrated.

This sundal is a big part of my growing up years because my dad absolutely loves it and we used to have this for breakfast a few times a month. That's right, protein-packed sundal makes a good breakfast accompaniment and we'd balance the dosa and idli with a small bowl of sundal eaten as is. Amma also made the sweet version of pacha payaru sundal but that was a lot more rare than this super easy savoury sundal variation.
Other interesting recipes for Navratri:
Pattani mangai sundal
Kadalai sundal
Rajma sundal
Green peas sundal
Chana dal sundal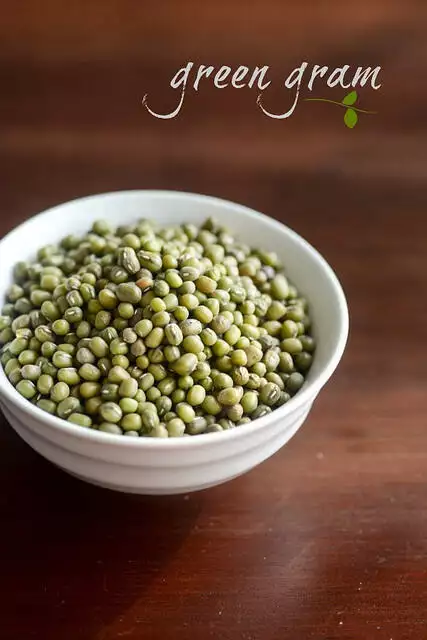 Green gram is a hardy legume so soaking it prior to cooking will yield the best results. I'd recommend soaking them overnight if you have the time or remember to do so but a minimum of three hours should be good enough too.
To prepare the green gram for making sundal:
Place the required amount in a colander
Place the colander under running water and make sure all debris and dust is washed away
You should also pick through the green gram to ensure there are no stones in them
Transfer to a bowl, add enough water to cover the green gram by 2 inches or so, cover the bowl, and set aside
Before cooking, discard the water used for soaking the green gram, wash and rinse again, and you are ready to proceed with the rest of the recipe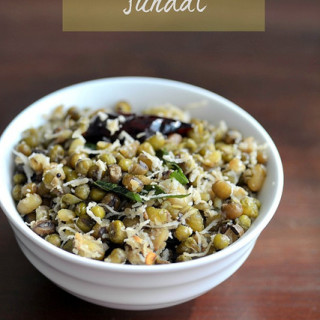 Green Gram Sundal Recipe
Green gram sundal is a simple and healthy recipe using whole green gram soaked and cooked with chillies, coconut, and hing. Popular during Navratri festival in Tamil Nadu and other parts of Southern India
Ingredients
1.5

cups

of green gram

mung bean, pacha payaru

1/4

cup

of grated coconut

4

dry red chillies

torn into pieces

A few curry leaves

1/4

tsp

of black mustard seeds

1/8

tsp

of hing powder

asafoetida, perungayam

2

tsp

of oil
Instructions
Prepare the green gram for cooking as mentioned above. Once you have soaked gram ready, proceed with the steps below

Place the payaru in a pressure cooker vessel and add enough water to cover it by an inch or so

Pressure cook for 4-5 whistles (about 15 minutes)

Wait for the pressure to be released and check to see that the beans are cooked. They should hold their shape but turn mushy when squished between your fingers. Don't worry if the beans are undercooked, just return to the cooker and pressure cook for another ten minutes or so. And if they are overcooked, well, that's fine too. They won't look as good but will taste good either way

Heat oil in a kadai or pan and add the mustard seeds

When they pop, add the chillies and curry leaves. Take care during this step, the oil will splutter due to the moisture in the curry leaves

Fry for 10 seconds and then add the hing powder

Give it a quick stir and add the cooked beans

Stir well and let the tempering mix well with the beans

Add salt, mix again

Now add the grated coconut (you can use freshly grated coconut or frozen coconut that's been thawed)

Mix again, taste to make sure there's enough salt, and remove from heat

Serve warm but room temperature sundal tastes just fine too
Step by Step Pictures for Making Green Gram Sundal
Soak the greem gram in enough water for minimum three hours to overnight.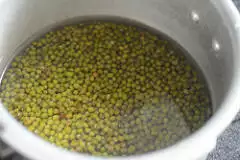 Drain the water used for soaking, add more fresh water and pressure cook for 4-5 whistles until the beans are cooked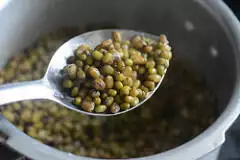 Heat oil in a pan and add the mustard seeds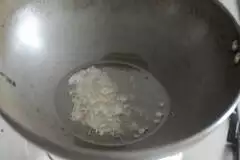 Then add curry leaves and red chillies. Take care, the oil will splutter a lot as you add the curry leaves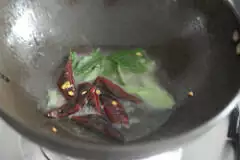 Quickly follow this with some hing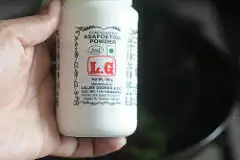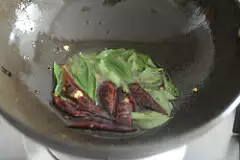 Then add the mung beans and stir well to combine everything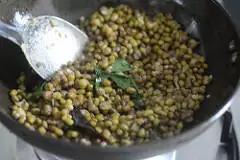 Add required amount of salt. Mix again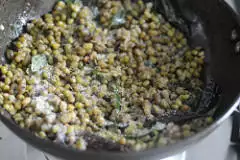 Finally add the grated coconut, mix well together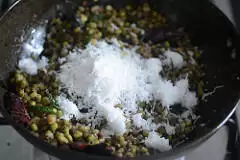 Let the coconut heat through for another minute or so. Adjust salt if needed and remove from heat.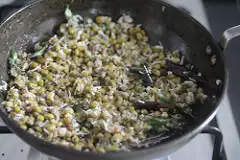 That's it! Green gram sundal is now ready. Serve warm if you can but sundal at room temperature is perfectly tasty too.
I hope you have a wonderful Navratri and spend this festival season with friends, family, and loved ones.
For sundal recipe in Tamil, Telugu, Hindi, Marathi, Urdu, etc please use the Google Translate button in the sidebar