I don't think I need to talk again about how much we love eggplant or brinjal. I buy it every week and end up adding this vegetable to one thing or the other – sometimes to sambar, or a simple brinjal palya, or a quick Vangi Bhath, or if I have time, Bagara Baingan, which is our favourite.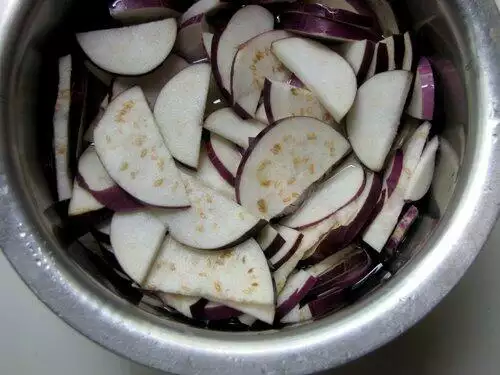 This recipe, however, doesn't really have a traditional name because.. well, its not traditional! Amma used to make this often and as a kid, it was my favourite because it was not spicy and the sweetness the tomato ketchup gives to the dish is just delicious.
A must-try if you like brinjal or have kids at home who refuse their vegetables.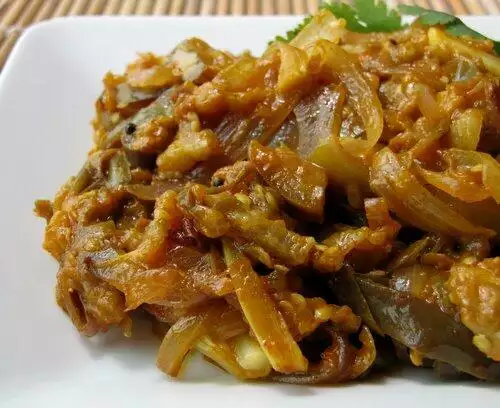 Recipe for Roasted Brinjal in Tomato Ketchup
Ingredients:
2 cups brinjal, sliced into slightly thin pieces
1 medium sized onion, sliced long
2 cloves garlic, sliced long
1 tsp red chilli powder (or to taste)
2 tsp coriander powder / malli podi
A pinch of turmeric powder
1 tbsp oil
1/4 tsp mustard seeds
Curry leaves (optional)
1 tbsp tomato sauce or ketchup
Salt to taste
How I Made It:
1. Slice the brinjal and add the pieces to a bowl of water to prevent browning. Set aside.
2. Heat oil and add the mustard seeds. Once they pop, add the chopped onion and garlic. Fry until golden brown.
3. Add the masala – turmeric, coriander, chilly, curry leaves if using – and fry for another minute.
4. Now add the brinjal pieces, reduce flame to low and mix well. Cook covered for 5 minutes, stirring once or twice in the middle to prevent the vegetable sticking to the pan.
5. Once the brinjal is cooked almost mushy, add the ketchup or sauce and mix well. Add salt.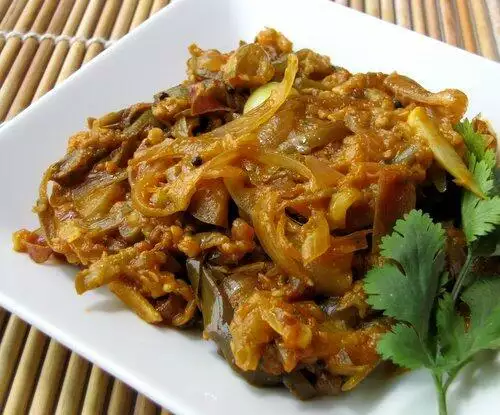 Goes well with rice, roti, dosa, idli, anything! I used to mix this with rice and eat just that as a kid.