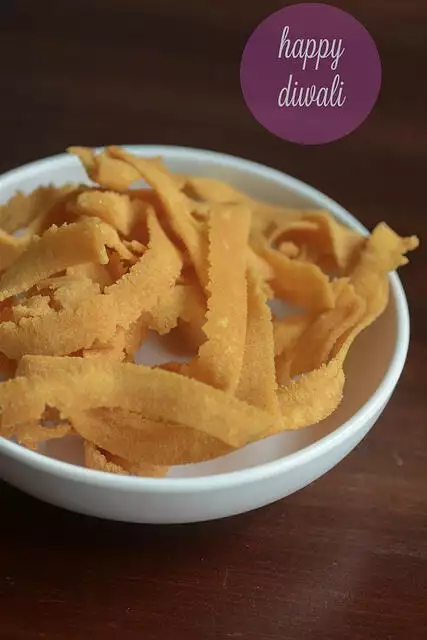 Ribbon pakoda recipe: learn how to make ribbon pakoda (ribbon murukku, nada pakoda), a delicious snack with besan that's a popular snack made during Diwali and Gokulashtami. I, on the other hand, can eat ribbon pakoda any time of the year with some hot tea. Why not, eh?
This Diwali, I have stunned myself. I really exceeded my own expectations by attempting kaju katli, kara boondi, venna murukku, maa ladoo, and ribbon pakoda. I usually default to making the easiest Diwali sweets you can make in under 30 minutes and distribute them but this year has been pleasantly different.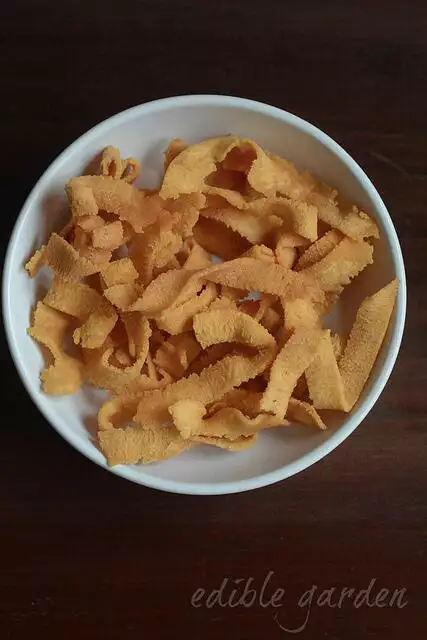 The dough for ribbon pakoda can be made a few different ways, I have used the easiest version which just uses rice flour and besan (gram flour). Other versions include urad dal flour but that's for another day. The proportion I used for my ribbon pakoda dough is from TH's Geetha Perima. She is a wonderful cook and knows a stunning range of recipes from all over India. My humble ribbon pakoda recipe is credited to her too.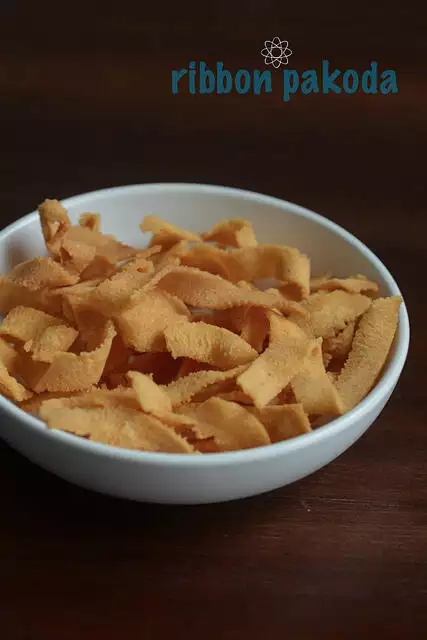 As with all of these traditional Indian snacks made during Diwali, especially, the proportion and consistency of the dough or batter is the most important thing. The dough used for ribbon pakoda, much like the dough for butter murukku, needs to be moist yet not too much so. Make a stiff dough and then moisten it further before you press it through the pakoda mould, that's the best way to ensure a foolproof method.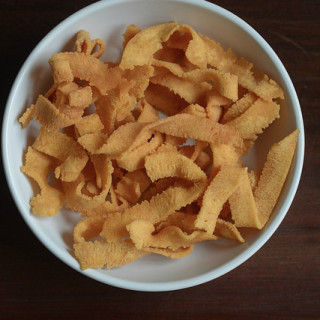 Ribbon Pakoda Recipe
Ribbon pakoda is a popular snack made in South India during the festival season, especially Diwali or Deepavali
Ingredients
1/2

cup

of rice flour

idiyappam flour

1/2

cup

of besan

gram flour

1/2

tsp

of red chilli powder

1/4

tsp

of asafoetida

hing, pergungaayam

Salt to taste

Oil for deep frying
Instructions
Prepare your ribbon pakoda press by choosing the right disc for it, the one with thin slits

Mix together the besan, rice flour, chilli powder, hing, and salt in a wide bowl

Heat oil for deep frying. Once it's hot, take 2 teaspoons and add to the flour mixture

Mix with your fingertips until the oil is incorporated into the flours

Now add water a little at a time until you get a dough that's supple and moist. Be careful not to add too much water at this stage

Take a tennis ball-sized amount of dough and create a log out of it

Transfer to the pakoda press

To check if the oil is hot enough, add small a ball of dough in it. If it immediately sizzles up, the oil is ready

Press the pakoda directly into the hot oil using a circular motion

Once the pakoda stops sizzling too much and the oil calms down, gently flip so both sides can get cooked

When the ribbon pakoda turns a golden brown, drain and set aside on a plate lined with paper towels

Proceed with the same steps for the remaining batter

Cool completely before storing in airtight containers

Tastes best within 4 days of making it. Serve with hot tea
Step by Step Pictures for Making Ribbon Pakoda
Prepare your pakoda press by inserting the ribbon pakoda disc into it (the one with the slits, some discs have one slit and some have two)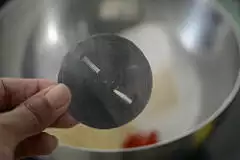 Add rice flour, besan, chilli powder, hing, and salt to a wide bowl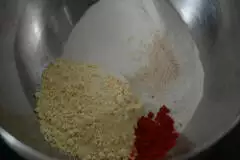 Use a whisk or fork to mix thoroughly until all these ingredients are well incorporated.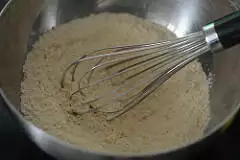 Start heating the oil for deep frying. When it's hot, take teaspoons and add to the above flour mixture. Mix it in well with your fingertips.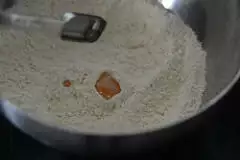 Add water a little at a time and knead gently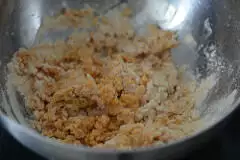 until you get a soft, moist dough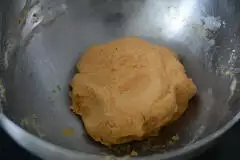 Pinch off an amount of pakoda dough that will fit inside your mould press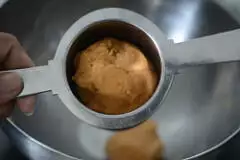 Pinch off a tiny ball of dough and drop into the hot oil. if it sizzles and rises to the surface immediately, the oil is ready.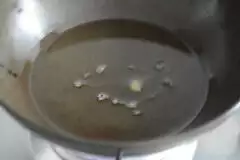 Press the dough directly into the hot oil in a circular motion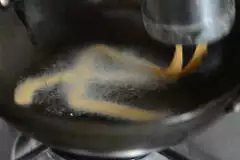 There will be a lot of frantic sizzling of the oil. This is perfect.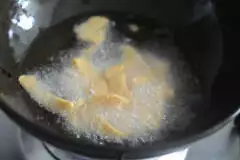 When the sizzling subsides a bit and the first side is golden brown, gently turn the pakoda over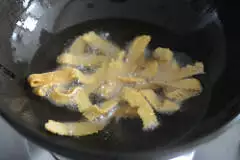 Fry until golden brown, drain from the oil, and set aside on a plate lined with paper towels. Continue with the next batch until the dough is finished.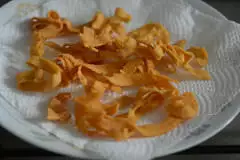 Enjoy ribbon pakoda with hot tea. Perfect combination!
For Ribbon Pakoda recipe in Tamil, Hindi, Marathi, Urdu, Kannada, Telugu, Malay etc please use the Google translate button in the sidebar.