I am not an expert in Rajasthani or Gujarathi cuisine. After this vegetarian thaali at the Rajdhani outlet in Express Avenue Mall in Chennai, I wish I was.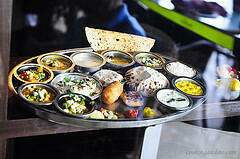 We saw this restaurant tucked in one corner of the food court with this amazing looking thaali in the display window. My growling stomach urged me on for a try and I am so glad I agreed.
We went pretty late on a Saturday for lunch at the food court in EA Mall but it was jam packed. Maybe 2pm is not that late by Indian standards but since coming to Singapore I've gotten used to lunch at noon and my stomach was crying bloody murder by then.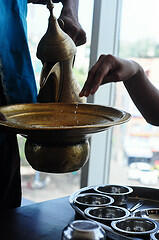 The waiters were all Rajasthani or Gujarathi. They bring around this jug and a basin for you to wash your hands at your table before and after eating. He managed to pour the water in a slow trickle and it all escaped into the bottom of that basin. Smart!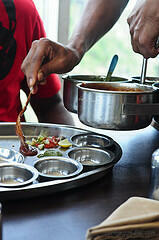 Once we are done with washing our hands, the steady barrage of dishes follow. Yummy things keep appearing on your plate at lightning speed.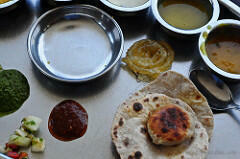 It was tough to take pictures with a 50mm lens in a crowded restaurant but this thing on top of the rotis, that small flat disk, was mindblowing. It tasted like a much thicker version of puran poli. It was hot and oozing out ghee. I am getting hungry as I type this and I just had my lunch so you can imagine!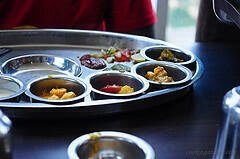 The food was amazing. It could be because I am a novice at this cuisines but it tasted very homemade, and very authentic. The only time I had a better Rajasthani meal was at Chowki Dhaani in Jaipur but that doesn't count. This was in the heart of Chennai!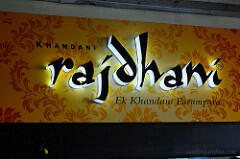 Priced at Rs 375 per thaali, its not a cheap meal. Its an unlimited thaali (except for sweets) with almost 30 items I think, so one round of every item is all most people will be able to manage. TH thought it was too expensive but then we seldom agree on these things so I will let you decide for yourselves. Definitely worth a visit.
Rajdhani Restaurant – Official Website
We visited the branch in EA Mall, same floor as the food court. I hear they have outlets all over India and abroad too.
Note: this is not a paid review. It's based on my experience of going there once for lunch and we paid for our own meal. Please check out the comments for some mixed reviews.