Rava Ladoo (or Rava Laddu) is a great Diwali sweet recipe for last-minute-preparation people like me. I am invited to two homes this Diwali and wanted to take some homemade Diwali sweets with me. When searching online, I chanced upon this very easy-looking Rava Ladoo recipe by Vahchef and zeroed in on it. I had all the ingredients for the rava ladoo in hand so that made the job even easier.
You may also like this coconut sesame ladoo recipe, 15-min coconut ladoo recipe, date and nut laddu, and maladu recipe.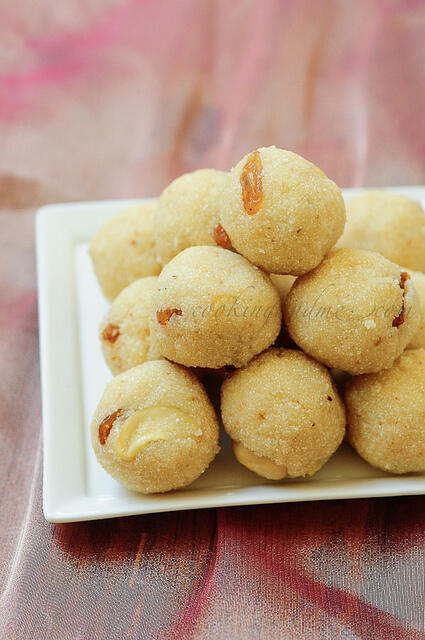 Making traditional sweets for Diwali is a joy in itself and admittedly I have been very slack with it in the past few years. This year has been a bit different and hopefully it changes a bit more for the better the coming year.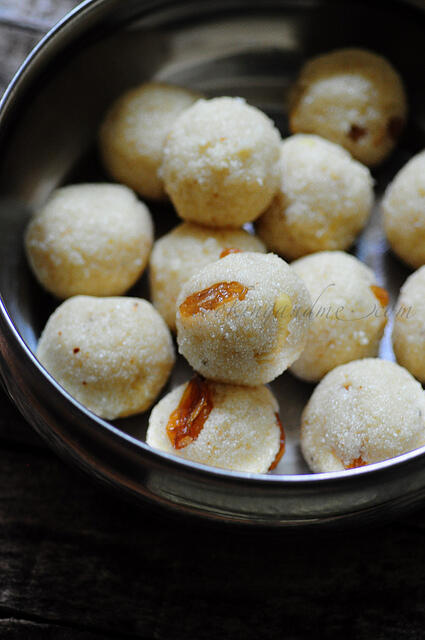 The lighting in the first picture is a bit misleading so I wanted to upload the picture above to show you the actual colour of rava laddus. They came together in less than 20 mins and are sitting on the counter cooling as I type this.
Rava Ladoo-Rava Laddu Recipe-Diwali Sweets Recipe
Preparation time: 5 minutes
Cooking time: 15 minutes
Makes 12 rava ladoos
Recipe adapted from: Vahchef
Ingredients for Rava Ladoo:
1 cup of rava / sooji / semolina, the fine kind
2 tbsp of ghee (how to make ghee at home)
A handful of raisins and cashew nuts
1/2 cup of grated coconut
1/4 cup of sugar
1/3 cup of milk
A generous pinch of cardamom powder
How to Make Rava Ladoo (Rava Laddu):
1. Heat the ghee in a pan and add the cashew nuts and raisins. IMP – keep the flame low throughout the process of making rava ladoo.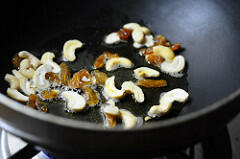 2. Grind the coconut and cardamom together. This is an optional step but I did it since my grated coconut was very coarse and I was worried it won't be easy to make the ladoos into balls.
Add the coconut-cardamom mixture to the roasting nuts and raisins.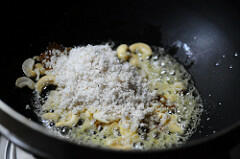 3. Mix ones and add the rava next.
5. Fry this mixture for 2-3 mins and then add the sugar. Since my sugar was very fine, I didn't powder it but you can do so if you wish.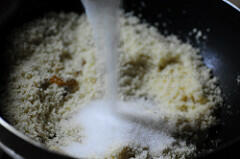 6. Continue to roast the rava mixture until the colour changes to a light brown. Don't let it sit and walk away or the rava will start toasting and turning a golden brown on one side. The process of roasting the rava took me about 5-6 mins. Once the rava is browned lightly, turn off the flame and slowly add the milk, stirring continuously as you do so. If you are a food blogger, it's ok to stop mixing and take a quick shot before you continue, but don't let it be for too long.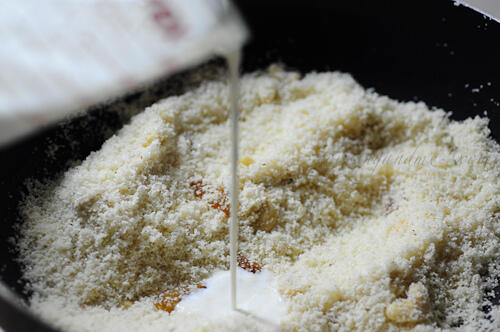 Once all the milk is added, continue to mix until the ladoo mixture comes together. It will be quite moist and will stick around your ladle.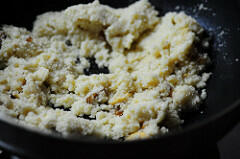 7. When the ladoo mixture is warm enough to handle, make into lemon-sized balls and gently set aside. If the mixture is too dry, sprinkle water or milk as you shape the ladoos.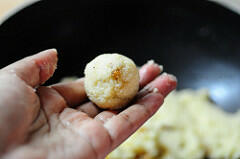 Done! As I said, the entire process of making rava laddu took me no longer than 20 minutes and I got 12 medium-sized ladoos from this quantity.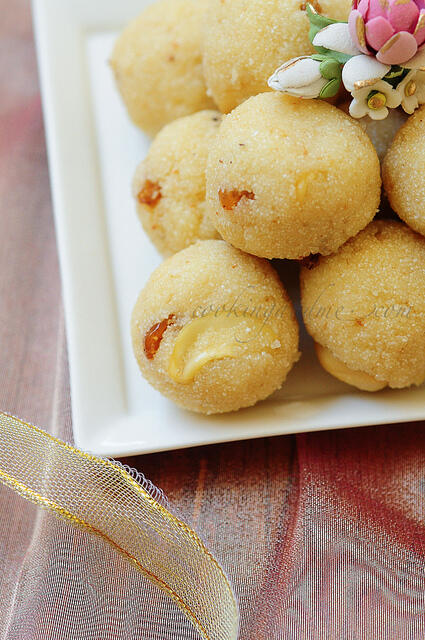 Notes:
– you can add more coconut if you wish, up to 1 cup
– instead of using milk, you can use water or a mix of water and milk. If using only water, that will increase the shelf life of the rava ladoo.
– adjust sugar to your preference. This measure gives you a mildly sweet rava ladoo.
– this recipe gives you soft ladoos. If you prefer the firmer ones, decrease the amount of milk / water.
Share the rava ladoos (rava laddu) with your friends and family this Diwali and enjoy!