Rava Idli Recipe
When MTR does such a great job of producing a great instant rava idli mix, you may ask why I even bother with a from-scratch rava idli recipe.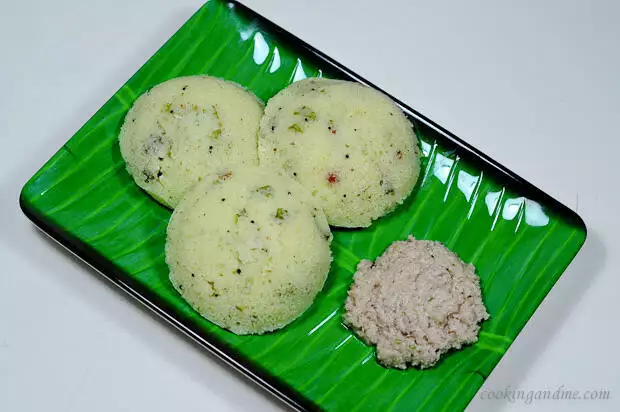 Well, SJ did it *points fingers* so I wanted to as well. Plus, I had some eno salt in the house and decided that rava idli would be easier than making dhokla from scratch, or something.
Rava Idli Recipe – From Scratch
Makes about 10-12 idlis
Ingredients:
1 cup sooji / rava / fine semolina
1/2 tsp mustard seeds
1 tsp channa dal
1 tbsp chopped cashews
1/4 tsp hing
2 tbsp oil
2.5 cups curd / plain yogurt
1 tsp Eno fruit salt (secret ingredient for spongy rava idlis)
A handful finely chopped coriander leaves
Salt to taste
How I Made It:
1. Heat oil in a pan and add the mustard seeds and chana dal.
2. Once the mustard seeds pop and the chana dal starts turning golden brown, add the hing and cashews. Fry until the cashews start turning golden brown.
3. Now add the rava and fry till it turns golden brown (a lot of golden-brown-turning needs to happen in this recipe), approximately 5-7 mins. Add salt (regular, not eno), mix well, and let it cool.
4. Then add 1 cup of curds to the dry mixture and mix well. Let it rest covered for 10 mins. Add the rest of the curds and mix well ( it should be little thicker than idli batter). Add the Eno fruit salt and mix well. Ladle the batter into idli moulds. Steam in an idli maker or pressure cooker for 10-12 mins (without weight). Allow it to cool and unmould.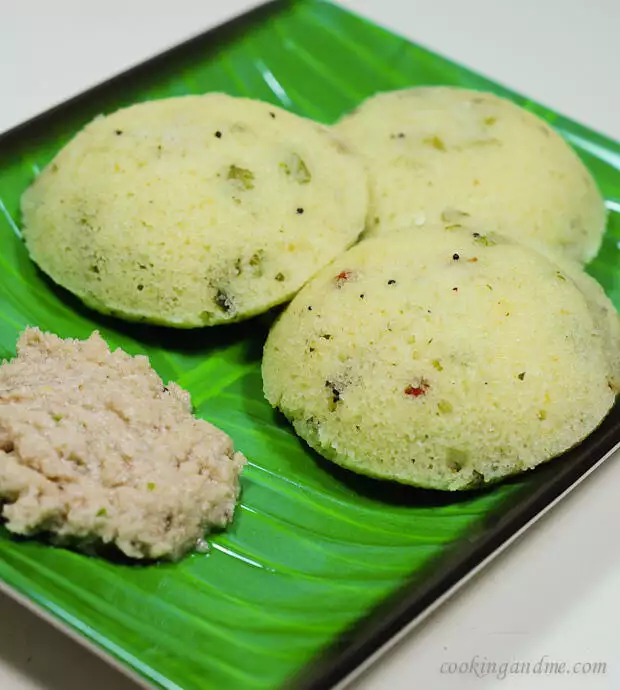 The best combination for rava idli is
onion-tomato chutney
but I didn't have the patience for that so served with regular coconut chutney.
PS: Excuse the picture quality. This was dinner on Saturday and I didn't have the patience to set up the light box.