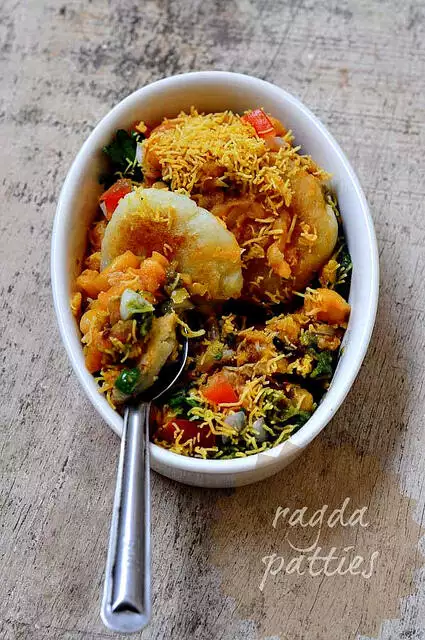 Ragda Patties – probably one of those chaat recipes that would be number 7 on my list of chaat dishes I crave. Papdi chaat with lots of sev is my favourite, I like my crunch in chaat, thank you very much! However, this post is about Ragda Patties, often spelled mysteriously as Ragda Pattice, something that I tried for the time in Kailash Parbat Singapore and kinda sorta fell in love with. I say kinda sorta because all the other chaat we ordered there was a disaster except for maybe pani puri which was passable. So yeah, the ragda patties really stood out since they were quite good. If I can't get my hand on a good vada pav or even some mushroom tikkis, then I turn to these delicious golden brown fried patties.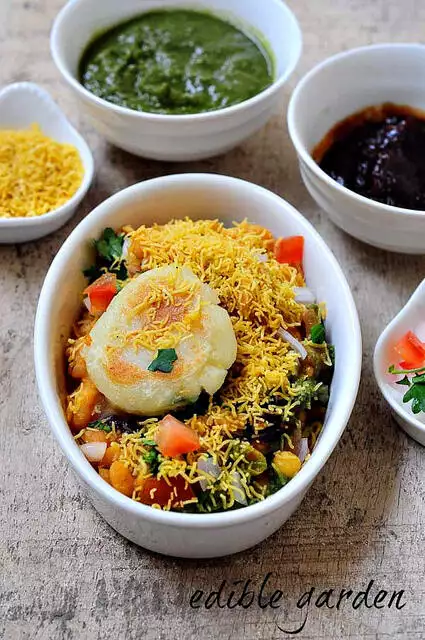 In my honest opinion, making chaat at home is a bit laborious especially if you set out to make everything from scratch. I love homemade green chutney for chaat but the sweet chutney I'll definitely be buying from the next time onwards. It took a while to make and yielded way too little chutney (yes, I am still not over ranting about that!). So yeah, making chaat at home is great and healthy and hygienic but plan ahead and don't kill yourself over it. I very strategically made ragda patties for lunch on Saturday and made curd rice as a way to finish the meal. Yes, it's unorthodox but I was able to put all my energy and focus into making the ragda, the tikkis and the sweet chutney and the dish came out very nice in the end, so except for the perplexed look on TH's face for the first 10 mins when he saw what's for lunch, everything was smooth sailing.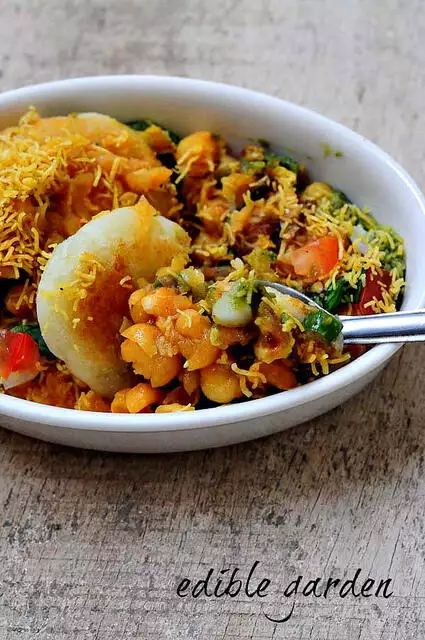 I obviously referred a bunch of websites and cookbooks for the recipe of ragda patties but ended up making it the way I felt comfortable. The aloo tikkis are largely adapted from Dassana's Veg Recipes of India but I used rice flour instead of cornflour. I am not sure if that's against the fundamental principle of aloo tikki rules or anything but I did it anyway. The tikkis looked perfectly happy and were crispy when hot.
You have to prepare ahead a little bit and have the following things ready for making the final dish. I make the ragda the previous day, the green chutney a couple of days before, and the sweet chutney on the day. If you have everything handy, then it's very easy to put together Ragda Patties for your family or even guests.
– Ragda
– Green chutney
– Sweet chutney
So let's go make us some Ragda Pattice, shall we?
RAGDA PATTIES RECIPE
Preparation time: 3 hours
Cooking time: 30 minutes
Serves 4

INGREDIENTS:
For the aloo tikkis:
1-2 potatoes, boiled until soft (about 2 cups mashed potatoes)
2 green chillies, minced
3-4 tbsp of rice flour
To taste: salt
2-3 tsp of oil
For assembling:
1/2 cup of minced onions
1/2 cup of finely chopped tomatoes
1/4 cup of chopped coriander leaves (cilantro)
3/4 cup of sev or boondi
INSTRUCTIONS:
To make the tikkis:
1. Peel and mash the boiled potatoes making sure there are no lumps.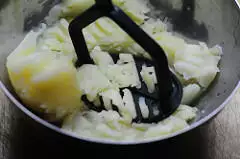 2. Add the green chillies, rice flour, and salt to this and mix well. You can also add some jeera powder to this if you'd like some extra flavour.
If the mixture is too moist, add more rice flour. If it's too dry, knead a bit longer and you should be ok.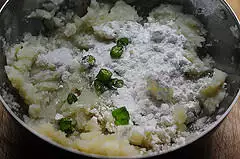 3. Heat a tawa or non stick pan and add a few drops of oil to it. Make small patties with the potato mixture and place gently on the hot pan.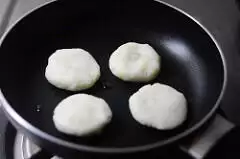 4. Cook until both sides are golden brown, adding more drops of oil if needed.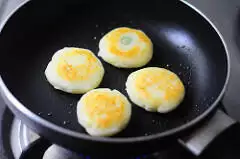 5. Transfer to a serving dish.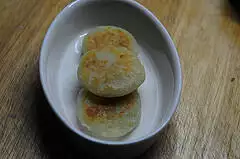 To Assemble the Ragda Patties:
Add the preferred amount of ragda over the patties.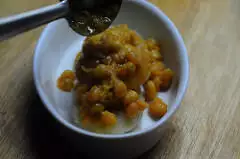 Top off with some green chutney and sweet chutney. The green chutney pretty much decides the spice level in your ragda patties so use your judgement. I like chaat well-balanced so I add equal amounts of both chutneys.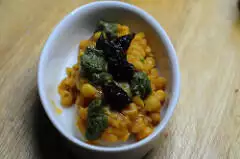 Then add a little minced onions, tomatoes, coriander, and lots of sev or boondi.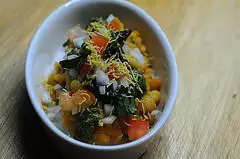 Give everything a gentle a toss with your spoon and eat hot!
NOTES:
Keep the ragda, chutneys, chopped vegetables and sev all ready before you start making the aloo tikki. This way you can serve the dish hot, and it tastes best that way.
You can shallow fry the tikkis in more oil but personally I prefer the charred version of the tikkis in this dish
All ingredients should be added or avoided per your preference
For the tikkis, you can use corn flour instead of rice flour and red chilli powder instead of green chillies
Sev or boondi gives a nice crunch to the ragda patties so try not to avoid that
The order in which I've assembled the ragda patties makes for a pretty looking dish. Do it the way you want to serve it. In most chaat stalls, they pour the ragda into a bowl and then add the other items, finally topping off with the aloo tikkis