Kara Kuzhambu with Paruppu Usili – a Tamil brahmin lunch menu.I was shamelessly out of touch with the food blogosphere all of last month. Had major plans to send in entries to most of the events in November, but again, am alarmingly behind schedule. Was out over most of the weekends and that's when I actually cook. Anyway, while we are checking out this kara kuzhambu recipe I wanted to point you guys to this vengaya kara kuzhambu, the Andhra onion pulusu, and a Kerala-special ulli theeyal.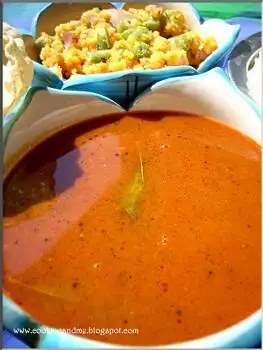 Got some time this Sunday and made a simple lunch of Karakozhambu and Parippu Usili. As I was making them and trying to figure out which bowl to photograph them in (I have limited bowls and crockery so didn't take long to decide that), I suddenly recalled Suganya's Vegan Ventures event and what an apt entry mine I was. I didn't realise that most of my cooking was anyway Vegan.
So here we are!
Note: I have an updated recipe for paruppu usili which is probably more authentic since it's from my MIL.
Kara Kuzhambu Recipe
Ingredients:
Onions – 2 medium, chopped fine
Tamarind paste – 2 tbsp
Gingelly oil – 4 tbsp
Chilli Powder – 2 tsp
Coriander Powder – 1 tsp
Turmeric Powder – 1/2 tsp
Fenugreek seeds – 1/2 tsp
Pepper powder – 2 tsp
Curry leaves – one strand
Salt – to taste
How to make Kara Kuzhambu:
1) Fry onions in oil till golden brown and then fry the fenugreek seeds.
2) Mix salt, chilly powder, pepper and coriander powder into the tamarind paste and pour into the fried onions.
3) Boil well to get a thick gravy.
4) Add curry leaves in the end, mix well and remove from fire.
Beans-Paruppu Usili Recipe

Ingredients:
Beans – 10-15
Toor dal – half cup, soaked
Onions – 1 small, finely choppedJeera powder – 1/2 tsp
Red Chillies – 4
Coconut – 2 tbspGarlic – 3 cloves
Hing – one pinch
Curry leaves – one strandSalt – to taste
Instructions:
1) Cook beans with salt and leave aside.
2) Grind together: toor dal, chillies, jeera powder and coconut with some salt.
3) Fry this dal mixture in some oil till it breaks into pieces. Keep mixing to avoid sticking to the bottom of the pan. Once done, keep aside.
4) Temple mustard seeds in some oil, saute onions and garlic with curry leaves and hing.
5) To this, add the dal mixture and the cooked beans. Stir well, break into small pieces and remove from fire.
If anybody has a different way of making this, please do let me know. I feel the taste can be made better than how it was and this was my first time.