This post is long over due. I have wanted to share more about these amazing knives I use every day in my kitchen – the
Pure Komachi knives
.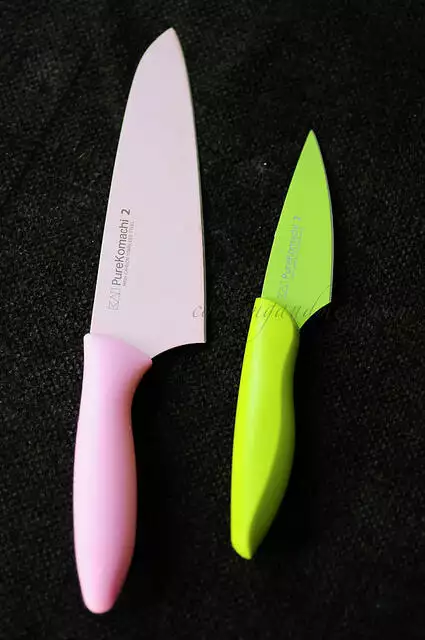 They were first recommended by Anu when I was visiting her in LA. We came across the larger pink chef knife at TJ Maxx and she grabbed one and put them in my shopping cart before I could even protest. I am so grateful for her insistence because otherwise I'd have totally missed this awesomeness in my life.
Ok, so why are Pure Komachi Knives great?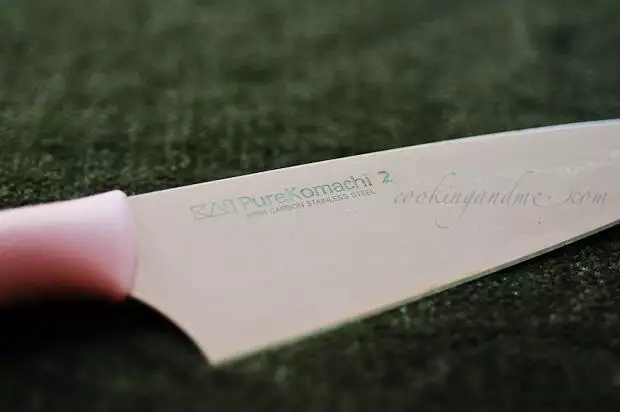 A few reasons why I love Pure Komachi Knives:
– They are super light and very sharp. The weightlessness particularly appeals to me because I don't always use a chopping board. And well, I am guessing we all like our knives sharp. I've been using the pink one for over a year now and the green one for about 6 months now and both are as good as new.
– They are colourful and pretty. Yes, that matters. But beyond the visual appeal, they make it colourful so that you can easily tell them apart especially if you use specific knives for specific items like meat or garlic or fruits or whatever.
– The paring knife (smaller green one) is perfect for peeling garlic and shallots and chopping herbs fine. I do these three things heavily for my cooking and it's perfect for the job.
– They don't cost a bomb. In fact, compared to other options I have seen out there, these knives are cheap!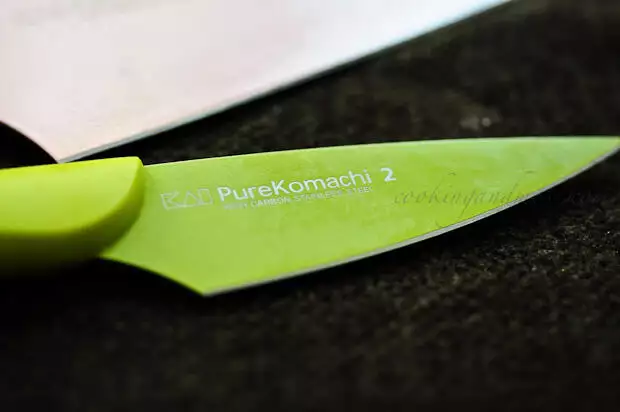 Since I like to balance my reviews a bit, a couple of negatives I can think of:
– The lighter colours tend to stain if you don't wash them immediately after use. I used the pink knife to chop up vazhakka a few times and if I don't wash and scrub them immediately, the brown stains don't go for a long time. As you can see, they do go off eventually but it takes away from the beauty of the knife for a while. That said, my ergo knife got stained the same way but it was impossible to wash out so it's permanently scarred now.
– They are not easily available unless you live in the US. I have seen a set of Pure Komachi knives in Takashimaya in Singapore but they are way too expensive.
I bought the green paring knife and this purple slicing knife from Amazon when I was in New York last year. I have been using the paring knife as my primary one since then with excellent results. The slicing knife is a tad too long for me for every day use and it's still in its box for now. I have too many knives out in the kitchen anyway.
As you can see, I can't stop gushing about them because they are brilliant and you must ask your friends/family/whoever-offers, to bring them back for you from the US.
Buying them off of Amazon is the easiest and best method I can think of. I would love to get my hands on the Pure Komachi 2 Series Hollow-Ground Santoku Knife too. I mean, look at that colour!
Disclaimer: This is not a paid review. I bought the knives, used them, and absolutely loved them. However, if you follow the links above and purchase these from Amazon, I will get enough money for half of a Starbucks coffee. Or maybe not even that, I am not sure.