Puli aval or tamarind poha recipe
– I have always believed that if you could make a tasty one-pot meal in less than 30 mins, you shouldn't bother yourself with the ones that take 2 hours and taste the same. Especially on a weeknight. Especially if you are tired. Agreed?
My MIL is the queen of easy cooking. You will never find her slogging for long hours in the kitchen but the delightful part is, everything comes out tasting great.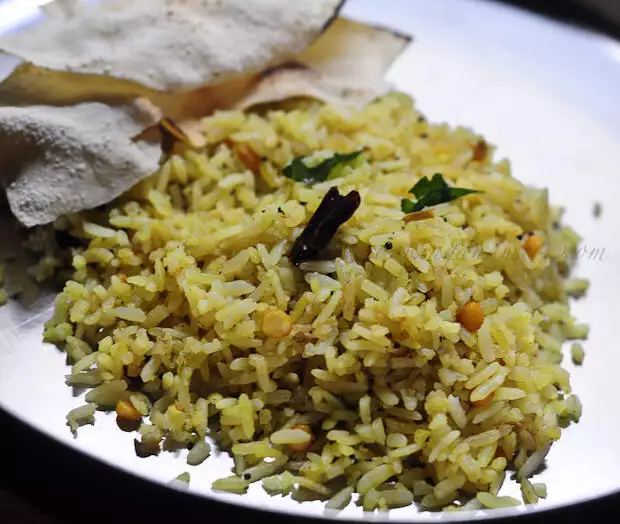 Puli aval is one such recipe that got made on a weeknight. If you want to cook up a fast meal after work, here's what I suggest.
As soon as you get home, soak the aval (poha or flattened rice) in the tamarind extract and go take a shower, change, and relax/read for a bit. After 30 mins, proceed with the rest of the recipe which takes less than 15 mins.
If you like Indian recipes with aval or poha, then check out how to make vadai with aval, a quick snack with aval, and potato poha with onions.
Puli Aval (Poha or Flattened Aval Cooked in Tamarind)
Serves 2
Preparation time: 35 mins
Cooking time: 10 mins
Ingredients:
2 cups of aval / poha / flattened rice
1 tsp of tamarind paste or 1/2 cup tamarind extract
2 tbsp of sesame / gingelly oil
1 tbsp of channa dal / kadala paruppu
A generous pinch of hing / asafoetida
A few curry leaves
2-4 of dry red chillies, halved
1/2 tsp of pepper powder (optional)
Salt to taste
Instructions:
1. Rinse the aval once in cold water and mix well with the tamarind paste (diluted in 1/2 cup water) or the tamarind extract for 30 mins.
2. Heat oil and add the dal, hing, curry leaves, and chillies. Fry for 10 seconds and add the soaked aval. Add salt and pepper, mix until heated through, and remove from fire.
Serve hot with chips or appalam and curd.
Notes:
1. This tastes very similar to tamarind rice so I would love to try it with chuttaracha chammanthi which is Amma's standard combination with puliogare.
2. Next time I make it, I will add some roasted peanuts, one minced onion, and probably some grated vegetables (like carrots) to make it a bit more nutritious and enhance the flavour a bit.